Buying Local Can Make Sense for Christmas
|
Buy local. Support local. Do these words stick with us? Maybe they can at Christmas time.
They have to like the products."
I wouldn't describe myself as a staunch activist for buying local – though every year I buy a few gifts from local artisans. I buy things because I like them, not always because of the meaning behind them. So I know that telling people to buy local isn't enough to get them to actually do it. They have to like the products.
Here's the thing though. Buying local makes sense.
You don't have to go into the rush at the malls.
You can get your purchases delivered to you, or – at least collect them without the rush and trouble for parking at the mall.
You can get products that are so good, you might be tempted to keep them for yourselves. Yes cynics, you might be pleasantly surprised by your options.
You find something different to the usual fare, so your gift stands out.
Especially if you're last minute with buying gifts, buying local is super convenient.
When you add those kinds of benefits, you start to feel good about buying local. And, hopefully, after you've been so giving, it'll be reciprocated. (Doesn't it suck – just a little – when you don't get gifts for Christmas?)
Here are some local products that would make great gifts. Check out the pix, and click the links to find out more about the products.
I'll kick things off with the kids, since I always buy gifts for the children in my life first.
Kids
ESP Jr. – Island Babies onesies and tees for kids up to 9.
You can buy them at espjrisland.com (plus you can download free colouring pages for your children), and on Facebook at facebook.com/espjrisland.
They're also available at Caboodle Gifts – Long Circular Road, D'Caribbean Culture Shack – Piarco, Rainy Days Gift Shop – Ellerslie Plaza, and Peeping Fish – Shoppes @ Westcity – Tobago. ESPjr's creator, Jeunanne Alkins, can also be found at small goods markets, like Up Market.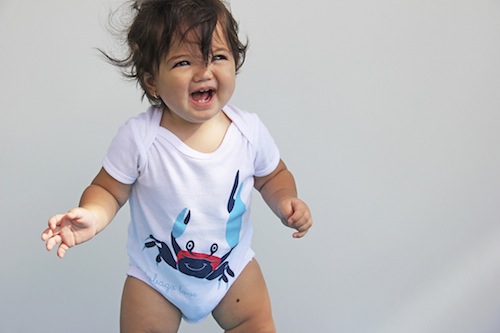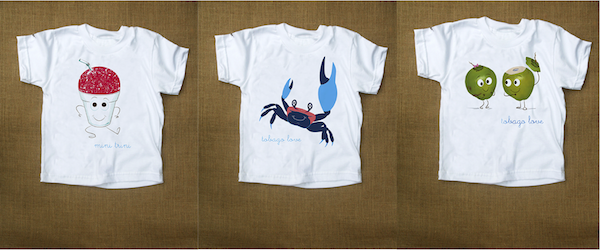 Bran Marc – Puzzle Map of Trinidad and Tobago
Find it on Facebook.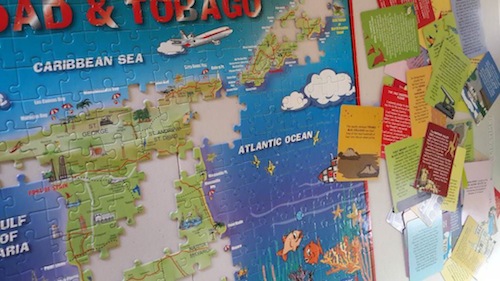 Jewellery
Koko Karibi
I want somebody to buy me this for Christmas (shameless beg). You can view more of Koko Karibi's gorgeous jewellery on Facebook. 
Cocoa Vintage
We featured Cocoa Vintage's creator, Crystal Antoine in Outlish back in 2011, and it's good to see she's still going strong. Right now, she has some deals, so check them out on Facebook.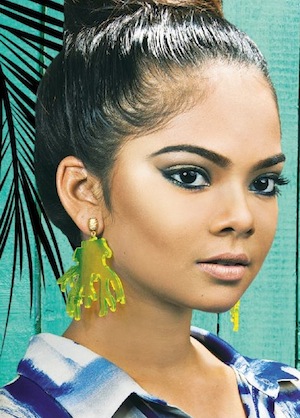 Colour Riot Jewellery
If rootsy, matched with artsy, is your friend's style, Colour Riot might be an option. View more designs on Facebook.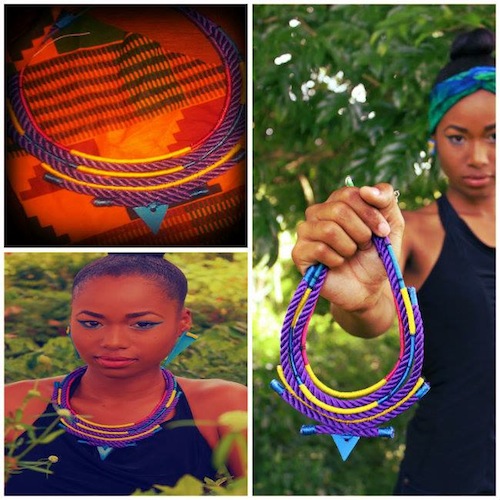 WiBead
You can get this chalk and turquoise earring (first photo) for around $65, or go high-end with this pearls, garnet, labroudite, spotted quartz, and swarovski crystal number for $1,150. I started buying some of WiBead's pieces in 2008, and bought a piece recently at UpMarket for my granny for her birthday. She loved it. You can also find WiBead on Facebook.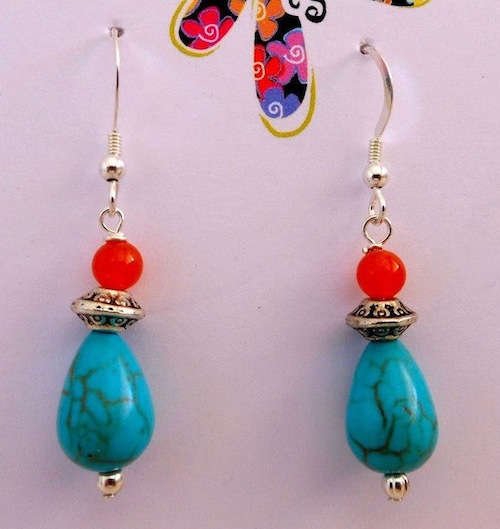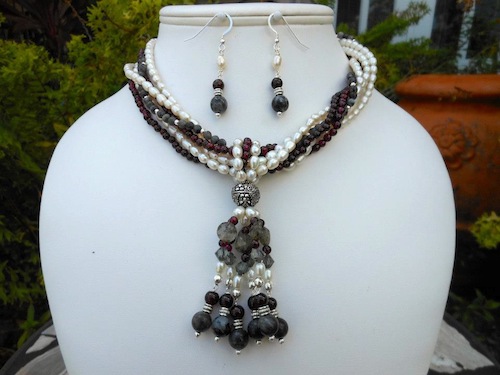 Fashion
Aisling
She has some gorgeous knitwear. Check out Aisling on Facebook.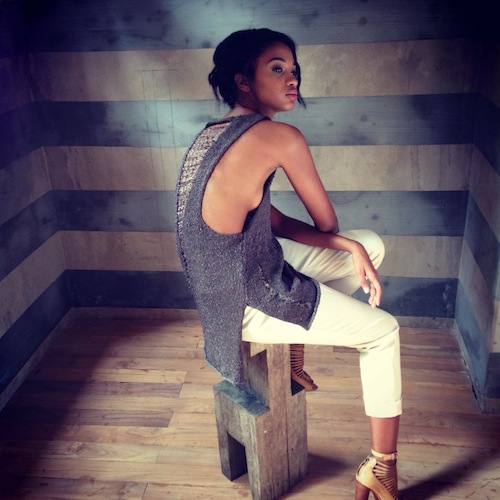 Christian Boucaud
Christian was a teacher before turning into a full-fledged fashion designer, who has dressed the likes of Anya Ayoung Chee and Destiny Child's Michelle Williams. What's great is that she dresses all sizes. Outlish interviewed Christian back in 2010. Three years later, she's still a crowd favourite. Find her on Facebook.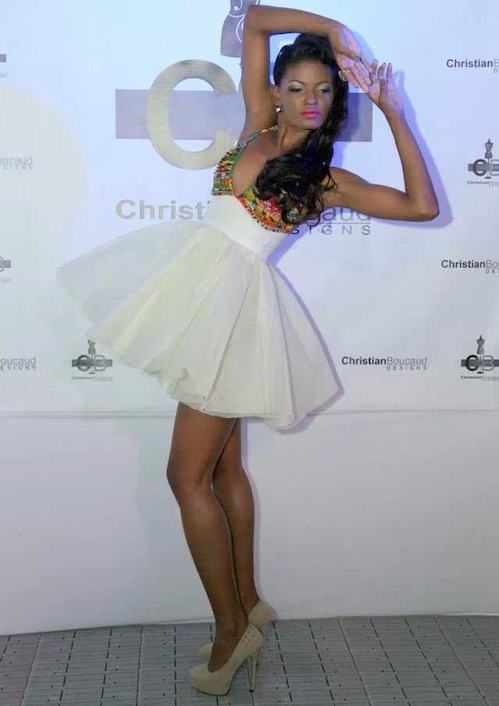 Designs by LESA G
LESA G crochets anything. She's got bathing suits, tops, hot pants, headbands…You name it. Makes me wish I'd paid attention more when granny was teaching me to crochet. Check her out on Facebook.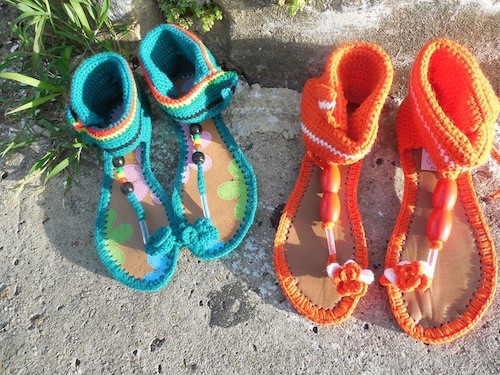 K Fensome clutches
One of our readers suggested this. View more clutches here.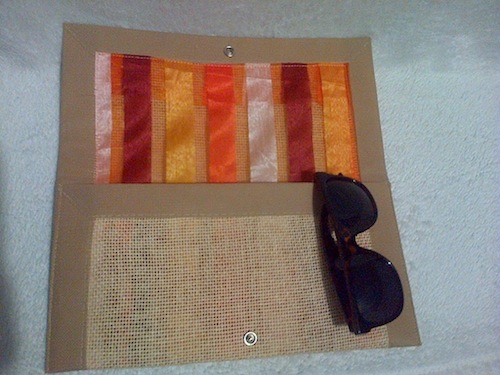 Foodies
Del Mano
Created by Stefan Grosberg, Del Mano has tasty jellies, pestos, and sausages. If you've got foodie friends, they'll like Del Mano's gourmet gifts. The shadon beni pesto is popular, but I've tasted the melongene pesto, and it is awesome. I plan to stock up on some before year's end. Find Del Mano on Facebook. It's also available at Malabar in Maraval Farms Gourmet Shop (Maraval), Blooms and Arties (Diego Martin), and Happy Gourmet (Valpark). You can also call 783-8181.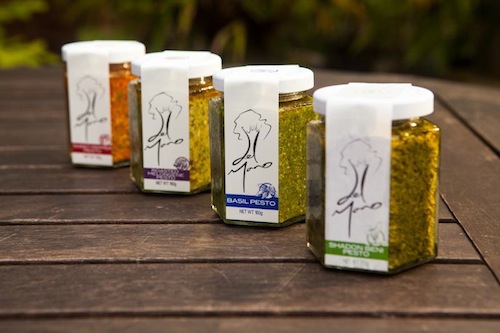 Music
John John – R&B
John John, who is signed to local record label, Highway Records, is known for his soulful, R&B music. For any music lover, who likes discovering new music, this would be a good option. You can get his CD on Amazon (click here), and iTunes. You can also get it at local outlets – Cleves, Just CDs, Musik Shak, Rhyners , Kams LCM, and Sound Research – Gulf City.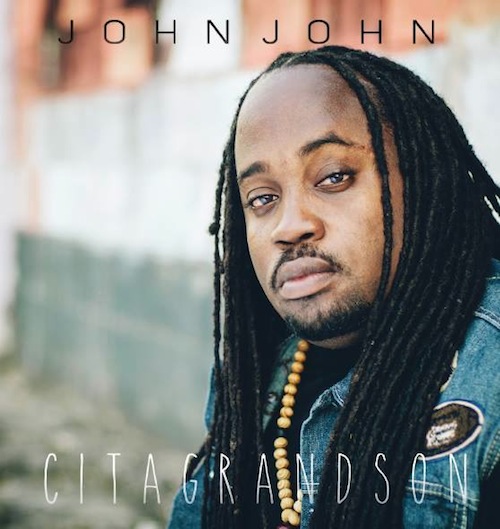 Elan Parle – Jazz
Elan Parle is a favourite on the local, jazz circuit. Visit the Facebook page for more deets. You can also get it at Cleve's on Frederick Street.
Etienne Charles – Jazz
I've personally bought some of Etienne Charles' albums, and attended his concerts. "Folklore" is still my favourite jam. His new CD, released this year, recently topped jazz charts. Any music/jazz lover can appreciate great music when they hear it. Find out more at Etienne at his website. CDs are available at Cleve's, Crosby's, Kam's, the M Store, Chaud Cafe, Paper Based, and Wrap Works Deli.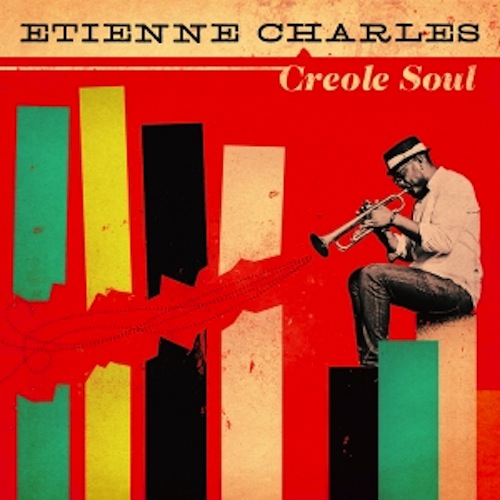 Beauty
Amara Organics – Soaps
Amara Organics partnered with local artist Danielle Boodoo-Fortune for a special line of soaps, just in time for Christmas. They've also got lots of other scents. You can visit their FB page here.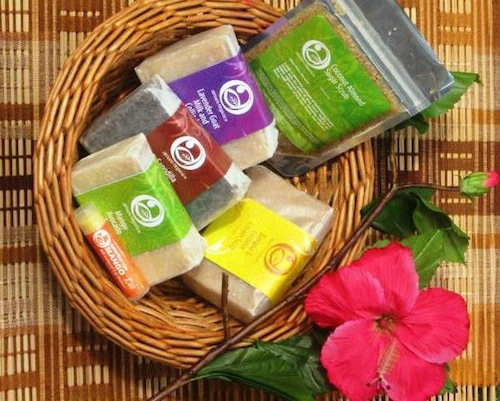 When it comes to buying local, if you look closer, aka maco a little better, online, you'll find lots of options. And ask your friends about other local products that they like. Or check out UpMarket, or Things TT. There are a tonne of local options out there. Quality. Local. Options.
There's no way I could have posted all of the possible options in this post. I had to leave out some others that I loved too. So, don't beat me up if you don't see your product, or your friend's product in this list. Please.
Happy giving, and Merry Christmas to you. And feel free to add suggestions in the comments section.
PS: You can also check out some of these local gifts at UpMarket this Saturday at the Woodbrook Youth Facility.