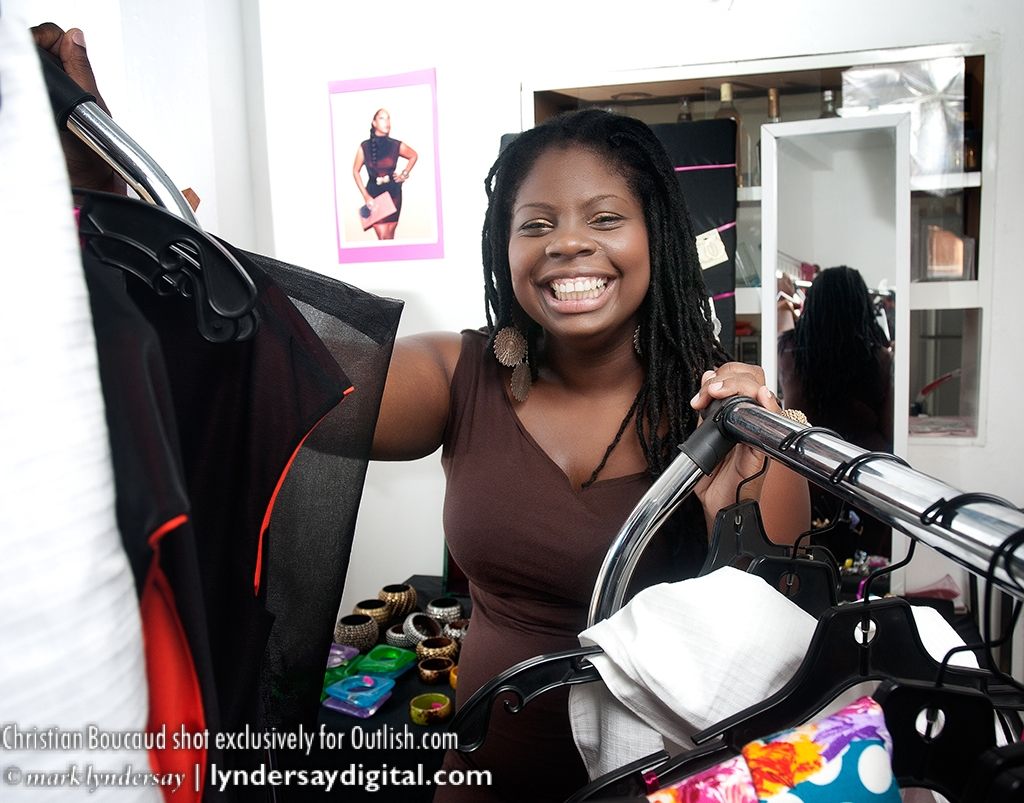 Christian Boucaud: Designing her Dreams
|
When Fashion Week Trinidad and Tobago came to a close earlier this year, Christian Boucaud was the name on everyone's lips. Bringing the audience to its feet after the presentation of her latest swimwear collection "Christian Boucaud Designs", which she dedicated to the memory of her late grandmother, the 26-year-old designer had hit quite a fashionable homerun.
"This collection was very close to my heart because I dedicated it to my grandmother," she explains. "She passed in March and so I wanted to make sure that she would have been proud. She was always very particular about stitching and neatness, so with this collection I went into it with the same mindset. It had to be exactly right. At the same time, she never stifled me and I really wanted to represent the creativity that she shared with me in my collection."
"It's a surreal feeling to have designers who I admire tell me that they admire my work."
Growing up in Sangre Grande, Boucaud began sewing at the tender age of eight. Under the tutelage of her mother, also a designer, Boucaud learned to construct garments and started out sewing dolls' clothing, eventually presenting full collections by the age of 17.
Her first showcase was at Emerge 2004-2005, hosted by Christopher Nathan, who included her in his shows, as the featured designer, and her career snowballed from there. After the exposure gained through the showcase, Boucaud continued to produce collections that embodied her style, and came to be especially known for her Afrocentric collections. With her use of differing fabrics and prints, Boucaud's pieces mirrored the meticulous care and attention to detail that she learned from her grandmother.
Before she became a full-time designer, Boucaud was originally teaching during the day, in addition to pursuing her career in fashion design. However, in September 2009, she quit her job and took the plunge, deciding once and for all to concentrate her efforts on perfecting her craft.
Although she loves teaching, the mounting commitments were becoming hard to maintain, especially since her heart lay with her designs. Coming from a family of fashion, Boucaud had always known that designing was where her life would lead her, and Granny would have definitely been proud of her latest success at Fashion Week 2010.
Boucaud had presented collections the inaugural year of Fashion Week Trinidad and Tobago, and again the year after. However, it wasn't until this year's installment that she received the response that all designers dream of. The reviews of the line were fantastic, and Boucaud says she is still in shock about the overwhelming support she's received.
"It's a surreal feeling to have designers who I admire tell me that they admire my work and recognize my improvements," she shares, adding that her schedule is even more hectic now. "Keeping up with the great response I received from Fashion Week is difficult, but I am loving it."
This year, for Fashion Week, Boucaud was better able to dedicate her time and energies to her collection. Without the time constraints of the academic calendar, perfection, and not time – or the lack of it – became her driving force.
"This year was definitely the year for perfection," she says. "It was my third year showing and it was my best experience in every way. It was the first time I ever got to see my collection go down the runway. Things ran so smoothly for me. I had no last minute mishaps and when I got there I only had one model to dress. Everything was great."
Since the close of Fashion Week in early June, Boucaud has been quite busy. She completed three, new collections – a denim swimwear collection, a plus size dress collection and a contemporary nautical collection. Boucaud explains that the plus size line will be evolving, as she will be continuously adding new pieces to it, using the pieces she's already done as inspiration. Many plus sized women have difficulty finding great designs that fit, since not many stores cater to their size, despite the fact that many Trini women are thick. This line was also especially close to her, as a plus sized woman, and so Boucaud decided to address the situation.
Photography by Mark Lyndersay
"Women in the Caribbean, namely Trinidad and Tobago, are under so much pressure to be thin that they are unable to accept themselves and I am having an issue with this."
"After having numerous conversations with plus size females, it became clear that women in the Caribbean, namely Trinidad and Tobago, are under so much pressure to be thin that they are unable to accept themselves and I am having an issue with this," she says. "As a result, I decided that I should start somewhere to assist with the correction of this issue, so I decided to focus on a plus size line. Also the difficulties hit me the hardest when an international designer's staff walked out on him when he expressed his desire to launch a plus size collection. The collection was then produced by volunteers.
"I guess this year for me is the year when I address all the things I consider dear to me via collections. The denim collection was 'Recycle Recreate'. When I saw my friends dumping bags of used jeans, I wanted to come up with a plan to reuse the jeans so I decided to do a swimwear collection using used jeans. This collection is dear to me as well because there are pieces of my family friends and fans in each piece."
Boucaud plans to stay busy this year, as she keeps adding to current collections. She's also thinking of producing a Carnival collection, so that's something fete-loving fashionistas can look forward to. Boucaud also has plans to produce a men's line, incorporating both swimwear and formal wear.
When it comes to her inspirations, Boucaud says she mostly goes with the flow. She is influenced by her family and her experiences, and reflects the best of both in her designs. She does, however, credit her late grandmother with giving her the confidence and drive to continue pursuing her dream. Boucaud also cites fellow local designer Shaun Griffith Perez as a major influence, for the particular attention that he pays to detail.
As a veteran of Fashion Week Trinidad and Tobago, Boucaud is well aware of the criticisms that the organization faces, but she is not letting it go lightly.
"All those bloggers were just way too harsh," she says. "I understand that from the outside looking in, some of the problems look bad, but Fashion Week is still in its baby stages. We need to be supporting the industry, not bringing down the efforts of the people who are trying to make fashion more accessible to Trinidad and Tobago."
"Young designers in Trinidad need to present a united front."
Boucaud also feels that the young designers in Trinidad need to present a united front.
One of the major problems that local designers face is importing fabric to use in their collections. She believes that if designers were less selfish and competitive, and pooled their resources, they would each be able to achieve more individually.
There are many up and coming designers in the region, and each one faces the problem of breaking through and making an impression on the fashion scene. When I asked what advice she had for people trying to break onto the scene, her answer was simple: "be passionate".
Boucaud believes that with the trials faced in the fashion industry, it's important to be sure that you really want it. She also believes that anyone in the fashion industry needs to be spiritually grounded, and have a very strong support system.  Crediting her family and friends for giving her the support that she needed to push through with her dreams, she says that without them she never would have gotten as far as she has.
With her new ventures, Boucaud hopes to keep improving and becoming a better designer. After her stunning show at Fashion Week, expectations are high for this fashionista's next collection.
To check out Christian Boucaud Designs, visit her Facebook page: facebook.com/christianboucauddesigns. Her lines are also available for sale at D' Caribbean Culture Shack in St. Augustine.
Photography by Mark Lyndersay of http://lyndersaydigital.com. Mark is a professional photographer and writer working in Trinidad and Tobago since 1976. His column on personal technology, BitDepth, has been continuously published since 1995. He is currently pursuing a photo essay series about how Trinidad and Tobago pursues its culture and festivals called Local Lives. Both series are archived on his website at http://lyndersaydigital.com.