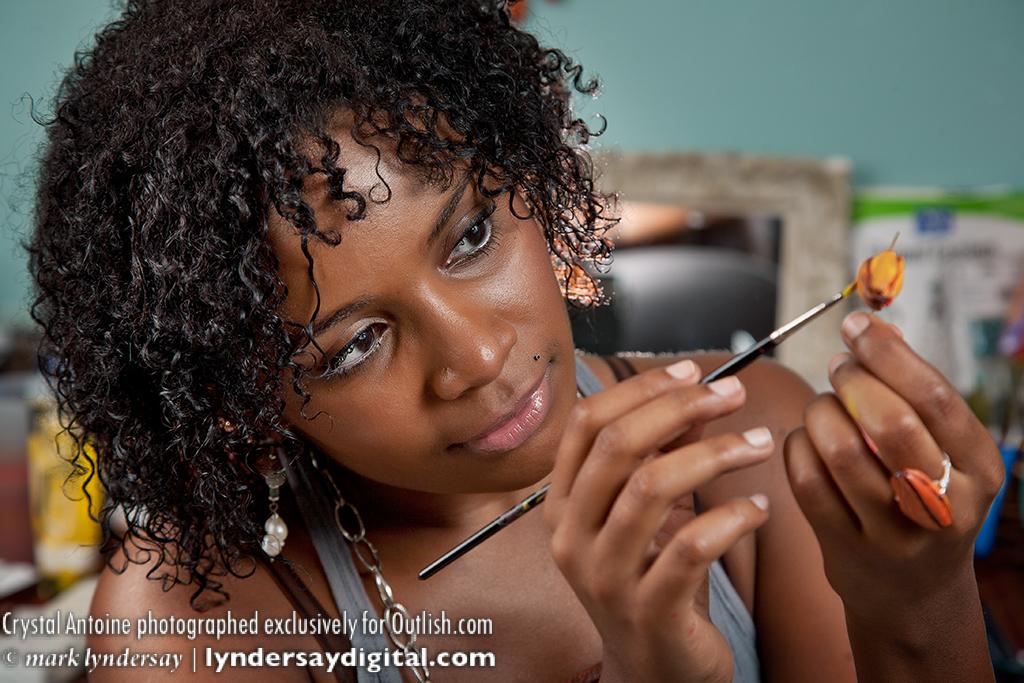 Cocoa Vintage: The Artful Jeweller
|
For some people, starting a business takes time and ample resources, but for Crystal Antoine, all it took was talent, and a Facebook fan page. In November 2010, her handmade jewellery line, Cocoa Vintage, was born, and growth has been organic.
Though still in its infancy, Cocoa Vintage has been enjoying quite a bit of success thanks to its Facebook page, which Antoine established after a personal, two-year hiatus from the social network. Her only other advertising channels are limited to word of mouth and wearing her own pieces, but her designs have gotten very positive reviews, creating a steady stream of referrals.
Cocoa Vintage is geared towards women who appreciate art, as well as things that are different, cultural and unique. The pieces are delicate in nature, and remind you of a time, when things were painstakingly crafted from scratch. The earrings are elegant; the rings… dignified. The entire line solidifies an aesthetic that is earthy, cultured and genuine.

While she does not yet take custom orders, Antoine's designs have proven very popular, so much so that in the two months that she has been in production, she has already managed to get large orders from admirers of her work – including an upcoming job to design and create the jewellery for an entire bridal party. Yes. She's that versatile.
Antoine's love of jewellery was solidified after attending the Caribbean Academy of Fashion Design at the University of Trinidad and Tobago (UTT) – for a degree in fashion design – when a required course in jewellery and handbags showed her that her true talent was in jewellery crafting and design. And while she has had to defer her full bachelor's degree to a later date, due to scheduling conflicts with her classes, she has taken the lessons already learned, and made the absolute most of them.
"I did my two years as I planned to, and I graduated with a diploma in fashion design in January 2011," she explains. "I didn't go on to do the other two years, for the bachelor's, because it was becoming stressful for me with work and school. So I decided to take a break and get some creativity out and focus on my jewellery making."
She started out with simple, wire-wrapped jewellery, and graduated to more complicated designs after doing her own research and teaching herself, driven by her passion. Even though she began in fashion design, she is confident that her shift in focus has been beneficial, and while she still loves fashion design, she shines when given the tools of her jewelling trade. Antoine originally began creating designer costume jewellery, but plans to make the move to incorporate sterling silver and gold in the near future.
Now, Antoine works 'hard' to incorporate 'found items' into her jewellery, including things like shells, tamarind seeds, leather and freshwater pearls, and even where she may produce a duplicate piece, there is always a different element to it.
"There's a lot of spiral wire work involved to add that element of quirkiness," she explains. "I also use precious stones. My favourites are rose quartz, turquoise, and African turquoise. The possibilities are endless, and depending on the theme I'm going for or my inspiration I'll decide what materials to use."
The inspiration for Cocoa Vintage pieces comes from many varying sources. Antoine absorbs art in all forms, including fashion, art history, renaissance, and Egyptian and Persian art, and reflects them in her jewellery's designs. Nature is also an obvious muse for her creations. Her admiration for the work of international jewellery designer Lizzie Fortuato who is based in New York has also influenced her.
"She [also] fuses found items from around the world and combines unexpected materials to produce one of a kind, beautiful, textured, organic pieces," she says. "I get my supply materials from local arts and crafts shops, and all my wire, tools and stones from a wholesale jewellery shop in Florida. I also order everything online."
The Cocoa Vintage line is highly labour intensive, and occupies much of Antoine's free time. Since each piece is individually crafted by hand, construction of a single piece can take anywhere from hours to days, depending on the intricacy of the design.
In addition to working on her jewellery line, Antoine also works full-time at the McCann Erickson advertising agency as a Senior Art Director, and, actually, it was a project she worked on at the agency that inspired the name for her line, and her signature cocoa pod earrings. Given the task of preparing a gift basket for the Tobago Heritage Festival, Antoine put relevant trinkets inside a cocoa pod, and her finished product made her take notice of the beauty of the natural fruit, encouraging her to create jewellery from them.
Antoine says that having two jobs has not been easy, but she is willing to put in the work to help her line grow because of her love for her craft. She sometimes works into the early hours of the morning in order to complete an order, but approaches it as part of the sacrifice that she has to make to ensure that Cocoa Vintage is successful. For now, Cocoa Vintage is a one-woman show, but she does anticipate hiring an intern, if circumstances permit.
Cocoa Vintage may be new, but Antoine already has huge goals for her line. She is beginning to market her signature, cocoa pod earrings to tourists, and hopes to submit her pieces to the Tobago Heritage Festival.
Although she plans to proceed slowly, she hopes to one day have her own boutique too. Right now, Antoine is working on partnering with other boutiques to retail her wire-wrapped rings, chains and pendants. She also hopes to one day collaborate with other professionals in the local, fashion sector.
"I would love to work with Heather Jones, Claudia Pegus and Meiling," she says, excitedly. "I think collaborations are great, but I would only be able to work with someone who was already working along the lines of my own vision. I'd love to work with Brian McFarlane on a Carnival presentation because to me he is a true artist."
Antoine credits UTT with helping her find her passion, and is convinced that she would never have known she had such immense talent without the classes she took. She also credits her teacher Anton Harris, a fellow designer, with inspiring her by being a passionate teacher whose intense course focused her talents.
"I love what CAFD is doing," she says. "Trinidad still has a lot of growing to do if we want to reach international status, and I think right now, we're stuck. Some designers don't have any structure – no theme, no inspiration in their collections, and they just send it down the runway thinking it's a cohesive show. It's quite the opposite. CAFD is trying to help remedy that."
Antoine says she would eventually like to get back to designing clothing, and expand the Cocoa Vintage line.
"I love designing and I'm confident in my designing ability, but I hate to sew," she says. "The idea of making a garment is amazing to me, but I'll admit that in class I didn't do as well as some of the other students who were more experienced, but I tried my best."
For now, Antoine successfully juggles her two careers, but she hopes to be able to fully support herself with Cocoa Vintage within the next two to three years, depending on how the chips fall.
"There is so much that I want to do, that I feel overwhelmed at times," she confesses. "Ideas run through my head every day. The demand for my jewellery is getting bigger and it's exciting. I want to take my jewellery as far as it can go. It will be a journey, but I love what I do. The passion is there and I have the support of my friends and family."
Check out Cocoa Vintage's Facebook page to see more great designs or email Crystal at cocoavintagejewelry@gmail.com, if you're interested in her designs.
Photography by Mark Lyndersay of http://www.lyndersaydigital.com. Mark is a professional photographer and writer working in Trinidad and Tobago since 1976. His column on personal technology, BitDepth, has been continuously published since 1995. He is currently pursuing a photo essay series about how Trinidad and Tobago pursues its culture and festivals called Local Lives. Both series are archived on his website at http://lyndersaydigital.com.
Images of jewellery courtesy Cocoa Vintage.
Check out the rest of this week's issue (31/2/11; Issue 43):
Look out for a new issue of Outlish.com every Monday.