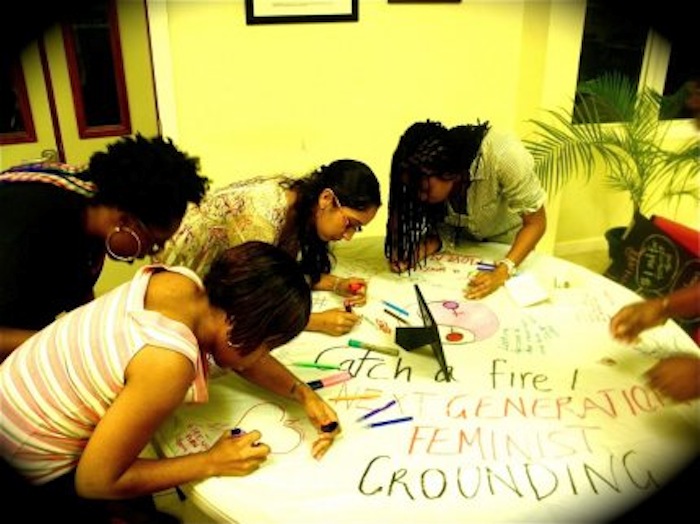 This is Why I'm Feminist
|
Three weeks ago in Guyana, a 12-year-old girl, pregnant by her stepfather, gave birth by caesarean section. The newspapers reported that after the surgery she was resting comfortably. I'm not sure what they meant by that. But I know that news made me uncomfortable.
What about her right to a life free of violence?
Why did this girl's community fail to protect her from sexual abuse? Why, when they found out about it, did they remain silent? Was the girl advised of all her options, including her right to an abortion (which is legal in Guyana)? Will her future needs for sexuality education, contraception and health care be met? What about her right to a life free of violence?
This is why I'm feminist. Because I know the answers to those questions, and I don't like them.
For all the attempts to convince me that there is no gender inequality in the region, and that we have made collective peace with the other forms of inequality, I know better.
I know that we view children in a hierarchical relationship to adults. We expect them to be seen and not heard. We tell them to know their place. We fail to protect them on a massive scale.
I was 15, when a man burnt me with a cigarette…
The biggest shock of my transition from primary to secondary school at age 11 was the daily sexual harassment on my way there. I was 15, when a man burnt me with a cigarette, because I refused to dance with him at a school fair. How safe are public spaces now for teen girls? For gay, lesbian and transgender youth? For young men anxious to prove themselves? Hell, for grown women who just want to walk, or exercise in peace?
This is why I'm feminist. Because any form of inequality or discrimination needs to be redressed. Because gender inequality cuts across other forms of oppression.
Yes, I've heard how strong Caribbean women are, how we're outnumbering and outperforming men at university, and that many young women are afraid to identify with feminism because they fear it means they won't get a man. And not only are men in short supply, the singular most important ambition of any young woman's life should be to get one…I've heard. I recognize the tief-head BS for what it is. And I'm still feminist.
Let's break this down a bit.
Only 10% of Caribbean 18-30-year-olds access tertiary education, according to Sir Hilary Beckles, Principal of the University of the West Indies' Cave Hill Campus. While we're busy crunching the sex ratios of university education we're forgetting the majority of Caribbean people (women and men) who just don't have access to university. Now I'm not saying that finding out why so many young men are turned off formal education isn't important. It is.
What I'm saying is that we also need to talk about the 90% of women and men who don't have access. We need to talk about the Ponzi scheme that is the Common Entrance exam, which most Caribbean children take at age 11. We need to talk about how this system essentially bars many of them from access to education in the first place.
This is why I'm feminist.
This is why I'm feminist.
I believe in everyone's right to a good life. Simple. I recognize that this belief is worthless, without action to turn this right into reality.
Last month, I co-hosted CatchAFyah New Generation Feminist Grounding with Sherlina Nageer of Red Thread and the Society Against Sexual Orientation Discrimination in Barbados. We did not know what we were doing. We did know that it was important for us as women born in the early 90s, 80s and late 70s to come together, and commit to working to improve our communities and region.
"This gathering was not a meeting," said Malaika from Grenada. "It was not a conference. It was a truly collective action in and of itself. We were the grounding. We facilitated, documented and shared knowledge. The whole gathering was non-hierarchical and full of love."
We were fired up about feminism!
We learnt from each other. Tracey-Ann from Jamaica shared that though her mother supported her human rights activism, she had asked her not to appear on television identifying as lesbian. Safety is a daily negotiation among partners, family and community.
Ifasina from Belize shared that because of her organization's HIV prevention work the groups' members were stigmatized as all being HIV positive themselves. They persevered out of a sense of conviction for the importance of their work. They went on to not only be awarded by UNAIDS for their community work, but to also win over the community members who now seek them out for the sexuality education, which they provide on location at fetes and parties.
These everyday acts of courage constitute and sustain Caribbean feminism.
At the end of the two days, we did not have all the answers. Or perhaps any of the answers. But we are in it for the long haul, and hope that misconceptions about feminism don't deter the allies we need.
Outlish writer Brendon O'Brien has argued that the biggest problem facing social change in Trinidad and Tobago is that there's no sexiness in the struggle. The usual activist methods fail to capture local imagination.
At CatchAFyah we came together across language, nation, religion, ethnicity and sexual orientation. We brought every aspect of who we are as Caribbean people to that space, learning and sharing through art, video, movement, music and yes, even good ole PowerPoint. I can't say it was sexy, but it was definitely erotic, in the Audre Lorde sense of the term: "The erotic is a measure between the beginnings of our sense of self and the chaos of our strongest feelings. It is an internal sense of satisfaction to which, once we have experienced it, we know we can aspire. For having experienced the fullness of this depth of feeling and recognizing its power, in honour and self-respect we can require no less of ourselves."
Caribbean feminism is not some giant hairy man-eating monster anxious to claw its way to the top and destroy the family and society in the process. It's a movement of ordinary diverse women (and men) like the ones I had the privilege of spending two days with: passionate, courageous and committed to being the change they want to see.
Who wouldn't want to be a part of that?