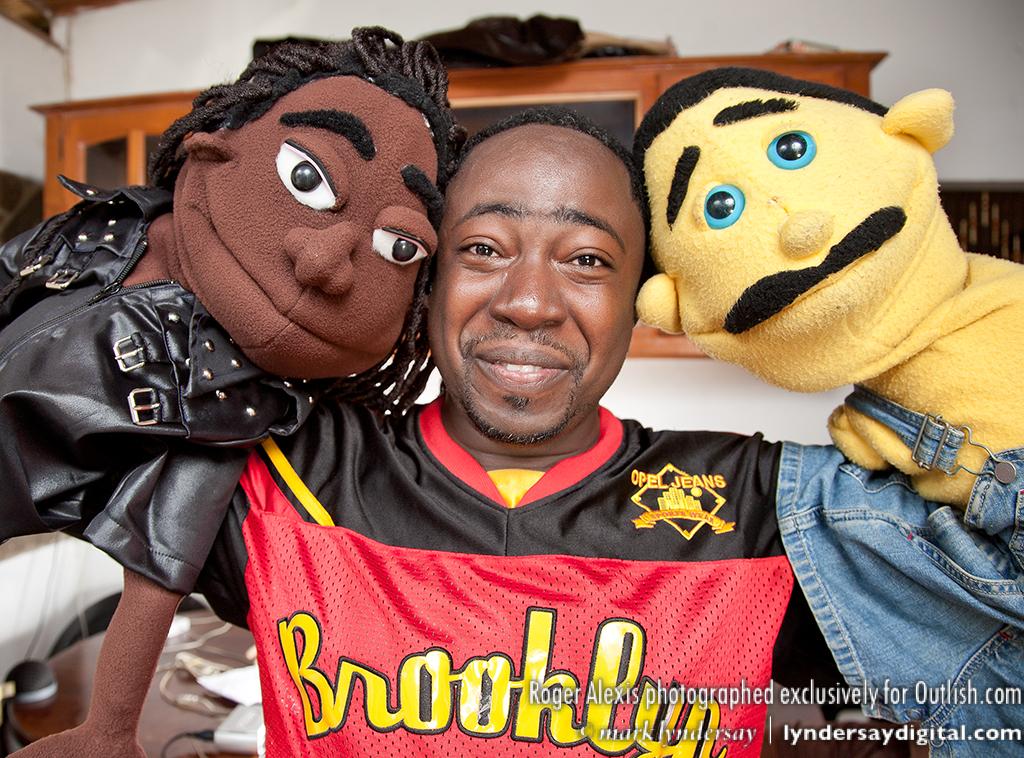 Trinis we Love: Top Ten Interviews of 2010
|
Trusting your creative instinct is one thing. Acting upon it is another.
Here at Outlish we celebrate individuality, passion, and innovation, showcasing the many talented Trinis who are going after their dreams, and taking a chance on something they love – regardless of how scary their venture/ adventure may be.
Since launching on April 12, 2010, we've brought you stories about entrepreneurs, musicians, poets, actors, artists, activists, dancers, filmmakers, bloggers, and designers, based locally and abroad, every Monday morning. The common thread that ties it all together is that these people follow their entrepreneurial and adventurous spirits, wherever it takes them, and are just doing their do – being themselves.
Chatting with readers, everyone has favourites, and sifting through the long list of interviews, it's easy to want to put almost every person we've interviewed in our top ten, but difficult to narrow it down. So, I let Google do the work, and based on our site analytics, here are the top ten interviews that got the most traffic on Outlish.com for 2010.
1. Roger Alexis: More than Puppets on Film
Puppetry has always been a thing for kids, but Roger Alexis (pictured above and to the right) has definitely made it a must-see for adults. Trinis have been 'cracking up' over the short films "Thou Shall not Horn" and "The Fete", which have gone viral, amassing over 98,000 and 70,000 views, respectively on YouTube, and have been circulating Facebook. Distinctly Trini, and starring the puppets Santana and Janice, the films are written, directed and produced by Alexis, who's been dabbling in video creation since his teens. Read more.
2. Stephen Hadeed: Trinifying Hollywood
It was a rare, hot day in June for New York. I raced across the streets of SOHO to meet with Stephen Hadeed Jr.
I was a bit lost at first, but managed to find my way to the tucked away Café Café, our designated meeting place. I was eager to meet him, and ready to get the scoop on his journey through Hollywood via New York, by way of Trinidad.
As I skipped across the Manhattan street congested with cars, smog, the June heat, and bicyclists alike, I noticed him by his hard to miss pin, which resembled the T&T flag. His legs were crossed and his head, devotedly buried in some paperwork. Read more.
(Image courtesy Stephen Hadeed. Photography by Anthony Grasso).
3. Market Movers: Love and Virtual Veggies
Some people say lovers can't be business partners, but in the case of David Thomas, 32, and Rachel Renie, 25, this is far from the truth. In March 2009, the young couple officially launched their company, Market Movers, providing home and office delivery of fresh fruits and vegetables, dairy, eggs, fresh juices, meats and seafood.
Thomas actually had the idea for five years. Back then, he was still working in the banking industry, but had developed a love for agriculture. Read more.
4. Paul Pryce: From Oprah to the Stage
When Oprah (yes that Oprah) met Paul Pryce in 1999, he was Paul, the young Trini trying to make his mark in the modelling world. Appearing on "The Oprah Show" for the "Sexiest Island Man" contest, in the Bahamas, he won the hearts of viewers, with his charm, wit, and six-foot-three striking look, copping the title "King of the Caribbean", and bragging rights as the sexiest man in the Caribbean.
He then went on to book modelling gigs in New York and Paris, and complete his bachelor's degree in management and marketing at The University of the West Indies (St. Augustine).
Exactly three weeks ago, Oprah caught up with Paul… This time, she met Paul – actor, writer, and producer – building a new model for his life. Read more.
5. Dale Ramirez: Expanding our Tastes
Dale Ramirez isn't the guy you put on an obstacle course, and then expect to see him fail. A sucker for challenges, this serial entrepreneur and owner of the popular Drink! Wine Bar and juice bar Hümzinger is quite accustomed to jumping through hoops of fire, ducking flying chainsaws, and balancing tightropes, figuratively of course.
Just a week shy of 30, he's already co-owned and operated several businesses, over the past eight years, including a gadget and gizmos kiosk – which he started with a friend, an advertising agency – where he learnt, the 'hard' way, how big companies can steal your ideas, and a (gay) nightclub – where he honed his bar and nightclub management skills, before moving onto the food and beverage industry. Even with the successes he's had along the way, however, his journey hasn't been a fairytale. Read more.
6. La Shaun Prescott: From Machel to Mogul
Watching a professional dancer on stage, executing all the technical steps of modern dance, can sometimes make you feel like an outsider or, dare I say, bore you. You can't connect to it, because you just can't mimic it. But when a soca or dancehall queen takes the stage, you tell yourself, "I can do that too". I mean, you can't call yourself Caribbean if you can't wine, wuk up, or jook, right?
Tapping into people's natural love for dancing, and bringing what's popular in the parties and on the streets into the studio, entrepreneur LaShaun Prescott has managed to not only bring dance to the masses, but has also proven that embracing Caribbean, dance culture can pay huge, business dividends – especially with the young, urban market. Read more.
(Image courtesy Elle Incorporated. Photography by Sancho Francisco).
7. Highway Records: Fighting for Royalties
Fight down, fight down, and more fight down. That seems to be the life of the local artiste.
Most recently, the frustration that local musicians feel was openly aired on Facebook, as Highway Records, most known for their Hip Hop and R&B acts, let the world know about a recent decision taken by the Trinidad and Tobago Publishers and Broadcasters Association (TTPBA), which allegedly paves the way for radio stations to not pay royalties to their collections agent of choice, Awesome Limited.
Highway Records cofounder, Stuart Fortuné, has strong views on the situation. Read more.
(Image courtesy Highway Records).
8. Obasi Springer: Artist on Skin
A drummer with Trini Rock gods Orange Sky turned tattoo artist, he is probably the best kept secret in Trinidad and Tobago's body art world. Chances are you may have seen his handiwork, but don't know the man, 26-year-old Obasi Springer.
Outlish recently sat down with Obasi (in the supermarket on a Sunday afternoon, mind you) to get to know the man behind the already legendary tattoo of Lord Ganesh, adorning a young woman's back, which is still a work in progress, and his take on skin as a growing medium for Trinidadians and Tobagonians to express themselves. Read more.
9. Anti-Everything: Anarchy in TnT
Just saying the word 'punk' sends out a raw, gritty sound. The music is usually as gritty with raunchy, anti-establishment, and political issues melded into the lyrics.
Anti-Everything is no stranger to this, using its musical medium in a totally refreshing way. While the Trini rock scene is known for many bands, Anti-Everything happens to be the only punk band.
Bringing together the musical talents of Blinky (vocals and guitar), Randy (vocals and guitar), Jhazo (vocals and bass), Syam (guitar) and Aves (drums), Anti-Everything is an amazing band, hands down. Their lyrics are filled with truth, which may come through in a satirical sense, but it really does hit hard. Their newest single, "I'z d Man", released especially for the 2010, local General Elections, is political commentary that rocks. Read more.
10. Trinidad Carnival Diary: The Ultimate Carnival Baby
Saucy Diva is arguably Trinidad and Tobago's most popular blogger.
To date, she's had over two million visitors to her blog, Trinidad Carnival Diary, and her welcome mat just keeps getting bigger and bigger. Saucy describes her blog as "the only place on the world wide web to get current and constant information about the World's Greatest Festival, Trinidad Carnival!"
Blame her success on consistency, content, dedication, and Carnival. With Trinis and Carnival lovers scattered all over the globe, the Internet really is her oyster, as visitors looking for information or the latest news or gossip about anything Trinidad Carnival-related flock to her site. Read more.
Bonus: Nick Salloum: Engineer gone FashioNiQ
(Coming in at #11)
When can an engineer become a fashion designer? When your name is Nicholas Salloum, and the idea of a career behind a desk, pushing paper, makes you cringe. Most people who make a drastic career change are having a mid-life crisis. But what do you call it when you're 25, fresh out of college and simply considering your options?
After graduating with a degree in mechanical engineering from McGill University, Salloum – the one-man show behind street-wear brand NiQ Fashion – came home in July of 2009, and decided to take a breather from the fast-paced life of Montreal. Read more.
All photography by Mark Lyndersay of http://lyndersaydigital.com, except where otherwise noted. Mark is a professional photographer and writer working in Trinidad and Tobago since 1976. His column on personal technology, BitDepth, has been continuously published since 1995. He is currently pursuing a photo essay series about how Trinidad and Tobago pursues its culture and festivals called Local Lives. Both series are archived on his website at http://lyndersaydigital.com.
Look out for a new issue of Outlish.com every Monday.