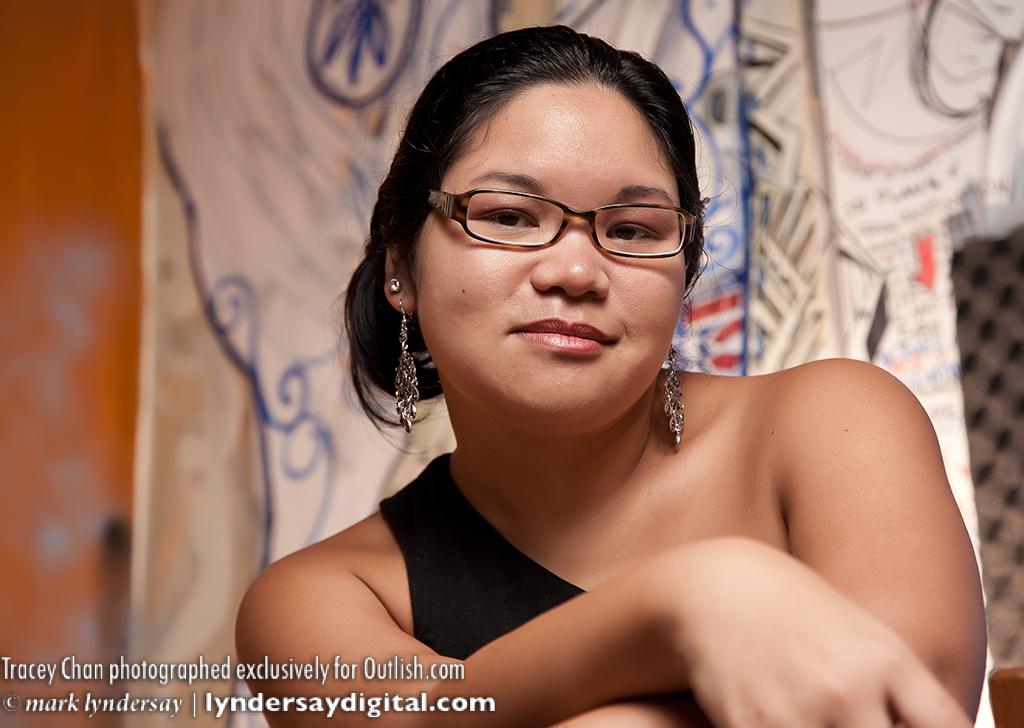 Tracey Chan: Diverting Art's Direction
|
What people would dub as starting over might actually be a simple diversion. For multimedia visual artist Tracey Chan, 30, that diversion meant leaving the world of the 8 to 4, as a print department manager and graphic designer, and becoming a full-time artist.
Chan, however, wasn't content to stay in Trinidad to spread her wings. Soon after leaving her job, she moved to Grenada in December 2009.
"I was really burnt out, having worked since I came out of Form 6, so I knew I had to take a break and do what it is I really wanted to do which was fine art and get that, because I never had the opportunity to do that before," she says. "So it was just a matter of having the guts to drop it and move along and I really needed time and space. I didn't feel like I had that in Trinidad at all, so I said let me try moving. I had savings. So I randomly went to Grenada.
"Of course everyone was freaking out. They still are. You know how these life-changing decisions are. Where you're kinda like 'oh gosh I'm gonna die', but you know what… it's worth it. I had no parrot on a stick."
There just over a year now, she's checked a few boxes on her to-do list. Exploring a wide range of media, drawing, painting, photography, video and experimental animation, she has exhibited in Grenada's 2010 Arts Council Show and the group shows, "Ephemeral", "Line & Colour" and "A Sampling of Grenadian Art".
The contemporary, fine art world in Grenada is a small one, but it's one this Trini is intent on helping to expand.
"Actually now I'm working with a young, Grenadian artist, Stacey Byer on WOMA (Women Make Art) – Grenada's first women only exhibition – which takes place in March," she explains. "We're doing it in celebration of International Women's Day (March 8). So this is quite exciting because this is the first of its kind for Grenada's art scene."
Chan is quick to note that the event isn't meant to come across as being sexist or fuelled by feminists. Instead, it's simply meant to celebrate women, their achievements, and their progression. While Chan and Byer are not yet sure as to whether the event will be a one-off show or held annually, Chan clearly has her hands full for 2011 – not just with her work, but also in helping to nurture young talent.
"What I'm trying to do is push art in Grenada, especially with young people because the crowd in Grenada is an older crowd, a lot of expats," she says. "A lot of the active artists are expats and I'm one of those, but I'm trying to push it because it's very sad to see when you don't have a lot of young artists coming out because they're too shy.
"You'd find that there's no encouragement of random chatting with an artist and that's what we faced as well growing up, as an emerging artist. You always want mentors and someone to push you in the right direction. Someone told me I should be an agent as well, because I like the networking aspect of it. Maybe that's another area I should look into."
Her art
Chan's love affair with art goes right back to her childhood.
"I would draw on my school books… writing on the desk, getting boof for writing on the desk, oh gosh having to clean the desk, and writing on all the covers, inside, outside the book, everywhere there was space," she says, laughing. "Only the walls got away unscathed.
"I still have drawings from childhood. I was always the class artist – primary school and secondary school. I was the person everyone asked, 'hey I have a poster to do or want to do a tattoo'."
After secondary school, she dabbled in animation, print media, advertising, video editing, and event management, while moving on to pursue her B.A. in Visual Arts from The University of the West Indies (St. Augustine) on a part-time basis.
For the non-artsy person, Chan's work is definitely an eye-opener about the various media artists use. A multimedia artist, by definition, automatically has permission to experiment with textures and materials, and Chan goes all out, with a socially and environmentally conscious approach. These days, she's using recycled materials, especially brown paper, and don't be surprised if she asks you for your Styrofoam lunch container, so she can convert it into a work of art. She even creates art out of thread and wood.
"I really don't like canvas," she admits. "I mean I've painted before and I may use it on other things but I use a lot of drawing. A lot of people don't do it. Like drawing more illustrator type things. Using a lot of pen, markers, that sort of thing. I can switch. I like watercolours. I'm not an acrylic girl, but I can use a lot of media depending on my mood. Depending on what I'm working on. It also depends on the type of paper I'm using as well. I do a lot of figures. I use a lot of words as well in my work. You can tell from the scroll."
The scroll Chan speaks of is a 50-foot scroll, she made as her university final project, which was previously, temporarily installed at the Trinidad and Tobago's National Museum, as part of UWI's presentation, and for which she's now looking for a new display space.
"A lot of my work was based on school projects and final projects," she explains. "So it sort of progressed. So a design project ended up being an enormous installation and that's the nature of what a visual artist is. You can be in any medium. It can be video or installation work or drawings or paintings or anything using sound… Anything you really want. And so that is it… in school you learn to use a variety of things, so you can pull a genre… so I think that's the genesis of what a contemporary artist is now…  You have to be flexible as well and work with the materials that you have, especially if you're on a low budget like myself.
"I do a lot of research as well. People think you go to a studio, working, painting or drawing. But you think a lot as an artist too. A lot of my studies deal with human beings and our kind of behaviour and the ridiculous things that we do and all of the social interaction. There's a lot of research involved and it's not just slapping something on canvas.
"There is a background to it. There is theory to it. There is stuff that you're interested in at the moment that you will go and research. Because like, for me, when I did the scroll I was looking at things like calligraphy, Asian things, paper, and journaling, because I've been blogging for the past ten years or more and so using words in that regard… even with that it had a background story so even now a lot of my stuff is very connected. Works are connected somehow."
Constant experimentation often means that people will try to place labels on what you do, so how does Chan handle this?
"You have to put a label at some point," she admits. "I do a lot of abstract stuff. For me I wouldn't even put a label on it, but sometimes I have to because I have to say ok I might do contemporary, minimalist photography or something like that because you don't want people to think you do portrait photography. Other times you have to say I really don't know, call it visual art. But it's more than that. It's pretty complex. It's a hard job and a lot of people don't understand that.
"It involves a lot of thinking because you know when you go to an office job you can switch off and leave work, but when you're making art, it's hard because you're always working, always thinking. You might be liming and you're still thinking somewhere in the back of your head."
Back to Grenada
"It'll take a little while to expand the art scene and it'll be quite a challenge, which I like, considering what I've done, because everybody's first question is why there (Grenada)… it's so backward… but you know what it's quiet and new," she says. "A lot of people would look down on it and say 'oh a small island, nothing really to offer'. I actually enjoy living there. Grenada is absolutely gorgeous and brilliant."
A naturally vivacious personality, Chan seems to thoroughly enjoy the networking aspect of her work, from the usual exhibitions to fun ventures like the mural she recently teamed up to do with fellow Trini artists like James Hackett, Dominic Gomes, and Warren Le Platte, during her visit home for Christmas, while music creators Baidawi, Spanny and Quincy of Detnator provided the soundtrack for the artistic, fusion lime.
"It was interesting for a lot of people who never saw it before," she says, reminiscing. "It was an amazing experience. That was one of the things for it… the energy. And I think that's what we need. A lot more installations and projects, getting people together to work."
Now, that she's back in Grenada, WOMA and her other projects are her main focus. She's also made great connections in Grenada with artists and organisations like Erik Johnson and Meg Conlon of The Gallery, Lilo Nido and Chris Mast of Art Fabrik, Sandra Russo, Sandra Russo of the Alliance Française, The Grenada Arts Council, Susan Mains, Hazel Dawson, and Suelin Low Chew Tung (Trini artist).
"I'm meeting people, and selling more work," Chan says. "It's not a lot but I'm still building. My next projects will involve the artist communities, and getting people together to create work, to show work and to share with one another. I also want to do some more group shows and hopefully a solo show either in Grenada, Trinidad or anywhere I can get to do one! I'm also going to apply for residencies so I can travel again."
The life of an artist is ever a work in progress. For Chan, evidently, roaming the world for new experiences, socialising and sharing her creative juices with fellow artists and nurturing new talent are at the core of her journey.
To stay connected with Tracey, follow her on Twitter @traceyctt, find her on Facebook, and check out her websites traceychan.com and inspiritus.org.
Photography by Mark Lyndersay of http://lyndersaydigital.com. Mark is a professional photographer and writer working in Trinidad and Tobago since 1976. His column on personal technology, BitDepth, has been continuously published since 1995. He is currently pursuing a photo essay series about how Trinidad and Tobago pursues its culture and festivals called Local Lives. Both series are archived on his website at http://lyndersaydigital.com.
Images of Tracey's work, courtesy Tracey Chan.