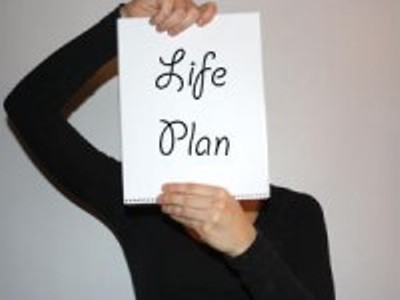 The Five-Year Plan: Does it Make Sense?
|
When someone asks you, "Where do you see yourself in five years?", do you know exactly where you plan to be, or do you scramble to find something to say? Some people live by five-year and ten-year plans. Some happily paste photos in their vision books. But, some people think that since life is so unpredictable, having a plan is senseless.
Still, some would argue that planning your life is the 'adult' thing to do. They're right to a point. If you want to achieve your goals, you have to put in the work and plan for them. But to all the planners out there, I ask, do you really think you'll be exactly where you plan to be? Are you sure you'll have that higher income, a better job, marriage, children, or owning your own home? Do you have a plan in place for getting them? I thought I did.
My plan is outlined in a notebook that I carry with me everywhere, and it's backed up on my BlackBerry. I set a timeframe in which it all has to be accomplished. And if I get it done in less than the allotted time, I win.  But the unpredictability of life happened to me.
I was recently laid off from my job of nine years, and I can tell you that my life goals did not include that drastic change. I thought I was safe. I thought I was dedicated enough, worked hard enough and I'd grow with my company. My colleagues and I never saw the downsizing coming. But such is life.
Now, I'm thrown off track. It hasn't gotten me down completely, but I'm fumbling through my notes and plans to switch around my timeframe, and goals. This is exactly why some people don't believe in five-year plans, and I can't fault them. Knowing how flip-floppish life can be, five years is probably too far into the future to plan for anything.
So, if it is that five years is too much to think about all at once, maybe a two-year or three-year plan is enough to get the wheels in motion. That way, if anything changes, you won't feel defeated, but still have time to re-evaluate your plans.
I actually have a two-year plan in order. My goal is to buy my own house. So that means, saving for my downpayment and buying furniture. But it all begins with me clearing up my credit, and being a bit more responsible with my spending. I've been asked if I'm sure I can get that done in two years; and now that an extra spoke has been stuck in my wheel, I have to push my plan to the back burner, and get over the stumbling block that's now in my path. I'm not letting go of my two-year plan. It's just that now a new goal is in effect…getting a job.
And although I have my plan all written down and drilled into my subconscious, I know myself. I get lazy and distracted easily. I'm a master procrastinator. If I set  a five-year plan, half the things on my list won't get accomplished. My two-year plan keeps me on my toes. It keeps me alert and aware of the timeframe, and allows me to manage my goals for that moment, a whole lot better.
If you're anything like me, a lazy, easily distracted, master procrastinator, then starting off with a short life plan is a great start. It could be that you're not sure where or how you'd like to see yourself in five years, and you prefer to live life one day at a time; but, that still doesn't mean that you can't prepare for a goal. You're not in a race against anyone else, so going at your own pace is fine. Just remember that to get to that goal you've outlined for yourself, you have to understand what it takes to get there…and prepare to accept and deal with the unexpected.
Regardless, of whether you're a planner or just going with the wind, I'm sure you've wondered at some point what your life will be like in years to come. If the thought has crossed your mind, have you considered making a life plan? Is a five-year or two-year plan important to you?  Do you think such plans are a waste of time, and you're better off living in the moment?