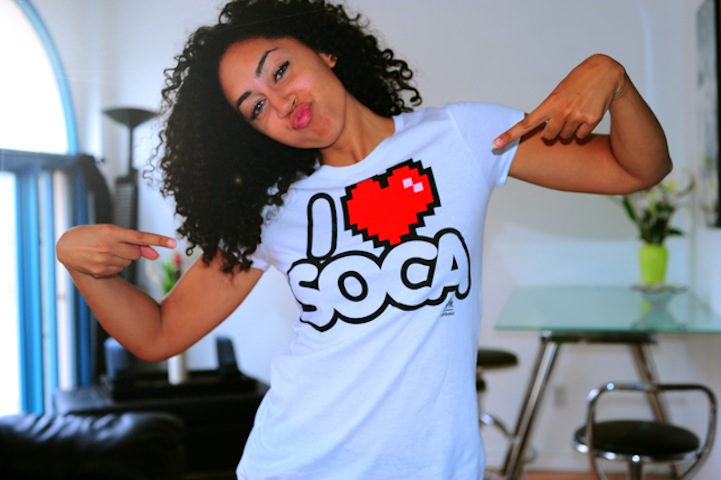 Soca and Sexuality: What if your Favourite Artiste was Gay?
|
Trinidad and Tobago, are you ready for an openly gay Soca artiste? Age, gender, and sexuality do not affect your ability to make great music. Right? That's the politically correct thing to say. But let's consider the different responses to this question, and the variables affecting an artiste who may well choose to come out.
These days, I hear people saying that our society is more tolerant of homosexuality. If this is true, I'd say it's most likely due to the effects of US pop culture and the Internet.
Studies show that people are likely to be less prejudiced towards gay people through parasocial contact via mass media. What this simply means is that you're socialised through one-sided interaction. You know a lot about the other person – the celebrity who's gay or the gay character in "Will & Grace" or "Sex & The City" – but the celebrity doesn't know much about you. And, through regular consumption, your prejudice levels begin to drop – most likely, I suppose, because you begin to see them as human characters, and not as "that gay man or woman".
But does increased tolerance really mean that people are ready to see homosexuality, which is still viewed as an alternative lifestyle, represented on the big stage?
Would thousands jump up in Soca Monarch for a gay artiste? Would the grassroots in general admission go for it?
Would thousands jump up in Soca Monarch for a gay artiste?
Would people be cool if a male singer put "he" where they'd have expected "she" in a song? Or would we really not care because, oh lawd…de song sweet!
What do you think? How would you respond if your favourite Soca artiste, or another popular Soca artiste came out, saying he or she was gay? Do you think people would accept it? Do you think it would kill their career?
When I posed these questions on Facebook, these were some of the comments I got:
"If the artiste is male and his bread and butter is Soca music, then I'd say it's definitely a career killer. I honestly cannot see the masses in Licensing/Fire/WASA/Soca Monarch, etc., embracing an openly gay artiste."
"I think many people would disown the Soca artiste and treat them like they had the plague."
"I think many people would disown the Soca artiste and treat them like they had the plague."
"There is already an example of said issue…Soca Blue…She was on [Synergy TV's] 'Soca Star'. Everyone thought she was gonna be big, then she came out gay and now most people don't even remember her."
"In Trinidad I think generally it would be a career killer. If they get accepted abroad for it or in spite of it…or because of it…then it would be fine."
But not everyone thinks it would kill an artiste's career.
"Depends on the artiste – if their sexuality seemed iffy then people would probably accept it," says one Soca lover.
"I couldn't give a hoot about anyone's sexuality," says one guy. "Once they making good music I eh care. If folk don't want to accept it it's their loss."
"I don't think it would kill their career – they would probably get plenty 'pong' in the media like Anya and dem in the beginning," adds another lady. "But you know Trinis…let the artist only come out with the hottest Soca hit and Trinis jumping back on that bandwagon very normal."
What if it's a 'big artiste'?
"It depends on the artiste," Dee* says. "Machel [Montano], Bunji [Garlin], Kes [Dieffenthaler]? Nah. They go lose they fan base one time. Swappi, Terri Lyons, Fay Ann Lyons, Nadia Batson, Patrice Roberts…They might get away. I think women would have it easier than men, since men in Soca are expected to be very macho and sexually aggressive toward women."
"Real depends on how big they are too," Tony* adds. "Women do have it easier, and probably will get away, even if is a nobody. Machel could get away with it too, he could literally do anything he wants."
"If Machel came out, we'd pretend we always knew," says B*. "But if someone like Maximus Dan did, we'd feel kinda uncomfortable for a season, but eventually we'll calm down. There are artistes we reckon are least likely to be gay, for one stupid reason or another…eventually, after everyone plays stupid and decides to boycott their music or some shite, they'll realize that at least you can enjoy their music without caring about their orientation."
Some, like Rose*, are more hopeful.
"I'd be proud of them for coming out," she says. "Because in this country, gay people does still get bottle."
Nicki*, a Trini in the UK, says, "Many gay artistes are accepted internationally, as talent is talent. But Trinidad? I can't see that yet. I hope I'm wrong. I see my gay friends here [in the UK] married with kids, open about their lifestyle and happy. People are unable to do so in Trinidad."
Nicki has a point about gay artistes being accepted internationally. But there's still some taboo towards it in some conservative quarters. If we cast our eyes to the world of Hip Hop in America, we'd see that it's still a genre whose culture is generally homophobic – although R&B crooner, Frank Ocean's recent revelation that he once loved a man, and Jay Z's support of President Barack Obama's backing of gay marriage signal some change.
…is the Caribbean ready to be so progressive…?
However, is the Caribbean ready to be so progressive (or perverse, depending on your perspective) to embrace openly gay entertainers? Would people who have no real problem with homosexuality still be apprehensive about outwardly showing support for fear that it would be a reflection on them? Are they willing to normalize homosexuality, alongside heterosexuality? There's a big chance that traditional viewpoints will still hold strong.
Homosexuality is punishable by law in various countries, including Antigua and Barbuda, Barbados, Saint Vincent and the Grenadines, Dominica, Grenada, Jamaica, Saint Kitts and Nevis, Saint Lucia, and Trinidad and Tobago. But let's remove the issue of the criminalization of homosexuality from the discussion to help us zone in on how people feel, from a simple, human perspective.
In the Trinidad Express, columnist Rajiv Gopie said: "Homosexuality is both a deeply cultural and a deeply spiritual matter…In T&T there is no overt homophobia or widespread violence, but there is a culture of silent prejudice that pervades our nation…The issue of homophobia is not easy to deal with; it is engrained in religion, culture, education and history…
"There is a culture of hyper-masculinity in T&T…In this culture, there is a tendency for aggression in males and the needs to defend their masculinity."
In this culture, it then would be problematic for a Soca artiste to sing about wining on a gyul bumper, or having people surrender their batty, if they can visualise which sex the artiste surrenders his or her batty to. By nature of its narrow range of topics would Soca's overt link with heterosexuality pigeonhole artistes? Or could that challenge them to broaden their scope, which coincidentally, may be just what they need to 'make it big' outside of our local market?
There are various factors at play. Culture. The genre's sexual nature and typical lyrical content. The artiste's career stage. The full sexuality of Carnival, but people's still conservative take on taboo topics. According to some of my Facebook commenters, a person's sex also plays a role. Then there's also the question of whether artistes would be willing to shoulder that weight of being the poster boys/girls – even if they didn't flaunt their orientation in our face. Would other artistes accept him/her?
Truth is…we mightn't care if Frank Ocean is gay, if Nicki Minaj is bisexual, or if Lady Gaga is promoting homosexuality on her new social network. But, if one of our own says, "Yes I am gay", how would we respond? Would more people click accept…or reject?
* Names changed.
Main image via blackfyahproductions.com
Image of Machel Montano via thefreshlime.blogspot.com