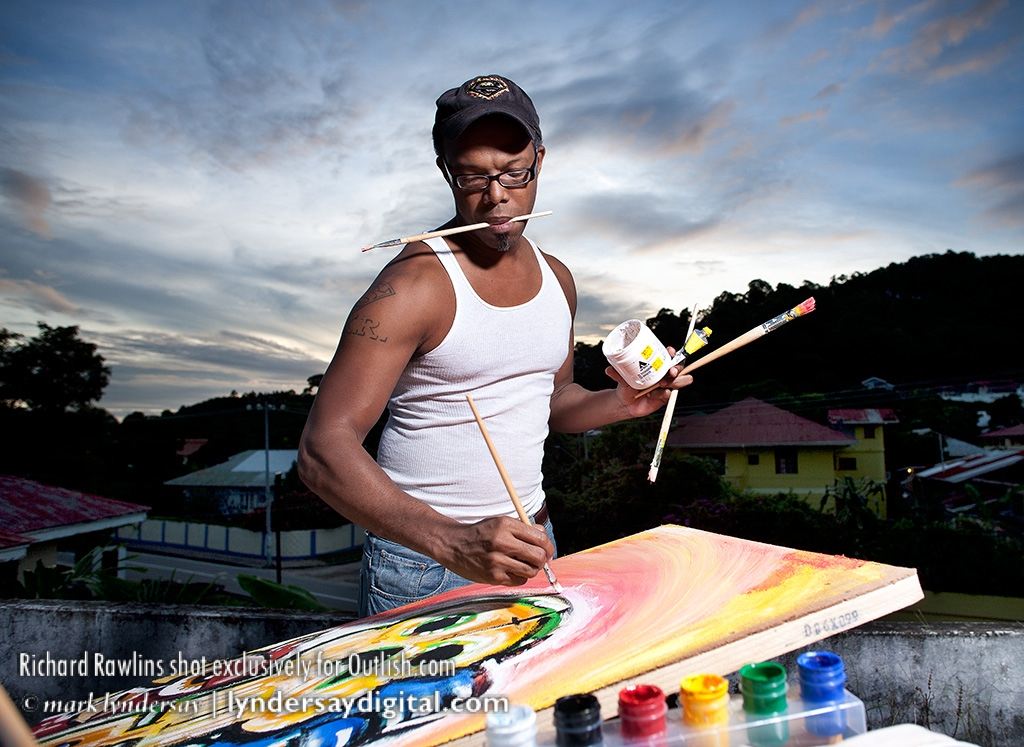 Richard Rawlins: Obsessed with Creating
|
Richard Rawlins is many things – graphic designer, visual artist, photographer, and Creative Director at Collier, Morrison, Belgrave (CMB) – one of Trinidad and Tobago's larger, advertising agencies.
With the number of projects he's involved in, his title changes with each entry in his schedule. Regardless, it's safe to call him what he is – a creator.
Outlish recently chatted with Rawlins about his work, the art scene in Trinidad and Tobago, and wanting to make the largest panty in the Caribbean. Oh yeah; we're serious. Check it out.
O: You're a Graphic Designer/Photographer/Visual Artist/Creative Director, been in advertising for over 20 years, you publish the online magazine Draconian Switch, you're a co-founder of Trinidad and Tobago's Erotic Art Week exhibition, and collaborator in the Alice Yard art space initiative. Tell us about what you do?
RR: I make work. I make lots of it. That's what I do. I work. I work a lot.  Is it a chore? No it's not. An artist is supposed to make work. Tell their stories through the process of making work and develop a succinct vocabulary. I think the very act of creating work is about sharing. It's what I do. I don't really have a choice.
O: How did you come about to be all of these things?
RR: Ha. I like to think that I suffer from CREATIVE ADD (Attention Deficit Disorder). Actually, I'm bipolar and I can either take drugs or get the adrenaline and the endorphins going by working. I am at my happiest when I am making work. I was trained as a designer and all the other designations just came along for the ride, as I produced more and more work. I tend to get up and decide that this is what I'm going to, and then I just go do it.
The cool thing about being a designer is that it allows you to jump into many things from a design perspective, and succeed at them. So maybe I'm not a photographer. Maybe I'm a designer who can use a camera very well, and, due to design, understands balance, colour, and content.
Maybe the length of time I've had in advertising as a designer and the fact that designers create solutions led me to be ultimately a Creative Director. Maybe the simple fact that my design sensibilities operate overtime on any of my projects allows me to be a successful visual artist.
O: How do you juggle all the various things you involved in? Creatives always get stuck as operating helter skelter, but I'm sure you have a method to keep your head above the water.
Believe me. After two divorces and three girl children, keeping track of it all comes naturally. I guess I really have my father to thank for that. He was a soldier in the British West Indian Regiment. He was very disciplined. If you said you were going to do something you do it. Finish what you started. Do it well. As soon as I say I am gonna… I am committed.
"Doing things on your own steam really does benefit you in the long run"
O: Do you subscribe to the view that T&T's environment is stifling for creative people?
RR: Not at all. Sure there are a lot of things that aren't encouraging, but artists are working every day and creating things. I think doing things on your own steam really does benefit you in the long run. You don't expect anything for starters and when good stuff comes along, you are so much the better for it. I work like that. Just get up and do.
There are no grants or handouts. Just do. Look at the artist Marlon Griffith. Do you think he had it easy? No he did not. But look at where Marlon is today, exhibiting in shows in South Africa, the US, France and even winning a Guggenheim. Hard work pays. We stifle ourselves. A lack of discipline is stifling.
O: Obviously, you're one of the more experienced artists out there. How did you get into art?
RR: While that may or may not be true depending on your perspective, I think you really mean established artist. I am working toward being a more established artist. There are a lot of experienced but un-established artists out there. Happily, my focus is making work first and foremost and maybe that will take me toward being more established… I guess.
I've always been around 'art' in a sense. My father was an artist and a model maker. He made toys for a few members of my family, most notably his granddaughters. I grew up around him working. My grandfather also made mas and was more of a crafts type of guy. He developed a passion for making things from coconuts… coconut sharks, jewellery boxes, The Nina, The Pinta and Santa Maria – all kinds of things.
My dad encouraged me. He would go to Deltex and buy me inks and paints and brushes and such. He would draw something on one page and I would draw my version on the other side. So it went. Then he got me into comics by taking me to Wesley's Barber Shop and handing me the comics there… things like Hot Rod Comics, True War Stories, True Romance and of course Superman. I became hooked on comics ever since. That led me to POP art. I love popular art. I love urban street art. I love protest art.
"There's no such thing as self taught"
O: How did you become skilled in your various areas of expertise? Self-taught, went to school, under tutelage from experienced artists – or a mix?
RR: There's no such thing as self taught. Once you are alive you are learning and exploring. Once your eyes are open, you get something from somewhere. I studied Commercial Art at George Brown College of Applied Arts and Technology, Canada. Our tutors were working practitioners in their field of design. They were art directors and designers who had their own studios.
O: What sort of art are you into/ do you do?
RR: I like contemporary art. What's funny about that statement is that based on time and space all art at one time was contemporary. I really like and admire installations that bend different disciplines. Designer Marlon Darbeau did one such thing in 2008 with his "En Route of Bridges and Barriers" exhibition. This one brilliant exhibition had elements of graphic design, industrial design and advertising. I love that kind of work.
I am not a fan of dogs walking on the beach idly by as fishermen pull seine, or washerwomen go down by the waterfall. I also really love POP art especially American sixties POP art… Jasper Johns, Roy Lichtenstein, and of course Warhol.
O: What, to you, is art?
RR: Yuh know, I just don't think about it. I just create stuff. I have more important things to do than debate what's art.
---
O: What's the current art scene like in T&T?
RR: My interpretation of the scene is that it is exciting. Nicholas Laughlin summed it all up in a brilliant article for Global Voices: "Trinidad and Tobago: Online Art Networks". He called the scene an energetic and often anarchic art scene with no single centre or arbiter.
There is so much going on I don't want to guess at it. There are all these new initiatives and all these bright young artists doing work like Michelle Isava, Luis Vasquez, Alicia Milne, Arnaldo JJ and Brianna McCarthy just waiting for the jump off. It's exciting. They aren't dependent on any galleryist or anything like that; they are just doing their do.
The documentation work is also getting better, thanks in large part to the immediacy of the Internet. Early adopters of the net for dissemination of works were Adele Todd, Richard Bolai and the CCA7 collective. Today Au Courant, LS Blogeur, Outlish, Draconian Switch, Caribbean Children Literature, Caribbean Review of Books and a host of others are doing what a lack of mainstream art media in Trinidad and Tobago aren't doing. They are the new art media.
O: What inspires you? What gets those creative juices flowing?
RR: Life and the exciting stories that go along with it that are being told every day. I am inspired by recording it and creating work. I am also lucky to be in Trinidad as a practising artist at this time when so much is going on in the contemporary art scene network. Places and people. Places like Alice Yard contemporary art space I've worked and played there. Abovegroup's Show and Tell and that dynamic group of people… So many connections.
I run with a really creative pack of peers, Dave Williams (dancer), Terry Smith (architect), Darryn Boodan (writer), Rodell Warner (photographer), Mariel Brown (film-maker), and people like Christopher Cozier (artist), Sean Leonard (architect), Nicholas Laughlin of Caribbean Review of Books, Georgia Popplewell of Caribbean Free Radio/ Global Voices, Robert Young (fashion artist), Lesley Anne Noel (designer), and Adele Todd (designer) who always have time to lend support and ears to artists just doing their best.
And of course there are just so many stories to tell in our country. If you want to work, there are stories and pieces out there waiting to be shaped. There is a whole visual vocabulary of my own that I am developing. The thought of doing that every day just drives me. I even work in my sleep.
Just the very idea that a body of work or a new project could take me to a place unexpected is in itself inspiration enough for me. Who knew when I started Draconian Switch in 2008, that it would have carried me to Suriname to meet a great group of talented, contemporary artists there; who knew that my association with Alice Yard would end up carrying me to the Museum of Art and Design in November 2010. Just the fact that I'll never know where it takes me is inspiring.
"Moses had a harder job with the ungrateful Philistines than I have with my people"
O: And as a Creative Director at an ad agency, what's your role?
RR: To lead and inspire my people. They make it easy. They are bright. Moses had a harder job with the ungrateful Philistines than I have with my people. They are talented individuals who know what they are doing and push the boundaries of what's possible every day. CMB also makes it easy, by facilitating the growth of my teams through training and encouragement in individual projects. There's a lot to be proud of – tattoo artist Darren Cheewah had a great show – "17W" – last year at the Republic (a liming/exhibition spot for creatives in St. Anns), colleague Marlon Darbeau has exhibited at Becca museum in New Orleans, and Rodell Warner is showing at the "CHANGES" exhibit in Washington.
O: You recently hosted your Button Exhibition. What's next?
RR: Well, August 26 -28 I do my next show "CHINESE WORKERS", I'm committed to a Show and Tell at Abovegroup, have been invited to contribute to a symposium on "Art, Design and Architecture: New Perspectives on Art and Design Practice in the Caribbean" in October, and Draconian Switch is part of the Global Africa Project exhibition in November. I'm working on a film on my dad entitled "Smallman the world my father made", continuing on a series of paintings I started last year, would like to sew the largest panty in the Caribbean in time for next year's Erotic Art Week, starting to look into furniture design, and whatever else comes up when I sleep.
O: What advice do you have for young creatives coming up?
Just do the work. Make work. Make lots of it.
To check out his upcoming "CHINESE WORKERS" exhibition, visit the Facebook event here.
You can also check out Richard's blog: artzpub.blogspot.com.
Photography by Mark Lyndersay: www.lyndersaydigital.com