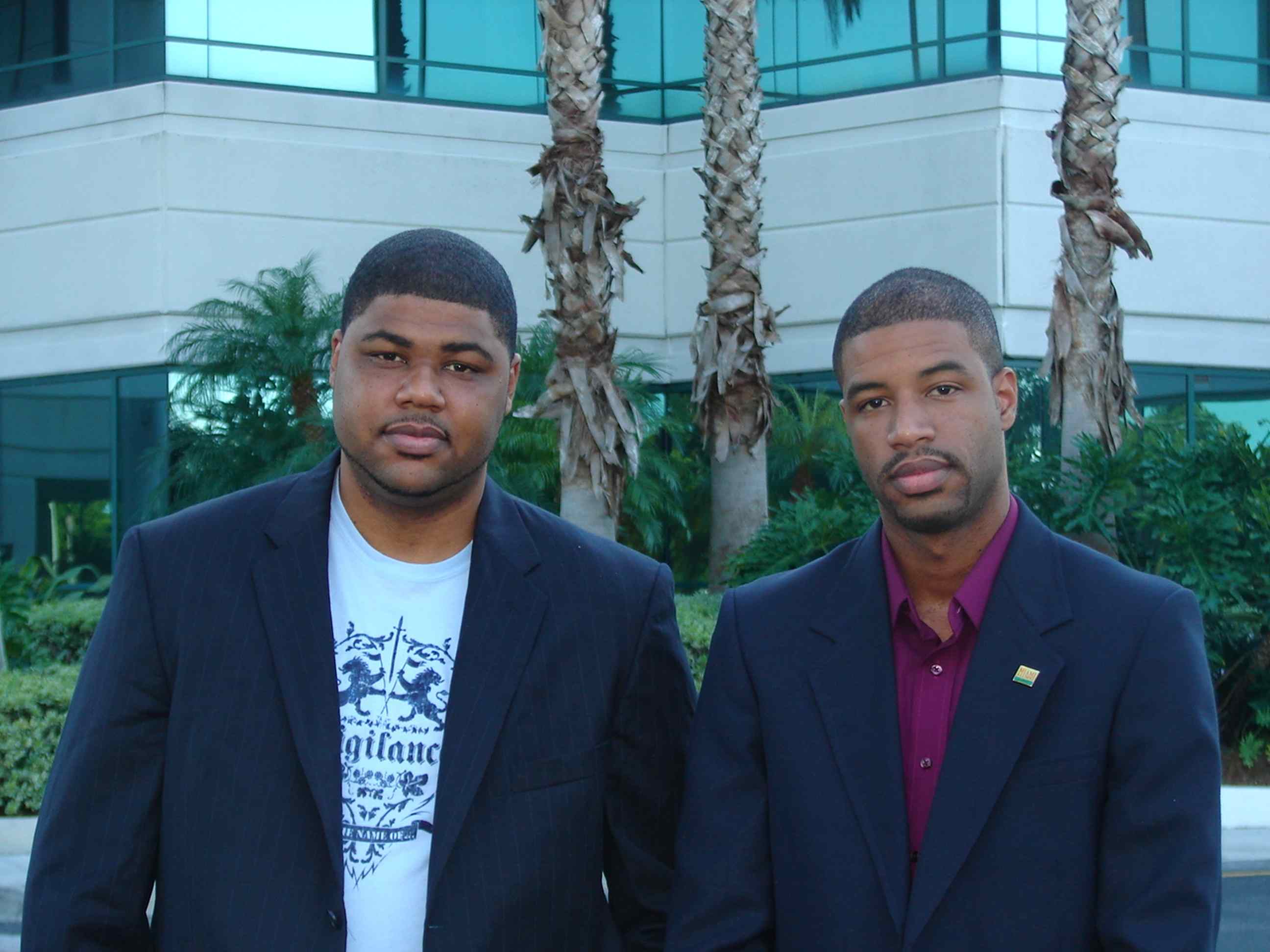 RealVibez: How we got a deal with YouTube
|
Crossing borders this week, Outlish chats with two, young, Jamaican entrepreneurs about how they got a deal with YouTube.
When someone graduates with a bachelors degree at age 19, you immediately expect great things from them.
In the case of brothers David Mullings and Robert Mullings, who, at 15, left Jamaica to study in the US, the quest for greatness includes extending the reach of Caribbean content online, and extending their influence, as digital natives.
Based in Florida, David and Robert have spent the last few years promoting Caribbean entertainment and culture through their online venture RealVibez.tv, which chronicles Caribbean film, television, music, events and pop culture, and an online video service that offers shows, clips and music videos. In addition to having a sizeable collection of Caribbean entertainment videos, RealVibez has merchandise deals with artists such as T.O.K. and Cezar.
The brothers manage RealVibez under their company, Random Media LLC, an integrated media and entertainment company, which they founded in February 2002. David, now 29, and the older brother, who's often mistaken as the younger of the two, is the Chief Executive Officer, while Robert, 28, is the Chief Operating Officer. Although they both have other projects (David has a second company – a digital marketing company, Kaizen Interactive, which he manages with his wife Kathryn), they remain focused on strengthening RealVibez's positioning.
In July 2008, the company entered a relationship with YouTube.com to create the first official Caribbean media channel on YouTube, and became the first Caribbean-owned company to sign a revenue-share deal with YouTube.com, and have now become a part of YouTube's rental programme.
It's not surprising to see them making this sort of headway. Finding a way to marry their love for country, entrepreneurship, music and social media into a burgeoning business, both brothers have always been early starters, from graduating with their bachelors degrees at 19, founding RealVibez at 21 (David) and 20 (Robert), respectively, and earning their masters degrees (David at 22, Robert at 21).
So far, they're enjoying the challenges of entrepreneurship, from negotiating with angel investors (which they've had success with) to actively seeking a continuous stream of content. There's also the fun part, like going on tour with Sean Paul, and hanging out in studios with major stars like Shaggy and Beenie Man. RealVibez has also been featured in the book "How To Make Money with YouTube" by Brad and Debra Schepp (available on Amazon), with David contributing a chapter.
Outlish recently chatted with the Mullings brothers, in an e-mail interview, to get the scoop on how they got YouTube to take them seriously. A real dynamic duo, the brothers gave joint answers for this Outlish interview.
O: How did you'll get the idea to start RealVibez?
Mullings brothers (MB): We had already started a website for a venture that we came up with for an MBA class project (it was a website focused on Hong Kong martial arts movies and tuner culture called PlanetHK), but my cousin's boyfriend, Marc Gayle, was hanging at the beach one day, and because of our involvement in music (we used to deejay at parties in college) he suggested we create a website that focused on Caribbean music. We dropped the original idea and ran with this one. Our father came up with the name.
O: Your father came up with the name! Have your parents played a role in your startup?
MB: Our parents required us to make a pitch for a business they could invest in every summer and Christmas since I was 15 years old. Random Media was the first one they said yes to and they were the first investors. How they invested was actually different too. Instead of handing us the amount of money we wanted upfront, they used the same amount to finance our living expenses, while we went out and got jobs to save money for the business. Our father sits on the advisory board.
O: What's the business model for Random Media?
MB: Random Media is essentially a Caribbean take on Viacom, but focused on digital distribution of content. For now we will license content instead of creating our own, but the day will come when we will invest our capital to have content created that we own instead of license.
We just signed an e-book distribution deal with a big publishing company in Jamaica, LMH Publishing, and will be making some of their titles available in the Amazon Kindle and Apple iBooks store. There are similarities to software companies in that all digital goods are just software, and anyone who has paid attention to the marginal cost of Microsoft selling another copy of Windows understands the tremendous profits that come from selling digital goods. We're finalizing more partnerships in 2010.
How has RealVibez evolved since you started?
We have always had big plans for RealVibez, but it started as a website that was described as the closest thing to a Caribbean MTV on the web. Thanks to partnerships, we have been able to be involved in music, television and strong, online partnerships.
I've seen photos of you going to various events with artistes etc. How does RealVibez create or obtain content?
RealVibez obtains content mainly by licensing content from professionals, receiving videos from musicians or their PR representatives and shooting its own video. Our focus now is on licensing professional content.
In July 2008, you inked a deal with YouTube? What was the nature of that?
The deal with YouTube made us their Caribbean media partner and allows us to make other channels partners, allowing them to earn revenue from ads YouTube places with the content. It also allows extra customization features that normal channels can't get. We were the only partner targeting the Caribbean at the time. Currently the Jamaica Tourist Board is benefiting from the relationship and we are now finalizing a deal with Ocean Style TV.
What are the extra customization features that you offer, with this new deal?
The new YouTube deal offers a new revenue opportunity in the form of direct rentals to users. The original deal required massive amounts of video views to generate any real revenue but now we can go direct to consumers and also set our prices. Content partners also now are able to put up much longer content that they normally cannot put up on their own.
What sort of challenges have you faced along the way in building your business?
Our age has been used against us in some cases, but the biggest challenge has been knowing when to say no. Each time we put out information about some achievement, like the YouTube deal, we inevitably get requests to partner on some project or venture and in the past we used to say yes far too often. That would then dilute our attention and distract us. Raising capital has also been a challenge.
You'll recently signed a new deal with YouTube? What's the nature of the deal?
A few months ago YouTube sent us an updated deal that made us a partner in their new Rentals program. This program allows partners to upload long-from content such as films and concerts, set the price they would like to charge, set the period it will be viewable, one day, thirty days, etc. and then collect payments via Google Checkout. Once again we are the only partners focusing on the Caribbean at this time.
---
Is it different from the one you signed some time ago? Is it an evolution of that deal?
It is an evolution of the previous deal.
How did you and your bro decide, hey we need to approach YouTube?
We have always preferred to partner with large companies than reinvent the wheel. Many entrepreneurs are afraid to partner with our businesses or bring in partners but we were taught that it is better to have 10% of $1 million than 100% of $0.
YouTube had become the largest video-sharing website, was acquired by Google and had the most important traits for a distribution point: Reach and low cost. If you have a physical product, you want to sell it in Wal-Mart or some other major chain store with reach instead of opening your own stores. Striking a deal with YouTube made more business sense than launching a Caribbean version of YouTube because they already had reach and we would not have to use investor capital to build technology from scratch and then market the site.
What was the process like, from reaching out to YouTube to signing the deal?
We originally did what everyone else does, apply online through the partner page. Like most people, we were turned down. However, we were taught never to give up and that face-to-face interactions always make a difference so I registered for an interactive marketing conference in Miami that Google was going to be conducting free workshops at and spoke to the YouTube representative after his workshop. He arranged for someone from the appropriate department to call us the following week and 20 minutes later we had a contract sent over to sign and send back.
Did you reach out to them or vice versa?
We had to reach out to YouTube. Our deal with Imeem.com (a once popular online music service), however, was the result of them calling us. Imeem is now shut down, but at the time they had over 20 million users and were backed by Sequioa Capital, the same VC firm that backed Google.
What does this deal mean for Caribbean YouTube users?
The deal doesn't mean much for Caribbean YouTube users if they are mainly viewers. The deal means something to content owners. They now have a distribution channel for their films, plays, concerts and other long-form content that has no additional cost to them. Renting one copy of a film now costs the same as renting 1,000 copies because it is all digital and YouTube handles the delivery (bandwidth and security). The rentals programme currently only works in the USA, which is a large market for Caribbean culture, but as it expands worldwide, it will become an even more important distribution channel.
Caribbean people primarily seem to use YouTube to upload or find music. There are tonnes of Caribbean content on YouTube, but it doesn't make any money for anyone. RealVibez will change that by seeking out partners that own high quality content that will attract a loyal viewership and leverage our YouTube partnership to generate substantial revenue. If the content cannot generate views then it cannot make money and that is the key.
What does your arrangement mean for advertisers?
The arrangement means that advertisers will have more Caribbean content to target ads towards. A Trinidadian hotel for example would be able to run ads on YouTube targeting specific keywords that would be connected to Caribbean videos and now be able to better reach an audience that is interested in Caribbean culture since the odds are that if they are watching certain videos, they like the Caribbean.
So if I wanted to become a part of the RealVibez network on YouTube, and benefit from advertising etc, what's the process?
You would send us a link to your current YouTube channel or links to view some of your videos so that we could determine if we are interested. There is a contact form on the website. We would inform you in a short period of time if we are interested, and then you would provide us with your channel name, and we authorise it.
The rentals programme is different. All the video content has to be hosted on Realvibez's channel. You would submit the videos(s) for us to watch for the advertising option, and if we think there is a market, we would discuss pricing and revenue split.
To connect with RealVibez, you can check out their YouTube channel, www.youtube.com/realvibeztv, and websites www.realvibez.tv, and www.rmedia.biz.