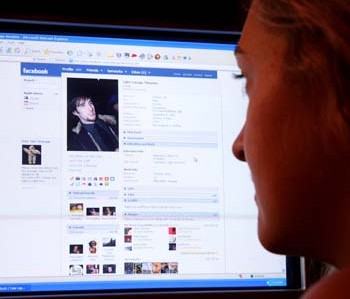 New Profile? Is Facebook taking Maco Central too far?
|
Jes so. Braps. Ah wake up and sign in to Facebook, and is only ah set ah ting in meh news feed 'bout peeps getting ah new profile.
Facebook irritating eh! Dey difficult eh! No warning. No preparation. Just when you got accustomed to the tiny text… is something new. They didn't even ask me if I wanted a new profile. No consideration. It's like when they build a new road in Trinidad or change something; dey eh telling yuh nuttin! You just wake up one morning, bounce yuh starter and when yuh reach the flyover, just keep left and hope for the best.
How alyuh makin' out with the new profile? You like it? I macoed some of my friends' news feed to see if I coulda jump in the new profile business too. Got through in about ten minutes. You'll know I like new ting, so if you see me. Ah setta pictures at the top of my page? Click. Wait… nothing? Ok wait… I can. Facebook has all meh business on de top too! Meh school, who ah married to, meh wuk, whey ah living, whey ah from… Wham Facebook turn into meh passport or wha?

All kicks aside, let's really delve into this new profile. Supposedly, it's much more focused on displaying the most current parts of your profile, and featuring your information at the top of your page, along with the last five photos you were tagged in. Facebook claims this decreases clutter, and streamlines your information, presenting your basic data and most current activity to your profile visitors.
Then there's the list of friends who are in a column on the left of your profile. By default, the list is populated by those you have interacted with most in the last few weeks. You can also edit this to include a list of friends you would like others to see you're connected to (nice touch on making us 'feel' we have a say FB). Facebook's press release says the new profile is "crucial" for promoting aspects of your life that your Facebook friends may not really be aware of. You know… the things we really want to know, like clubs you're a part or sports you may play.
Really Facebook? You'll should have put me on that committee; I would have pulled up the really juicy stuff… like a history of people's relationship breakups and hook-ups (I kid, I kid). Seriously though, if you're gonna put us on blast, you have to make it go BOOM. Somehow, Facebook thought we needed them to be our publicist – telling people where we went, what we cooked today, and just how great our deejaying skills are. I can do that all by myself. Wait… let me correct that. I do that all by myself. But suppose I don't want to?
I don't want my Facebook to be this strategic tool that allows people to size me up. It have stalkers out there! And crazy people! I know all the information has always been there, and yes I regularly air my business on Facebook (minus the things you don't need to know), but now it's in flashing lights. And Facebook's reason for doing this? To allow us to engage on different levels, discover new things about each other and forge new reasons for being in each other's life. They too sweet.
Fact. If Facebook was a person – she would be a Trini. And yes ah woman too. Who else would be at the helm of maco central? Okay – yes I know, it's Mark Zuckerberg, but maybe his nanny was ah Trini and he got Maco Essentials 101 straight from her!
Yuh doh believe me? Let me take you back to your childhood. Go back to ah Sunday. Mommy cooking the usual 'itis' lunch and Dad outside mowing the lawn with a cold Carib in his hand. There is the sound of commotion coming from next door. Somebody getting buff. What does your father do? Walks up to the wall, takes a peek, and then rushes inside to report what going on. Where yuh feel Facebook get dat wall idea from?
So not only is Facebook ah Trini because she represents all things maco, but she is a pimp, trying to fix people up because of commonalities. So Facebook suggesting who I should be friends with, telling me I should provide information about myself, highlighting photos I have been tagged in, including that last photo my friend Turenne tagged me in, when at age 18, my fashion sense was, well, embarrassing.
Instead of making my Facebook experience easier, I now have to go into my settings and adjust these new features to suit how I want my profile to look. Yet another reason Facebook might be a Trini. She come out with something that supposed to make my life easier and instead she giving meh more things to do. Can I get ah steups?
Thing is… we all know our list of friends on Facebook doesn't represent true friendship. You should know this information about your friends already. So discovering things about your Facebook friends should be exactly that, discovering – the natural process of talking to people and discovering the commonalities organically, and the surprise and delight that goes with it. Not the clinical way that Facebook is now forcing on us.
Eng out… ah going an' check meh Facebook!
Check out the rest of this week's issue (13/12/10; Issue 36):
Look out for a new issue of Outlish.com every Monday.
Join us at facebook.com/outlishmagazine