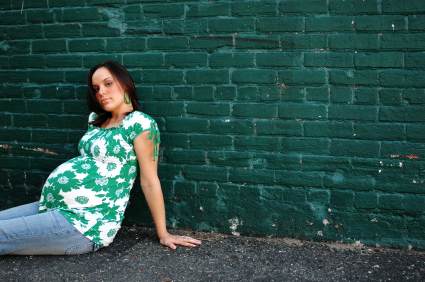 Motherhood: Validating the World's Oldest Profession
|
Prostitution is credited as being the world's oldest profession. Really? Maybe I'm just that young mother desperately seeking validation for her efforts, but I'd like to think that mothers have been doing their jobs diligently long before the first pair of stilettos hit the Red Light District.
I'm sure some are ready to argue that motherhood may not provide a direct source of income, but I challenge you to name a single career path that is more demanding.
Six years ago this was my reality; my career as a mother 'officially' began merely two days before my 21st birthday, under less than ideal circumstances. My boyfriend (now hubby) and I were just finishing our sophomore year in college. We were both on full scholarships, which prohibited us from working off campus. This meant that our main source of income was his minimum wage, a part-time job in the computer lab (thank God for parents and WIC).
We lived in what was called 'marriage housing', a small, two-bedroom apartment that we were shared with another student. The residence was run by a housing director, who clearly had a tortured soul, and missed no opportunity to remind me that we should not be there, and that she had the authority to kick us out at any time. To make things more interesting, we discovered that entering the United States legally as a student disqualified us for Medicaid coverage. No. Health insurance gifted us with $8,000 in debt, although reduced from $18,000, to go along with the new, little bundle that we were taking home.
"Trust me; all the advice books and documentaries on the planet still don't have all the answers."
Motherhood is a self-taught practice. Trust me; all the advice books and documentaries on the planet still don't have all the answers. It requires you to be on call 24 hours of the day,  there's little opportunity for advancement (short of getting them out of your house), no chance of retirement (you're a mom for life), and what other job do you know that holds you legally, morally and spiritually responsible for the life of another?
As if the basic requirements of this job are not stressful enough, I, now a mother of three, have found myself melded to what I believe to be the most over-indulgent generation of parents in history. My five-year-old completed his second soccer season earlier this year, and is now registered for skating and swimming classes, and my weekly schedule includes "Moms & Tots" and "Creepers & Crawlers" for my five-month-old and twenty-one-month-old. Apparently, these programmes are designed to encourage 'socialization and development'. Wish I could meet up with the overpaid child physiologist who deemed this one a necessity.
The demands of this career do not stop at the countless after-school/daycare programmes. Beyond giving more to our children, while maintaining a regular 8-4, we are now also expected to 'look good' doing it. All it took was one overzealous magazine contributor to highlight that sexy celebrity mom who 'got back her figure in six weeks'! They also failed to mention her team of nutritionists, personal trainer, her half-year work schedule, with the work hours she chooses, and, of course, the three nannies it takes to actually raise her brood. Though my reality and that of the majority of mothers out there has little to compare to the celebrity mom, we are not exempt from the almost unrealistic expectations.
So knowing what I know now, would I have done things differently? Well, I've had my share of struggles and disappointments, but I live this life with no regrets. For every dollar spent, every dirty diaper, every temper tantrum, and every embarrassing moment, there is a smile, a giggle, a funny remark, a kiss or simple moment of wonder, as I see each personality taking shape, that makes it all worth it.
I opened this article challenging a simple concept that I believe speaks to society's underwhelming appreciation for the role of mothers… and women as a whole. Preparation for the role begins with the recognition that we (women) are daughters of The Almighty, queens and life givers by virtue of our very form. Nothing could possibly be more sacred nor is there a career older, and with bigger benefits than that of a mother.
Image courtesy: iStockphoto.com, ArtisticCaptures.