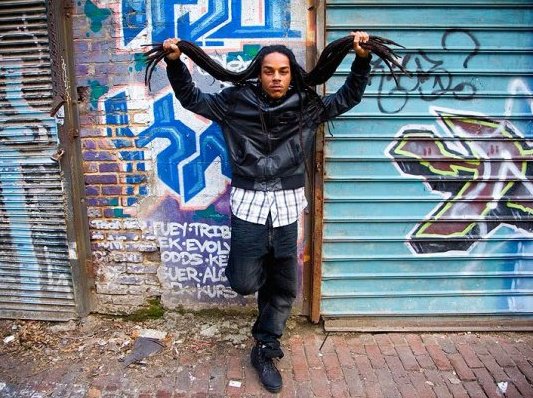 Messiah Ramkissoon: Rhyme and Reason
|
Back in May, I received a text message from my Trini pal DJ Mad Scorpion, telling me about a poet he had just checked out.
"He's a real boss with this poetry ting," he said.
He told me that the poet would be performing at a show at Folukie's, a Trini-owned restaurant here in Brooklyn, New York. Knowing my love for poetry, my friend insisted that I attend the show. I didn't make the show at Faloukie's, but googled him, and saw that he'd performed with the likes of Janelle Monae and Lupe Fiasco. I checked out his work on Youtube, and, indeed, he was remarkable. However, my opportunity to see this poet didn't totally escape me. Here I am a few months later, face to face, and personal, to an extent, with the poet – Messiah Ramkissoon.
"Messiah is a word or title we all know to be associated with being a deliverer."
What a name. Messiah is a word or title we all know to be associated with being a deliverer, a deliverer of a people. No one would quite believe that it's his real name. Well, it is and without vanity. And it is possible that it is definitely a representative of what he's about. Through his artistic talent, he delivers the message of literacy, writing, poetry, the arts, music, and most of all Messiah… his message. How he speaks is how he walks. There is no pretence. And just as I did, you too will soon find out that this native of Trinidad and Tobago is much more than a lover of words.
Messiah currently resides in the Washington, DC area of the US, and for the sake of Outlish, we met at Downtown Silver Spring in Maryland. It's a festive location that complemented the vibe of our interview. We instantly hit it off, and though our conversation, as we walked over to the meeting spot, had some laughs plaited in between, I instantly went into interview mode.
From the accolades that trail behind his name, poetry is definitely a portrait of words that describes this talented and dedicated artist.
"From a very young age in Trinidad I wrote poems," he says, smiling, when I ask him about his passion for poetry. "Poetry is an expression of who I am. Anything can inspire me. Maybe something someone said or an experience. It can even stem from current issues that affect others. To be an artist, you must be in tuned with the voice. It can't always be personal, but must always be motivational."
As we continued chatting, I realized that Messiah was undeniably motivational.
At the age of 11, Messiah migrated to the US with his family. As a child, and into his teenage years, Messiah was home schooled both in Trinidad and here in the US.
"It helped me to be well rounded at a very young age," he said of his experience.
By the age of 15, he was selected as the 1999-2000 Youth of the Year at the Boys and Girls Club. Through this award, Messiah received a US$25,000 scholarship from Oprah Winfrey's Angel Network. This accomplishment at such a young age sent him on a path to his first experience in a school setting. He was accepted to Howard University in Washington, DC, and graduated with a Bachelor of Arts degree in Public Relations. And it is there, his knack for performing propelled him into a realm he now commands.
"…it was more than artistry. It was a purpose."
Though Howard University was a platform that helped launch his poetry, to Messiah, it was more than artistry. It was a purpose.
When asked what it was like attending Howard, a school famous in its own right, yet intimidating to many, Messiah says, with no sense of vanity in his tone: "I adjusted pretty well. I learned at some point that I came in with a name."
His previous performances were already a buzz on the University's campus, so adjusting to the lifestyle wasn't a task for him.
It wasn't all play for Messiah though.
"I love poetry, but up keeping my grades and rapport, came before poetry" he says. "I had to balance school and work. One definitely comes before the other. I had to be successful. I had to complete my journey."
And that he did.
Messiah has written and performed many other well-known poems such as "Black Boy". But it is his ten-year-old poem titled "Sherika Was A Champ", a poem highlighting the HIV epidemic, that led Messiah to a three-time win in 2005 on the infamous TV show, "Showtime at Apollo", here in Harlem, NY. For those of us who remember "Scouting for Talent", the Apollo is a platform where many stars, including Michael Jackson and the Jackson Five were discovered. And indeed… a star was born.
His powerful words, blended with his street savvy-slickness were enough to catch the eyes of many in the music industry. This feat led him to a trail of performances that one can say, are opportunities of a lifetime. Since his three-time win at The Apollo, Messiah did a five-city tour with R&B singer, Kelly Price. He has opened for R&B and Hip Hop artistes such as Janelle Monae, Raheem DeVaughn, and Lupe Fiasco. He's performed with Black Ice, Floecist of the duo Floetry, SUNI (Saving You and I) Tribe, Q Boogie out of Buffalo (a spoken word artist) and Lost Poets to name just a few. But performing isn't all that this Trini is about.
Click next to read more…
---
Before meeting with Messiah, I did some homework. I rummaged around the Internet to see what I could find and found out that he was noted as a poet, artist and activist. An activist?  So, we've covered his passion for poetry, and commend him on being an artist. Now we get to meet the activist. It's a title you don't get attached to your name every day. I definitely inquired and asked for him to shed some light as to what it meant.
"I work with young people," Messiah explains. "I visit the New Beginnings Youth Center here in DC, two times a week and direct a writing group."
To the underprivileged youth, and juveniles who are more or less caught up in the judicial system, Messiah isn't just "another" poet; he is necessary. Their writings are published in a weekly publication called The Beat Within, and support from young people like Messiah who use their gift for the spoken word and poetry to motivate others is definitely a positive intervention for many of them.
As if I need to go any further, it is clear, that Messiah is living up to his passion, and his name.
"I identify with the youths, and I'm glad I can help give them a confidence in themselves to keep them out of the juvenile system," he says. "It's good to know that my writing can help impact the youth who have struggled from a failed school system."
And just when you think I couldn't find another spot on his halo to shine I learned that he also teaches creative writing to 9th and 12th graders at George Washington University.
After learning of his altruistic character, I slipped back to the acclaimed artist. I know he has an album called "The Manual" and has tracks available on iTunes from the "Missing Statement" album, and was curious to find out if he had any upcoming projects that we should keep an eye out for.
"I am working on my third album," he adds. "It's going to be a hip-hop spoken word album."
Messiah mentioned that he grew up on old Bob Marley records, and revolutionaries like Malcolm X, so his inspiration from these two forces can give some insight as to what his album will be like.
"I will never stop writing. I can't stay away from it for too long," Messiah says.
There's no expectation of him falling off the scene. He's in the prime of his success and rightfully so, a voice needing to be heard. A voice I had the opportunity to hear up close and personal, as he invited me to an open mic in DC. I couldn't wait to see what he was like performing before a crowd – something my inner poet hasn't quite mastered.
As we drove through Washington, DC, making our way to Noa's Art Gallery, I imagined him in an out of body manner. You know, one where when in your passion, you resonate a different aura? I was anxious to see him at work.
We pulled up to the location, and as he stepped through the door, he was at home, and by that I mean, there were faces familiar to him. Poets I myself have seen before, and some I was about to discover. The room was intimate. I watched him in his element at Noa's Art Gallery and this is where I saw firsthand that he is known. He is a voice. He is a face. And, he is a man on a mission.
I saw that his interaction with the audience was something effortless. Messiah is who he is. No pretence, no act, no bullshit. He's art.
While Messiah hasn't toured yet in his homeland of Trinidad, he plans to get back on the college tour arena, and looks forward to dropping his newest project late in August. He hopes to grace the stages in Trinidad in the very near future.
Somebody please make this happen.
Don't say I didn't warn you. I implore you to remember the name, the words and the impact he has made. Messiah Ramkissoon is more than just a compilation of words and a voice; he's a deliverer.
"Black Boy"
To check out Messiah's work, visit his website, www.allmessiah.com, YouTube channel youtube.com/royalmessiah, MySpace page myspace.com/gottawrite, his Facebook group – Messiah's Word, or on Twitter @allmessiah.
Photo courtesy Messiah Ramkissoon. Photo by Hatnim Lee.