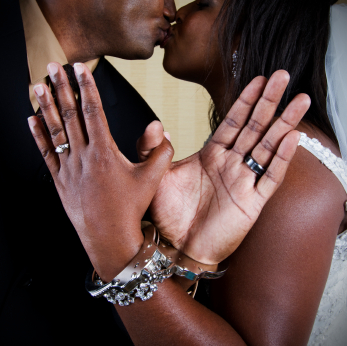 Marriage: Attractive, Archaic or Irrelevant?
|
When my girlfriend Gayle told her parents of her plans to move in and possibly start a family with her boyfriend of four years, her mother fell ill. She was so distraught at the thought of her eldest daughter 'shacking up' with a man, and setting an example for her sisters to follow, that her blood pressure went through the roof and she had to remain medicated in bed for weeks.
Gayle stuck to her resolve.
Despite her mother's many arguments that she was 'living in sin', it was 'better to marry than to burn', and 'the marriage bed is undefiled', or her father's complaints that a man would never pay 50 cents for a cow after he had tasted the milk for free, or even their combined prediction that she would bring shame on her family and would be ostracised in social and professional circles as a fallen woman, Gayle felt that she was independent enough to make her own choices. She did not think that she needed the formal institution of marriage to confirm her union with her partner.
"Marriage is a personal decision that we have to make together," she said, shrugging. "Honestly, while I dreamed of one day having a glam wedding as a little girl, marriage became less important to me as an adult. Perhaps it is something I would aspire to one day, but at the moment I am happy with my life and with our relationship the way it is. I didn't want to end up making a decision to marry just because my parents felt it was the right thing to do or simply to see a childish dream to fruition, and then end up with a marriage that did not last as long as the Red House fire, because we weren't personally prepared for it. When the time comes for us to cross that bridge, we would consider it."
We laughed together about it afterwards, but on the day that she decided to move in with her boyfriend, Gayle said she was traumatised to see her mother dressed for mourning. Her mom threatened weakly then that the black she wore was deliberately intended as funeral wear, for Gayle was dead to them because of the choices she had made. Gayle was not persuaded.
Three years later, she is still living with her boyfriend with no plans for marriage on the horizon.
Gayle is one of a growing group of young professionals who are making the decision to pursue their career goals over the commitment of a marriage, and for whom the institution of marriage no longer holds the attraction that it may have held years ago.
For some couples, marriage is an archaic institution that is rooted in religion and is too constricting. Others just could not be bothered with the threat of divorce. For them, a marriage could complicate a perfectly satisfactory arrangement.
While in years gone by, girls may have dreamed about a lavish wedding day, and prepared for their lives as wives, more women today are claiming their independence and dreaming of professional and academic fame, unimpeded by any commitment to a spouse.
"Marriage is not crucial for success," one young girl said, earnestly. "Look at Oprah, she is one of the richest and most influential women in the world and she is not married. She does not have to toe the line for any man."
Likewise, while some men continue to view marriage as a rite of passage into manhood, many others are quite satisfied to abide by common-law unions, or to pursue lives as bachelors without the formal civil and contractual commitments of a marriage.
"I not marrying cat in bag," one young man said boldly. "I am happy with my life the way it is. I have a child mother and she and I have our arrangement and it is working."
For some of those who do take the trip down the aisle, it is after much coaxing and cajoling.
"I had my wife on probation for 13 years before I decided to through with this marriage thing," one middle-aged man said, with a throaty laugh. "For me, marriage is a serious thing and I did not want to be making that commitment to any woman if I was not prepared to stick with it for the long haul. So we lived together common-law for years. I was able to see that she could wash and cook and her body held up after our child."
He patted his potbelly and smiled affectionately at his wife who sat beside him with a smile that resembled a grimace. He didn't seem to notice.
"As a matter of fact, our son was nine years old when we married," he added, unperturbed. "She had proven herself worthy of my ring and my name."
The wife did not disclose her reasons for marriage or views about its relevance.
A number of factors have contributed to the changing view of marriage, which is more prevalent among young people and professionals. These include urbanization, the changing roles of the husband and wife both inside and out of the home, a breakdown of moral values, an increase in promiscuity, and the scarred perspectives of those adults who may have survived the divorce of their parents.
Still, while more individuals have chosen to bypass the commitments of marriage, it would still be inaccurate to dismiss outrightly the institution of marriage, and label it as irrelevant to Trinbagonian society. Entrenched as we are in religious and cultural beliefs and practices, marriage remains an extremely important institution to large sectors of our society, particularly the elder generation.
It would be more accurate to say that as society evolves, our approach to marriage is also evolving. Gone are the days of arranged unions (or, at least, they would seem to be less prevalent). Gone are the traditional roles within the home, where the wife was viewed as the mother and homemaker and the husband the sole breadwinner and head of the home. Gone are the days of marriages "till death do us part", regardless of the circumstances.
Marriage is now viewed as a partnership, and, like any partnership, it is a risky venture that may or may not work. In each instance, the success of a marriage is really dependent on the work put in by the respective parties. If a marriage fails to work for one couple, it does not make it useless or irrelevant for everyone else, but that's my view.