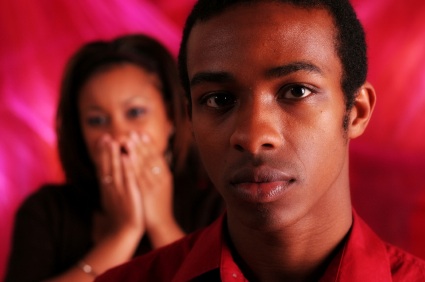 Loving a Sociopath
|
There is no worse feeling than realising that the person you love just a little less than life itself doesn't love you at all.
You may have spent two years of your life thinking this is it. He treats you like a princess, and does everything that pleases you. Then one day he switches positions. Prince Charming is now Prince Harming, and you're honestly confused.
He could horn you; he could be emotionally abusive; he could even be an alcoholic. But this isn't the man you fell in love with, right? You tell yourself that he's just going through a phase, and that he'll be back to himself in no time.
See that's the funny thing about relationships. We tend to believe that the person we meet in the beginning is the person who'll be there throughout the relationship. For the most part, many of us tend to show our true colours after a few months.
However, when you're dealing with a certified monster known as a sociopath, you're stuck in the type psychological warfare that no one can prepare you for. No movie, no chats with girlfriends, not even your mother may have included that topic in a talk about the birds and the bees.
Sociopaths are people who seek to control others through the mind and emotions. So they'll treat you like a queen or a king, not because they so adore you, but because they know that in treating you so well, you will fall even more in love, and even deeper into their spell. When their magic has had its effect, it's you and God left to pull yourself out of that hole.
I was watching a past episode of Kourtney and Khloe Take Miami 2 the other night, and Khloe was busy drawing similarities between Scott (Kourtney's baby daddy) and the traits of a sociopath – confident, charming, stylish, the life of the party, and controlling. Anyone who's been keeping up with the Kardashians always asks themselves, why is Kourtney with Scott? She's beautiful, and seems to be down to earth, so why did she put up with so much from him?
'See, most times you don't even realise that the person you're with is a sociopath'
See, most times you don't even realise that the person you're with is a sociopath.
You recognise inconsistencies in their behaviour, but not for one minute will it occur to you that your significant other isn't working with all their marbles. To admit such is to also admit that maybe your marbles are missing too.
They thrive on control, so knowing that you'll always return to them is what gives them a kick. Their seemingly generous actions are meant to keep you within their range of influence and power.
Ever saw a man or woman in a relationship that is obviously unhealthy for them, and their partner is committing inhumane acts of emotional wickedness against them, and even when they get the strength to leave, the person keeps coming back at them? The perpetrator keeps asking for another chance, professing their love, buying flowers, jewellery or whatever else, even promising to go for counselling, in order to get back into their good graces and rekindle the relationship?
You ask, "Why doesn't he (or she) just leave her (or him) alone?" The terrible half of that partnership doesn't love your friend, is what you're thinking, so why does he keep going back? Why does he keep calling? It's not because of love; it's because of the need for control.
For sociopaths, control is like a drug; it's what drives them; it's like cocaine to their system. They need a victim. They need to have someone to control. So they create that victim through charm. Just knowing that they can always get back this person, even when they heap hurt upon hurt on them somehow boosts whatever's missing for them, whether it's a self-esteem issue or not. They thrive on having their behaviour go unpunished.
They are manipulative, Grade A con artists, domineering, promiscuous, pathological liars, and impulsive. They have an inflated sense of self, show no real remorse or guilt, love to live on the edge, and are versatile in changing their personality to what's required to win over people in whatever the situation. They can also tend to be alcoholics.
Sociopaths are also the best actors.
'When a man puts down a Denzel Washington tear a la John Q, something in your heart breaks'
No woman likes to see her man cry. Now if you accuse your man of horning you or behaving inappropriately, and he doesn't want you to leave, he does several things, the top one being… cry. Now if he starts to boohoo like a big baby, with snatty nose and the whole works, you're more likely to dismiss his show. But when a man puts down a Denzel Washington tear a la John Q, something in your heart breaks, and you forgive him. In the back of your mind, you know something's wrong… very wrong, but how can you say no to such tightly wound up, deep emotion?
Sociopaths have even been known to pass lie detector tests, because not only are they trying to convince you that they are telling the truth, they've also convinced themselves that they are speaking the truth.
Like I said, sociopaths are the best actors around. Oscar wants nothing with them.
Do you identify any of the traits I've listed with your significant other or that of a friend? Do you think you're in a never-ending cycle of pain where you feel as if you can't free yourself of the relationship? You love him (or her) dearly, and think you can't live without him (or her), but being with that person is also one of the greatest tortures you've ever known?
Loving a mentally demented person is a truly maddening experience, and to get out of it, you'll need help – from friends, from family, from God.
Get support. You can call the domestic violence helpline or talk to someone (remember abuse isn't just physical). Sociopaths one day move their emotional abuse to the physical realm, however, hence it's important to get out before it's too late.
Mental chains are heavier to lift than a broken arm.
When someone does inexplicably horrid things to you, and then turns around to say they love you, they're lying. It may hurt to come to this realisation, but always remember because someone may not really love you, it doesn't mean that there's something wrong with you. They just aren't working with all their marbles, so they can't really see your worth. Just because you're sane doesn't mean that they are, and when you come to this realisation, it's time to put on your Nikes and run.
Image credit: IstockPhoto.