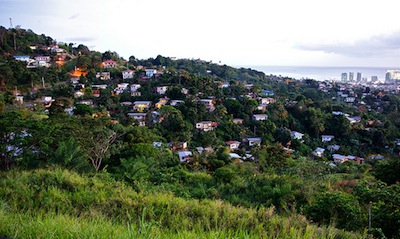 Life in Morvant: Not just about Thugs and Bandits
|
I usually pause whenever I am asked where I am from, because, people's reactions usually piss me off. Telling people that I live in Morvant usually garners one of three responses:
1. Dead silence.
2. "Oh ho… well I 'fraid there you know because there have plenty crime."
3."Doh beat meh up you know."
Then, I have to decide whether to correct them about the notions stuck in their head (that sometimes seem to be permanently stuck there), ignore the temporary stupidity, and continue the conversation, or walk away and file them in my persona non grata list.
As a true-blue, third-generation Morvant denizen, I realize that most people know not of the Morvant of which they speak. Beyond reading the newspaper headlines that highlight crime, driving on the Lady Young, or feeling that everyone from Morvant is a 'baddis', how much does the average Trinbagonian know about this area?
*Insert sound of crickets.*
So, here is my attempt to tell you a few things that you may not know.
1. Morvant is not just one area
The usual misconception is that Morvant is just one area. Morvant is a huge district made up of several sub-districts – Coconut Drive, Chinapoo, Red Hill, Mon Repos, Angelina Terrace, Never Dirty, Valley Road, Marie Road, Almond Drive, Almond Court, Pelican Extension, Crichlow Hill, Caledonia, Las Alturas, and Paradise Heights…and I am sure I missed out some (doh kill meh Morvant people). These sub-districts are not just streets; they're also fully self-contained communities. I have lived in Morvant, for over 30 years, and I still can go into a part of Morvant that I don't know.
2. Not only bad bwoys/thugs/bandits live in Morvant
I am never one to lie and say that a criminal element does not reside in Morvant at all. That would be like saying there is no crime at all in Trinidad (and we all know that is simply not true). But go into Morvant on any given morning, and what you will most likely see is people going to work and to school. Despite what the news portrays, most of the residents of Morvant are either middle class, blue collar or service workers. So there is a mix of teachers, nurses, doctors, university students, shop workers, restaurant workers, bankers, accountants, engineers, plumbers, electricians, computer technicians, construction workers, mechanics , and other professions.
The average person in Morvant is likely to be the average person in Trinidad, just going about doing their business, trying to make a life for themselves on the right side of the law. Ah mean…a place with that many schools and churches per square mile can't only be producing the people who will steal your cars.
3. Morvant on a whole may actually be safer than some parts of Trinidad
I know people who scoff at this statement, but I did not know how true it was until recently. When I am out of the house after 7 p.m., I have a heightened sense of safety awareness, but not to the extent of people in some communities – and these are upper class communities – where you DARE NOT be outside of after dark and if you are, you better time your journey home to the second so that someone is waiting at home to let you in. Then there are communities where, after 8 p.m., you can't get any public transport. AT ALL.
I taxi home after 7 p.m., on a regular basis, with a lot less fear than many people I know. As for the crime part, I have lived in the same house in Morvant for 30-plus years, with only one robbery attempt. In Trinidad, in 2011, that is a damn record. Oh, and Morvant is one of the few places I know for sure where kids still play in the street and in their yards.
4. Morvant has a very strong taxi culture
This is why I can travel home at 9 p.m. and not feel so bad. Even though many people in Morvant have cars, the majority of people use route taxis to get home. Since Morvant is such a big place, there are lots of taxi drivers ('PH' and 'H'), especially a core stable of regulars. There are taxi men in Morvant who have driven for years, sometimes decades, whom everybody knows. So your safety can be a bit easier to ensure, because if you want to be sure to get home, you can simply lime on Morvant stand (a time-honoured tradition), and wait for your regular.
Depending on how close the relationship is with a regular taxi driver, people can and do call their driver to find out if/when he is coming, or to do private jobs just to pick them up alone.
5. Morvant is the best of both worlds in terms of location
Even though your macocious neighbours can drive you crazy sometimes, it really can be the best of both worlds. I always say that Morvant is the closest thing to being in the country, but it is a 15-minute drive from Port of Spain. This is because a large part of Morvant is either actually on the Northern Range, or at the very foot of it.
You can wake up in the morning to cool air, frogs croaking and birds chirping. While people do plant gardens, there is also a lot of wild flora growing naturally. I get to birdwatch from my bedroom window. But, you also have the convenience of being 'right dere' from Port of Spain. It can be a drag at times, because you do have to travel to get some amenities, but, overall, it is a convenience, especially after a long day's work.
6. Morvant is a food's lover's heaven
Morvant is a good place to be, if you like your belly. There are quite a few small, food businesses that operate all around the area. From doubles to bread, to bess chicken and chips, and many other things, you can always go 'out de road' to get something to eat. Additionally, because of the terrain and fertile soil, Morvant people tend to garden or just simply have fruits and veggies growing in their backyard just so. Here, there is always something to pick to eat.
You see…Morvant is so much more than what the media makes it out to be. So next time someone tells you he/she lives there, simply ask the question that makes any Morvant resident 'cool' – "Which part?"
Image credit: Flickr; caribbeanfreephoto