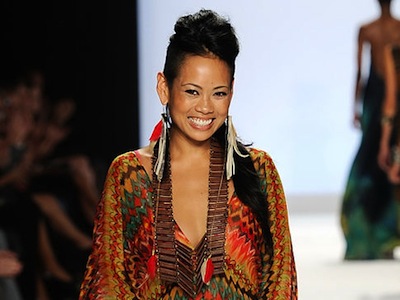 Life after Anya: What will We do Now?
|
Thursday nights will never be the same again, now that "Project Runway", Season 9, has ended. There'll be no more #PR9Anya hashtags to fill your social network streams. No more fashionistas, dreaming of wearing a classic Pilar piece, despite their sizeable double F cup. No more complaining that CNC3 is broadcasting the show a day late.
Now that Anya Ayoung-Chee has won the competition, and moved on to the next phase of her journey of really turning her bigger dreams into reality, the rest of us have returned to our regular programme. For some, that means finding a new event in which to invest ourselves. For others, it means being even more focused, and reaching our own stars.
But even though the "Project Runway" craze is essentially over, there are definitely some things to take away from Anya's win, and there are definitely some things we'll enjoy seeing return to normal. Like…
Using a new hashtag 
"OMG. Anya is a boss. #PR9Anya"
"Joshua is such a drama queen. #PR9Anya"
"Trinis is de bess! #PR9Anya"
"I feeling real hungry. #PR9Anya"
Apart from the incessant tweeting about all things "Project Runway", some of y'all were fed up of seeing that hashtag. Some of you all were even afraid to forget to include the hashtag in any tweet, lest some frenzied fan came to boof and bully you to not let any tweetorpunity go unused. Ah… now we can breathe.
But wha' we go tweet about now? To the seasoned folks, they'll just tweet as usual. But the newbies? Those of you who only joined Twitter to vote for Anya? Some of you haven't even begun to grasp why people love Twitter (But you're definitely using hashtags in everything now… Facebook… BBM…)
As the old saying goes… "Twitter is full of cool people you wish you went to school with. Facebook is full of people you never liked, but actually went to school with". Find some cool people to 'follow'. Maco your favourite celeb, inspirational speaker, or favourite magazine. Hint. Hint.
Men can do men things again
How many of you guys watched "Project Runway" every week?  And I mean, like were genuinely excited to watch it? Now… how many of you only pretended to know anything about "Project Runway", because you were trackin' somebody gyul chile and were pretending to know what she was talking about, when she started to compare Viktor's and Anya's sewing?
Men you don't have to pretend to be into it anymore. You can return to watching testosterone-filled shows, and stop talking about the lines and fit of clothes. You can tell your woman, "WOMAN… ah not switching de channel; like yuh eh hear meh!"… and not collect a tap. You can beat your chest like Tarzan, and do manly things again.
To the men who rushed home to watch "Project Runway", use your newfound eye for fashion wisely. Christmas dinners and New Year's limes are coming up.
On the topic of taking something away…
Stop hatin' and focus on yourself
I am willing to bet the two million dollars, which I do not have, that every person reading this article has seen negative, judgmental comments about Anya in their Facebook streams. Maybe you even wrote some. People made biting comments that maybe sex tapes are the stepping stones to glory, and it's unfair that so many other unknown folks don't receive glory, but yet she does…. "because she is ah celebrity". Get over it. She won based on tenacity and talent, and she didn't cheat her way to the top.
You don't have to like everyone on this planet, but there's a difference between hating and indifference. Indifference would have told the haters to not waste time studyin' Anya. Indifference would have told them: "Forget about her. What are you doing to get you where you want to be? And if you've been working hard, and still can't see results, what do you have to change?"
Indifference would have also told them that 'bad talking' other people is a waste of time. Add 'bad talking' people on Facebook to it, and you've doubled the wastage.
Never let the haters get you down
Sometimes you really have to ignore the noise around you. It's meant to distract you. It also means that wherever the noise is coming from isn't a very productive place. That's why principals always march to the class they hear making the most noise. They know that students are jumping up and down, are wasting time, and are trying to distract others.
People are always going to criticize you. And it might bother you at times. But the best response is to select the constructive criticism (like from Michael Kors, Nina Garcia, or Heidi Klum), and ignore the rest.
Be ready for your opportunity 
This was clearly Anya's moment in time… her window of opportunity. The stars were perfectly aligned, if you believe in stars aligning, that is.
At some point, we all have windows of opportunity. If they don't reveal themselves with a hard-to-ignore, 'look meh right here' force, we have to find a way to discover them. And we have to be sure that we're ready for when windows are open. Otherwise, we'll just be b*tching and moaning, when we see other people do well, while we wonder why we're not getting the rewards we seek.
"Project Runway" might be over for now, but I hope "Project (insert your name)" is continuing full speed ahead.
Check out the rest of this week's issue (31/10/11; Issue 79):
Look out for a new issue of Outlish.com every Monday!
Stalk us on Facebook @facebook.com/outlishmagazine