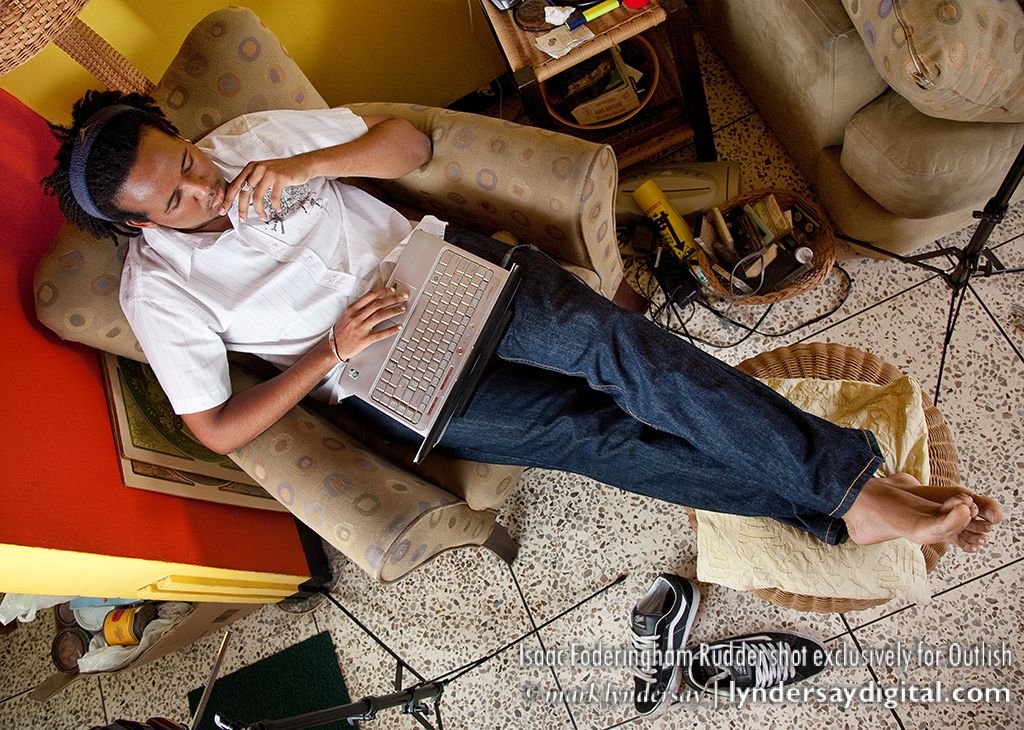 Isaac – Son of King David
|
Being born to musical royalty certainly has its perks. For the most part, you grow up with a deep appreciation for music, witnessing first-hand the genius that goes into creating classics that live on for generations. Sometimes, you might even get to be featured on one of your parent's greatest hits. If you're Isaac Foderingham-Rudder, you're reminded of your childhood self every time you listen to the end of "A Song for a Lonely Soul" by his father David Michael Rudder – often dubbed the Bob Marley of Soca.
"Dad has tapes of me singing his songs and sometimes he has instrumentals playing and I'd make up stuff, ad-libbing," he says. "I always had an aptitude to create stuff and paint images with my words. In primary school, I came third in a competition, singing about the possibilities of aliens existing. That was when I was six, and I remember being really proud because I wrote it myself."
The second of Rudder's five children (four boys and one girl), Foderingham-Rudder has moved on from singing about aliens, and has embarked on his own musical journey. The 21-year-old, a lover of poetry and graphic design, curiously enough veers left of his father's direction, selecting rap as his genre of choice.
"I know he wishes I'd chosen other styles," he adds. "He would have liked for me to be more local. But I like different genres, and I'm starting off with rap. I think he's supportive. He was tentative at first, but he was supportive. I played one of my songs for him, and he said, 'I know you're a determined guy and I know you're going to make it'."
With the enviable legacy that is David Rudder's, it's easy to imagine the sort of pressure that any of his offspring may feel at the thought of venturing into the musical arena, and carving their own identity. Foderingham-Rudder's elder brother Khafra made his own public foray into music in 2005, fusing Calypso and Rapso melodies. So how does the younger Rudder deal with the expectations that go along with being the son of a calypso king and cultural icon?
"The only difference between my dad and yours may be that your dad sells cars, mine makes music"
"I see him as Pops, as Dad," he says, as we chill over a meal of pizza. "It's like the only difference between my dad and yours may be that your dad sells cars, mine makes music. Just because he can write a good song doesn't make him a better man than anybody else. So being David Rudder's son is just being the son of my dad. It is a bit funny though. The idea people get when they think of a star's child is a stuck-up person who thinks they're better than everyone and I'm not better than anyone. When I interact with people I interact with you as my equal, as someone I have the utmost respect for and I expect the same in return. David Ruder – that's my biology. That's not me. I am Isaac. I do me, and I do things differently to my dad. At the same time, I'm not going to lie and say his musical exploits haven't been a catalyst to me doing what I'm doing. But I'm not just his son. I'm doing my thing."
Now going by the moniker Yung Rudd, his self-discovery has been filled with patience and choices. Currently on a one-year leave of absence from the University of the West Indies (Cavehill Campus, Barbados), where he was pursuing a BSc in Psychology, Foderingham-Rudder always had an interest in music. A self-described metal-head, he previously lived in France where he pursued a Diploma in French. It was during his college and university days that he started weighing his options.
"I started rapping because I used to be very closed, and it was how I expressed myself," he says. "Poetry is fun, but sometimes when you need a quick release rapping does it and as time went along I got better so I stuck with it. I've been remixing popular songs from the US. I have quite a few tracks that I've done. I always thought I had the potential as a rapper, but never thought I could do it. But in 2007 I went to France and met an American guy who was an underground rapper in the US and when he heard my lyrics, he told me I had to do it, that it was my calling. When I was in Barbados, I roomed with two Antiguan guys, one of whom is a musician. He also told me he thought I could really write, and that's when I started putting stuff on paper.
"I had the opportunity to work with 3canal, but turned it down because I just didn't have the confidence"
So I just started with very low quality stuff that I produced on my computer, putting it up on Facebook, and getting reviews. I wasn't pushing myself. I didn't have any confidence in myself. I had the opportunity to work with 3canal, but turned it down because I just didn't have the confidence. I was doing the Facebook stuff to get some reviews to see if I really had the potential. Then I realised I could only sing on popular songs for so long. I was in university doing something I didn't want to do, and I wanted to know if it was worth quitting university to pursue rap. I really have to big up to Moms who agreed, against her will, to let me quit school and try this. I'm definitely going back to school to do marketing."
Currently working in the field of marketing and outreach, as an on-the-job trainee with the Ministry of Science, Technology and Tertiary Education, Foderingham-Rudder is hard at work in the studio. Coincidentally, it was at his workplace that he met his producer Mevon Soodeen – a young producer coming up in the game.
"I met Mevon years ago through a mutual friend," he explains, with Soodeen, who also sat in on the interview, at his side. "I knew he was an upcoming producer, but never got to know him, and I didn't know how good he was. I started coincidentally working with him at the same place and a friend played my songs for him. We had conversations about music etc, and what caused us to gel was the fact that we both realised we had talent and a high work ethic. Finally I had my own producer to make my own material."
That was Christmas 2009. Now, signed to Soodeen's Xplicit Entertainment, he's focused on producing a mixtape for release soon.
"It's only within the last few months that I've started to take this seriously," he adds. "Mevon is one of the big reasons for this. Mevon would tell me where I'm good and what I need to work on. I have a lot of respect for Mevon and the kinds of beats he makes. I was honoured that he was confident enough in me to work with me because it seems that he's really selective."
What the future holds for this fun-loving, aspiring rapper remains to be seen.
"The gameplan now is we're working in the studio on the mixtape "Yung Rudd Presents the Lyrical Devil – Volume 1," he shares, grinning as I ask why he'd use the word devil to describe himself. "What was funny for me is ironically I'm doing rap, but I'm a real metal head. And people used to tell me I'm a devil kid listening to devil music. Plus I would be testing people and kill dem lyrically."
With 15 tracks and one or two bonus tracks, he plans to showcase his range as an artiste, and a songwriter, having written all of the songs on 'Yung Rudd Presents the Lyrical Devil – Volume 1', which will be available for free download. In addition to working with Soodeen, he's also working with his brother Khafra, who is also working on an EP. Like most of today's up n comers he's heavily into social media. As a matter of fact it was on Twitter that Outlish first discovered him, when he created an account for his father.
"I've always been a networker," he says. "I'm a friendly person, a positive person… that's my vibe."
As someone who wants to take his music beyond Trinidad, I'm curious about his take on the Trini versus American accent debate in local hip hop.
"Imagine an American singing soca in an American accent," he says. "It doesn't sound natural. Trini diction has a lot of stops. The syntax has a lot of cuts because we're start-stop. So there are some beats that work with a Trini accent and some where the US accent sounds better on the track. So it's not that I don't respect where I'm from; it's just that some music is built on a culture so it only sounds good in that setting. You can even mix the accents in some songs. Some things you say like a Trini to get the effect."
Regardless of whichever accent he uses, Trini, American or even French, this Yung Rudd seems set on a course where music is his guide. As his father sings on "A Song for a Lonely Soul", it seems that fate has taken young Rudder back to his island (from the shores of France and Barbados) to fulfil his destiny.
You can check out Yung Rudd on his Facebook page, and on Youtube.
Photography by Mark Lyndersay.