Is Startup Weekend Trinidad and Tobago for You?
|
There's been much talk about supporting entrepreneurship in Trinidad and Tobago, but little action that creates an enabling environment for startups and small businesses. Then there's the issue of non-entrepreneurs leading initiatives that rely on an academic approach to building businesses. So how do would-be entrepreneurs and startups get the type of training and meaningful discussions that do away with 'book talk' and give them actionable insights and assistance in developing their product and refining their business model?
That's where

Startup Weekend Trinidad and Tobago

, a three-day workshop of sorts (emphasis on the work), is aiming to make a difference.
It takes place from May 22nd to 24th, 2013.
Staying true to its motto of "No Talk. All action." – it will be three days of work, with startup entrepreneurs forming teams to refine their product and develop their startup model. It provides helpful training and real-time feedback for would-be and active entrepreneurs who are seeking inspiration, guidance and improvement.
Each Startup Weekend follows the same process. Anyone can pitch a business idea. Then people vote for ideas, and teams are formed to work on the pitches that received the most votes.
Participants create multi-disciplinary teams of developers, designers and business people to develop their ideas and launch startups within 54 hours.
Participants create multi-disciplinary teams of developers, designers and business people to develop their ideas and launch startups within 54 hours. On the last day – final presentations are made, and the winner is announced.
Trinidad and Tobago is by no means its first place for activity. Startup Weekend is a global network of leaders and entrepreneurs on a mission to inspire, educate, and empower individuals, teams and communities. As of November 2012, over 100,000 entrepreneurs have received training through startup weekends. It is not a hackathon or business plan competition.
To learn more about Startup Weekend Trinidad and Tobago (T&T), and find out what attendees can expect, I spoke with one of Startup Weekend T&T's organisers, Kirk Lashley, who is a member of Startup Weekend's global network, and a Startup Weekend Chicago alumni and organiser.
This Chicago-based, Trini software developer and technology entrepreneur is also a cofounder of WeDeliver, a same-day delivery service that allows small businesses to compete with Amazon's quick shipping advantage. Having attended Startup Weekend in Chicago and Brazil, and having met his cofounder at Startup Weekend (SW) Chicago, Lashley is a full-fledged SW evangelist.
The entire Startup Weekend T&T team of organisers includes Dr Kim Mallalieu, Candice Sankarsingh, John Beadle, Gerard Thomas, Abeni MacDonald, Akash Pooransingh, Cathy-Ann Radix, and Alvin Brown.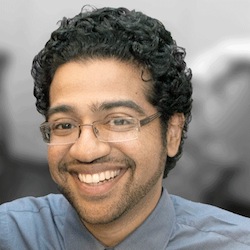 O: How was Startup Weekend T&T born?
KL: I was sharing my entrepreneurial journey at an impromptu workshop at UWI in December 2012…sharing my journey of Startup Weekend and Lean Startups.
One of the people in the room commented that they had just spent a few days [at] and paid US$300 for a government workshop on entrepreneurship and had learned more from me in the last two hours than they had learned in that entire workshop. The motto of Startup Weekend is "No Talk, All Action". Someone joked, that's what we need more of in Trinidad and Tobago.
Another lecturer, Cathy Radix, looked up with all seriousness and asked how do we bring Startup Weekend to Trinidad, as she saw Jamaica was having a Startup Bootcamp, and always wondered how to go about starting one.
The answer was…the local startup ecosystem has to be ready for Startup Weekend, and a local organizer must be trained by Startup Weekend and have attended at least one Startup Weekend elsewhere. There must be enough demand for a Startup Weekend by local entrepreneurs who are trying to startup new types of business and facing challenges.
I was seeing my friends and colleagues back home investigating entrepreneurship…[interest] was reaching a critical mass. Sometime during the workshop, we pulled out our calendars and made rudimentary plans, which cemented themselves over the next five months to create this movement that we have today.
O: I know you're also a start-up entrepreneur. Tell us about what you're working on.
KL: So my startup is called WeDeliver. We're an on-demand, same-day, crowd-sourced local delivery service. Amazon has proved the market for next-day deliveries, but at the same time put the squeeze on neighbourhood merchants.
WeDeliver provides local merchants with the ability to deliver items to their local customers within a short period of time with real-time delivery tracking and 30-minute delivery windows. Imagine you're expecting a package from TTPost, and imagine they actually sent you a confirmation that said your package was out for delivery. You could be waiting at home for hours on that package, and not having any idea where it is. Imagine if you could open up a tracking page and see exactly where your package is on a map, and be able to communicate with your driver, and you were given a 30-minute delivery window for your item.
Actually, let's make it better; imagine you can choose that 30-minute delivery window to be whenever you want it, day or night. We're giving local merchants an edge on Amazon.
One of our customers, a t-shirt printery prints t-shirts in less than an hour, and used to use USPS to ship to their customers. So customers would get their t-shirts in 2-3 days. Now we can offer their local customers the ability to get their t-shirts within an hour. That's the value we're adding to merchants.
We're using regular people to make these deliveries. We say, ordered by you and delivered by your neighbour. So this keeps money in your local neighbourhood. I could talk more about this, but, seriously, you don't want me to pitch.
O: You mentioned that SW is a startup itself, so funds have been limited. The prizes are a .co.tt domain and a mentor. For the person who might say that they're not impressed with those prizes, what would you say to encourage them to still attend and pitch their idea?
KL: I'm not that impressed with the prizes so far myself. Okay, we do have a few more up our sleeves. We've just been waiting on getting them confirmed in writing. It's Trinidad after all. People are last minute.
I would say, if the reason you're considering attending is the prizes, then you should do a gut check on what you're really looking for in entrepreneurship.
I would say, if the reason you're considering attending is the prizes, then you should do a gut check on what you're really looking for in entrepreneurship.
It's been shown the bigger the prize, we run the risk of attracting the wrong type of attendee and not a true entrepreneur.
O: What's the aim of Startup Weekend T&T?
KL: While the obvious goal is to launch startups, we're trying to help entrepreneurs break out of their existing networks and meet new people and get new ideas on how to do things.
We hope that Startup Weekend begins to break down silos between business people, graphic artists, mas and fashion designers and software developers.
We hope Startup Weekend is a catalyst for connecting dots in our fragmented startup ecosystem.
We hope Startup Weekend is a catalyst for connecting dots in our fragmented startup ecosystem.
We hope to help entrepreneurs realise they don't have to be Silicon Valley to create awesome, world-changing companies. We want to help teams recognise the value of multidisciplinary collaboration. We want the country to see what talent we have here locally, and the types of startups our country could produce.
We want investors to see the future potential of startups they need to start supporting, and push them to understand digital technology. We hope to inspire a generation of young people who have wanted to try, but just didn't know where to start.
These are all lofty long-term goals.
O: What are the short-term and medium-term goals?
KL: The short-term win will be that entrepreneurs leave here and have the confidence, the tools and the support network to start their own venture. We want them to stay connected to create a strong support network for other aspiring entrepreneurs. In the medium term, these entrepreneurs will become the leaders of the startup ecosystem.
O: What can people expect to get out of attending the event?
KL: They say it takes a village to raise a startup, and Startup Weekend is where you meet that village. You will meet amazing cofounders, employees, mentors, and people who will possibly invest in you and have a great time.
Startup Weekend follows the lean startup paradigm pretty well, so you learn the lingo of being lean, ideating, iterating, customer discovery, customer development pivoting all while creating a minimum viable product and a pitch deck. What that means is you can expect to leave with product-market fit for your idea.
People can expect to think fast and create quickly. You will learn new tools, which can help you as an entrepreneur or an intrapreneur…Be prepared to be on an adrenaline rush. You will build, you will pivot, your will fail and you will succeed.
O: The name says startup, but some people would be more advanced in their thinking or experience, or would have already 'started up'. What level/type of entrepreneur would you say Startup Weekend is for?
KL: I think Startup Weekend is best for an entrepreneur or would-be entrepreneur who has been toying around with an idea, but has not yet implemented it…or has implemented it, but is not sure if they built the right thing, or can't figure out a scalable, repeatable business model. I would say it's for anyone who is willing to learn, pivot and grow.
I think collectively the community can come up with better answers than one person.
Startup Weekend is not for people with all the answers. I've seen an entrepreneur who has sold a multi-million dollar business come back to Startup Weekend to pitch an idea. I've seen an angel investor pitch an idea to form a team that he wanted to fund.
Startup Weekend is about immediate feedback from your peers, from coaches and from your customers. If you'd like to do it on your own in 6-18 months, that's your choice. We'd like you to fail fast, so you succeed faster.
O: What are some of the opportunities that people waste at Startup Weekend?
KL: Networking. I expect a developer or two to be avoiding eye contact, until the event officially kicks off. Actually, I want to say this is the single, greatest, wasted opportunity at every Startup Weekend by attendees to share their ideas with other and get them excited about what they have to pitch. But it's also understandable that they still have that the fear that someone is going to steal their idea.
At some events, attendees underutilize the coaches. This is a chance to pick the brain of a senior product designer, an awesome developer, the owner of a local e-commerce site, people skilled in entrepreneurship, etc. People get as much help as they're willing to accept.
O: The event is called Startup Weekend. Why isn't it on a weekend?
KL: The first Startup Weekend was actually started on a Wednesday night in the TechStars office in Boulder, CO. Since then it's been easier to use space and get attendees on weekends, but in places like the Middle East, Startup Weekend usually starts on Wednesday or Thursday to avoid conflict with religious times.
Similarly, we didn't want to discourage attendees from the USC, Seventh Day Adventist University from attending due to Startup Weekend starting on a Friday night. There's actually a benefit to [hosting it] during the week…teams can actually talk to potential customers during business hours or weekdays much easier than they could on weekends. Customer validation has always been harder on weekends.
Startup Weekend is a chance to startup. If you've been wanting to start something for a long time, and this opportunity is here, the fact that it's on a weekday or a weekend should make no difference.
O: Do you think it's worth people taking time-off from work to attend?
KL: I think it's not only worth the time, I think employers should encourage it, and pay for their employees to attend. We have this wrong mindset that entrepreneurs will quit your job once they get exposed to it. I believe some people just have that entrepreneurial spirit.
Peter Drucker describes an entrepreneur as someone who searches for change, responds to it and exploits opportunities. Albert Shapero says entrepreneurs take initiative, accept risk of failure and have an internal locus of control. That pretty much sounds like the kind of employee that I'd love to have.
Every employer out there who has an employee that wants to attend Startup Weekend should encourage them because the rewards for the employer are greater than the three days they're not in the office. They could pitch a new product that may find its way in your company, or they may develop a new skill to accelerate their business activities.
Sometimes, you might lose a few people who will realize how easy it is to cross over from employee to entrepreneur. And they make that switch. While it may be initially hard for an employer, losing that person sooner, rather than later when you've invested more resources into them would be good for both parties.
O: What advice do you have for people who are going to be pitching their ideas at Startup Weekend?
KL: I'd say:
Read the pitching outline.
Network with people.
Practise your pitch; it's 60 seconds.
Ask for the skillsets you need.
Share your idea with as many people as possible.
Listen to as many ideas as you can.
Leave the non-disclosure agreements at home. No legal paperwork is to be signed at Startup Weekend.
Network with people with those skillsets. People will have different coloured stickers on their nametags. Talk to the people with the colour you need to get on your team.
Vote early for your favourite pitches.
Get up and pitch. It's half about presentation as it is about your idea. Practise enthusiasm.
Tell me your problem you're trying to solve, spend less time on the solution. That will change over 'the weekend'.
To register for Startup Weekend T&T, visit trinidad.startupweekend.org.
Here's a video that shows two participants' journey at Startup Weekend Toronto.