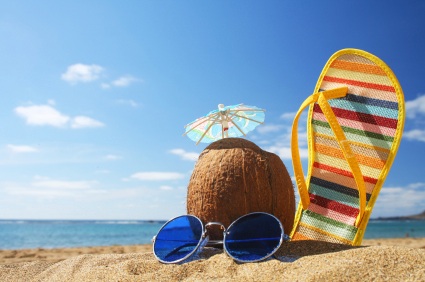 How Trinidad got a Summer
|
Have you ever heard a conversation go like this?
"Aye boss, yuh fixing dat ting for mih this week?"
"Yeah, doh worry yuhself, I home fuh de summer."
Hold up… summer? Strange right? No one would EVER use the word summer in Trini, right? Probably back in your day, and that would have to be years ago. These days, most people use the word summer to describe the holidays that school children get every July and August, and happily use to populate clubs and malls across the country, when they're not harassing their parents.
This term, summer, is all over our media. There are parties for the summer, sales for the summer, and songs for the summer. I've even heard some local artistes talk about dropping 'summer singles'. At one time its use may have generated a 'cut-eye' or two, but at this point the term seems here to stay.
Officially, Trinidad has two seasons – a dry season from January to May and a wet one from June to December, which humorously reveals that what we commonly refer to as 'summer' is actually our rainy season. A consultation of Uncle Wikipedia reveals that summer in the US runs from the summer solstice (June 21st) to the equinox (September 23rd), which surprisingly overlaps with what we wrongfully perceive as summer down here.
This 'summer' of 2010 in particular has been almost spitefully wet, providing enough natural pools for dengue mosquitoes to move in, rear a family, and put down for college too. We are probably the only nation in the world that can boast of rampant flooding during our 'summer' season. So then, why do we hold onto the notion of summer and where did it come from? Unlike some people, I actually believe that most people aren't stupid, so there is probably some good reason(s) for this misnomer, right?
"It's not like we copy other 'Yankee' stuff down here, right?"
One interesting coincidence is that summer in the United States coincides with the period that we consider as summer. Could that be it? It's not like we copy other 'Yankee' stuff down here, right?
Oh cable, I blame you for this. Years of slack-jawed, thumb-in-waist-band drooling in front of a box that flashes summer every year, around this time, have subliminally convinced our populace of this madness. I wouldn't be surprised if they have men observing Thanksgiving too.
Additionally, many people from the US who have family in Trinidad tend to "take a summer vacation", and come down here to compare and complain. Inside their complaints about bad service, no McDonalds, and how they can't wait to go back (even though they ketchin' dey tail up there), usually slips in some talk about summer, which we Trinis adopt like Angelina Jolie. You know how we can be with these things. I know people who mirror the accent of whom they're speaking within minutes. People come down talking about their US summer in Trini, and then we feel we have summer. Boom bang, it's as simple as that. It spreads, and then it sticks.
Another possible reason, which is also why I give people a bligh for using the word summer is that our seasons can be pretty messed up. There are years when the seasons seem back to front, with heavy rains in the first half of the year and blistering sun in the second, as opposed to vice versa. And even when we have rain during our rainy season, we get a day of heavy rain causing you to rush to buy an umbrella from some seedy vendor, and then heavy sun the next day forcing you to use the same umbrella for shade like some tourist. Sadness. No wonder people get their wires crossed, and end up walking around in hot sun, with scarves, all dressed for winter.
Summer schedules. Summer sales. Summer parties. Summer jobs. Google "Trinidad summer", and you'd be surprised to see how many people in this wutlessness. If you're one of those people who does tote feelings over the inaccuracy of the term, then by now your back should be strong.
Does all this talk of 'summer' bother you? That's my question; so let me know. Face out.
Image credit: iStockphoto.com