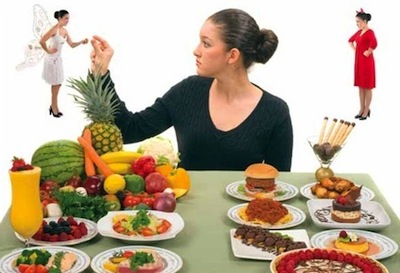 Health Food Junkies: Is Your Healthy Eating Unhealthy?
|
Can healthy eating ever be…unhealthy?
Turns out, it can be. As if the usual eating disorders affecting young women (and men) weren't insidious or dangerous enough, now there's a new one: orthorexia.
This disorder – which became recognized as a mental disorder, rather than an eating disorder, relatively recently – is defined as having an unhealthy obsession with eating healthy food by Dr. Steve Bratman, author of "Health Food Junkies: Orthorexia Nervosa: Overcoming the Obsession with Healthful Eating".

People suffering from orthorexia (which is named after the Greek term for "right" or "correct") often avoid what they consider to be unhealthy foods, such as fats, preservatives, man-made food additives, animal products, or other 'impure' foods. They start with refusing to touch sugar, salt, caffeine, alcohol, wheat, gluten, yeast, soya, corn or dairy foods, and any foods that have come into contact with pesticides, herbicides or contain artificial additives.
There's nothing wrong with wanting to avoid the above food offenders; we should all try to limit foods that have been found to be harmful or increase our likelihood of developing chronic diseases. The problem is when this need to eat in a pure way reaches an obsessive point, leading to malnutrition, other health problems, and, in extreme cases, death.
And, for those who are susceptible to developing eating disorders or who have a history of disordered eating, the Internet, and, in particular, the blog world, can be a very dangerous place to be.
Now for the personal disclosure.
As someone who's lost a good amount of weight in the last two or three years, I took a lot of inspiration from "healthy living blogs" (which will come up in droves if you google the term) – mostly written by other women and many of which feature daily (if not three-times-daily) posts of meals eaten. Food is photographed (sometimes painstakingly and beautifully; other times haphazardly), talked about, planned, and commented on by the blog's readers. For someone trying to get some fresh ideas on new ways of eating, they are a great resource… up to a point.
Yes, the food that appears is usually wholesome and natural – but the writing takes on a strangely guilty tone when a blogger "has" to resort to a fast meal out or an industrially produced option. There are often apologies, along with a disclaimer about "healthy balance", and something to the effect that the rest of their very natural, clean diet somehow makes these "transgressions" OK, because only fruit and vegetables will be eaten for a while to make up for the unhealthy splurge.
And again, that seems like a normal, rational reaction to a pig-out feast. But where do you draw the line between wanting to show a healthier, balanced way of eating, and creating a dangerous need for food to be pure, good, and healthy? When does the guilt over eating a donut go from being a good thing – because really, we shouldn't be eating these things on a daily basis and excluding better food choices – to being a compulsion? And how can we be sure that what is shown is a balanced and healthy way of eating, and not the result of a hidden eating disorder?
In this situation, readers of these blogs can easily be led to assume that what they see IS, in fact, a good way to eat – and that message is reinforced through a tightly-knit community of other bloggers and commenters who replicate the same ideas and views on food.
Beyond merely excluding unhealthy and non-natural ingredients and foods, many of these blogs also highlight exclusionary ways of eating (vegetarianism, veganism, dairy-free, gluten-free diets, etc). Now, as the wife of a vegetarian and sad lacto-intolerant person, I understand the need for people to have special diets, whether through choice or necessity.
The problem is that many "healthy living" bloggers tout these lifestyles, which already place importance on the need for purity and 'clean' eating, as a cover – unconscious or not – for calorie cutting and weight loss, using phentermine pills or food purity as a way to shield underlying disordered eating.
Eating in this way becomes a matter of control, of necessity, and of virtue…and, for someone suffering from these feelings, there are plenty of online sources for "inspiration" – and for dangerous reinforcement. There is no disclaimer for that for their audiences and readers. Very few of these bloggers are nutritionists or experts.
So what's the bottom line? We should try to eat as healthily as possible, and we can use social media and blogging resources to reach these goals. But we need to be informed by professional opinions, make up our own minds based on that research, and be wary of crossing the line between healthy concern and unhealthy obsession with those things that should, paradoxically, help us stay healthy.
Check out the rest of this week's issue (25/07/11; Issue 67):
Look out for a new issue of Outlish.com every Monday!