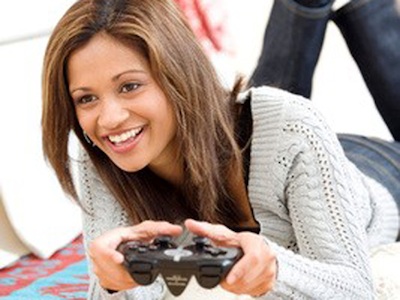 Girls Who Play Video Games: Yes, We Do Exist
|
The much-anticipated, final instalment of the Gears of War trilogy was released last month. For those of you who are scratching your heads and going "Eh?" right now, Gears of War is a military science, fiction, third-person shooter, aka "ah shooting game".
In keeping with the prevailing girlfriend stereotypes, I'm supposed to be dusting off my best sour face and fine tuning my most plaintive wheedle all now… or so my fellow Outlisher Isaac Foderingham-Rudder thinks.
But that isn't the case.
No doubt, the neighbours will soon be treated to the questionable sounds of splattering enemy Locust (not the insect kind) at full volume. And I am fairly certain that my boyfriend will have to be surgically removed from in front of the television.
But do I mind?
Not in the least.
You see, I am a bit of a closet gamer myself. Don't be too quick to judge the artsy, non-violent exterior. I've actually been known to do some serious damage with the chainsaw end of a Lancer (not the Mitsubishi kind) in my time.
Surprised?
The reactions I get are always amusing. The look I get from my friends is quite often one of bafflement, accompanied by a wrinkled nose, and a mildly disgusted expression. The sound of Left4Dead's zombie infected enemies shrieking and gurgling in pursuit of my brains seldom ever elicits a pleasant reaction from my grandmother. According to my boyfriend, his friends have a hard time believing that he is not only "allowed" to play games, but that we play multiplayer games together… and mash dem up, I might add.
Girl gamers do exist, and we're not just It-Girl or Farmville enthusiasts. It's not all about pleasing the fellas in our lives either, although I must confess, few things are as romantic as defeating a last boss together.
There is something immensely satisfying about getting immersed in a character's remarkable story and world. Increasingly realistic graphics make it even more of an enjoyable, fascinating experience. It's impossible to behold the landscapes contained in some of the newer titles without uttering a reverend "Weeey" under your breath. Or to invest more than a hundred hours playing, as a certain character, without feeling some measure of affinity for him or her.
After having played some of the games in the Halo series, I feel indelibly connected to the Arbiter, most remarkable of Covenant Elites. And I am still in denial about Reznov's death in Call of Duty: Black Ops. A good game hooks you and draws you in like that. (Sorry non-gamers, you're gonna have to click the hyperlinks to get the storyline).
I'm not fussy when it comes to genre. I dig good shooters, adventures and role-playing games alike. A good story is a must, and engaging gameplay is always important. After a long, tedious week at work, there is nothing like escaping into an elaborate, post-apocalyptic world in which you are a fearless super-soldier with a mysterious past.
And then there is the therapeutic satisfaction of wielding impossibly amped-up weapons against your enemies. I can completely understand the issue that some people may have with violence and the use of weapons. On the other hand, the games being produced for girls aren't entirely controversy-free. Actual titles include such gems as Babyz Fashion, The Clique: Diss and Make up, Happy Cooking, and My Boyfriend. Sounds fun, right?
Stereotypes about female gamers abound. One of the more popular ones is that we only play games on the easiest setting available.  Not true. A lot of the satisfaction that comes from beating a game is about the fact that you've managed to overcome the challenge. Most times, battling through the final stage of a game involves shouting, cussing, threatening to 'pelt way' the controller, and leaping out of your seat. Ultimately, the rush that comes from the cut scene when the last boss has been defeated is incomparable.
As a female gamer, however, it's impossible not to acknowledge that female video game characters are designed to appeal to a male audience. The vast majority of female characters seem to be buxom, scantily clad and impossibly limber. In recent years, however, we've seen some interesting and relatable characters who still manage to kick butt, such as Resident Evil 5's Sheva Alomar.
And when it comes down to it, kicking butt is essential to a good video game experience.
I'm certain that every fella knows a girl or two who gets her game on as well. It's averaged that about 40% of PC and console gamers are female, according to a recent study by the Entertainment Software Association (E.S.A). And the numbers are increasing.
Despite the stereotype that girls are either jealously anti-game or are only interested in games that involve babies or fashion, I have met quite a few serious girl gamers over the years. You may not see us, but we're out there, waiting impatiently for the release of Modern Warfare 3. If you're looking for us, we'll be in front of our consoles, blissfully aiming down the scope.