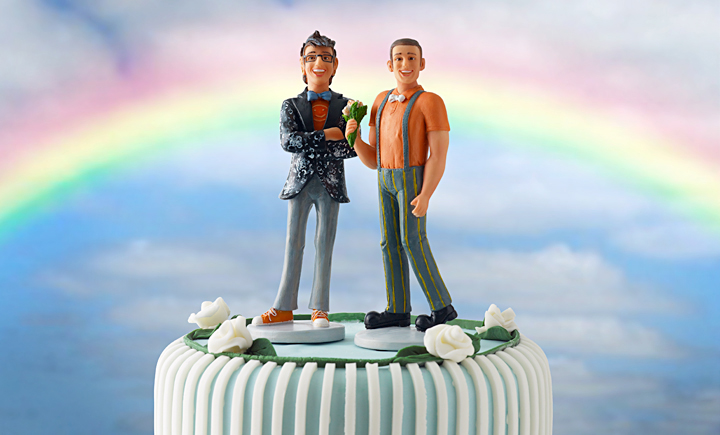 Gay Marriage: Why it's Time to Say Yes
|
Last week, people all over the world let out a collective "it's about time you admit it", as President Obama came out of his ideological closet, and announced on ABC that his position on same-sex couples had evolved, and that he now is in support of same-sex couples having the right to be married.
Mr. Obama's newfound commitment to the idea of same-sex marriage came about the same way every man commits to the idea of marriage – his significant other (the electorate) sat him down and told him that they have been together for three years now, and nothing is happening. All their other friends, England, Holland, Belgium, and even Spain have gotten married, and they need an assurance that he's committed to this relationship, and they are so totally going to break up with him, if he doesn't get his act together and propose soon.
Mr. Obama isn't alone. All over the world, there is a growing consensus that denying same-sex couples the right to be married is wrong. And I concur. Here's why.
No more buts about it

…gay apocalypse, where all hell breaks loose, and in which Satan descends from the sky on a huge disco ball…
I know for some people, the idea of gay marriage conjures up images of a kind of gay apocalypse, where all hell breaks loose, and in which Satan descends from the sky on a huge disco ball, surrounded by an army of men, who all look like Elton John and are riding pink unicorns, while trumpets blasting out the tune "Can You Feel the Love Tonight" are heard in the distance.
Sure that's a frightening sight. But really, apart from preventing "Can You Feel the Love Tonight" from being played across the cosmos for eternity, there is no reasonable, or rational argument that can be made to deny same-sex couples the right to marry.
Let's debunk some common "but excuses" people make, when confronted by the topic of same-sex marriage.
"But doesn't the Bible say homosexuality is wrong and is a sin?"
Yes it does. Who gives a sh*t? And vampires die when exposed to sunlight? Look…I don't mean to belittle anyone's religion, but seriously, forget what the Bible says. We do not live in a theocracy, governed by religious doctrine or dogma. We live in a secular, plural, democratic society. You are free to believe in any bat-sh*t, crazy thing you want. But the state is not.
…try moving to the dark ages
The state's legal framework is impartial to race, sex and religion. So should it be towards sexual orientation as well. If you want to live in a place where the Bible is taken as literal fact, and everyone and everything you do needs to adhere to it, you can try moving to the dark ages.
"But isn't marriage a sacred and special religious act?"
Not really. As my cousin Vicky will tell you, you can show up at the Chaguanas warden office one day lunch time, wearing jeans and a Metallica tee-shirt, and, on impulse, get married to the boyfriend your parents don't know about, and be back home in time to change to go to Sting nightclub to celebrate.
The state recognizes marriage like this, and with good reason. For the state, marriage is a legal procedure that isn't hinged on religious belief. It affects issues of inheritance, custodial arrangements, and even tax payments, to name a few. There is no reason to deny this legality to same-sex couples.
"But wouldn't this open the door for all kinds of strange things, like a man marrying a goat or his Playstation?"
Well. No. For one thing, there is a huge difference between two consenting adults who want their relationship to be legally recognized by the state, which doesn't discriminate against their perfectly natural sexual orientation…and a man who wants to marry a f*cking goat!
Secondly, my friend Sheldon will gladly tell you that he is in fact already happily married to his Playstation, and has the trophies for "Call of Duty" to prove it.
"But the key element of marriage is sexual reproduction."
Yes. True. The most important problem, today, is that we don't have enough f*cking people living on the face of the earth.
I suppose by that logic, heterosexual men and women who are infertile should not be able to marry either.
"But isn't homosexuality just a lifestyle choice?"
You mean like wanting to move in with someone, and have a family together? Like that lifestyle choice?
Aside from the hundreds of respected medical studies, medical institutions and scientific papers, which point to homosexuality not being a choice, I myself, as a heterosexual male, have never just got up and said, "Hey I'm going to try this gay thing for a while and see where it goes. See if it suits me", as if it's some kind of new, zany haircut I want to try out.
Labelling homosexuality as a lifestyle choice was started as a clever way by which crazy, religious people could then condemn it as a sin. (See above.)
"But marriage has always traditionally been between a man and a woman."
Yes. Just like voting was once something traditionally only between upper class, and land-owning men, and picking cotton all day without being paid was once something traditionally only between black people.
But these ideas changed. And it was for the better of everyone in society. And there is no reason why marriage can't change for the better of everyone in society as well.
"But the thought of gay sex is gross."
Yes. But lots of things in life are gross. Like Kim Kardashian, the lines in PriceSmart, Ian Alleyne supporters, my job, and the West Indies Cricket Board. This list goes on and on. Suck it up and accept it.
Something old; something new
The same-sex marriage debate deals with larger and more important questions than homosexuality or marriage. It's a debate about the ideas of freedom, equality and the role of the state.
Do we carry on with the status quo, acknowledging that not everyone in our society is treated fairly, but it's ok, because that helps us to feel better about ourselves?
Or do we own up to the fact that we are in the 21st century, and it's time to start acting like it. Even if that means changing everything we have ever known.
The parents of my aforementioned cousin didn't get angry when they found out what she did. They weren't pleased, but they conceded it was her life, and her decisions to make, and they supported her. They even organized a party for her and her husband.
I remember my uncle shrugging his shoulders and telling me, "She's happy ent? They both happy. You can't be vex with that. That's all anybody does want in life."
Image credit: tybinc.com