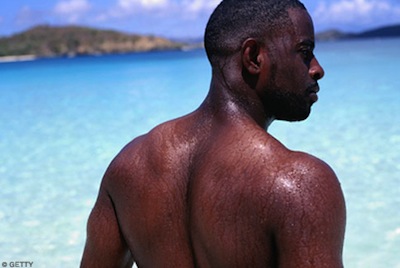 Gay Abroad, Closeted at Home: How it Hurts
|
Granny passed in July. It wasn't unexpected, since she had been ill for some time. I was driving home from yet another doomed date when Daddy called. From the sound of his voice, I immediately knew it was serious.
"Son, bad news."
Silence.
"Kevvy, granny dead."
Silence.
My heart is racing. Crashing my car is NOT an option…insurance premiums are the devil! I manage to pull into a parking spot…can't remember where.
"Whey yuh mudder?"
I hear myself explain that she worked today, and that she should be getting home around the same time that I would. My father quickly walks me through the appropriate things to say to her, when I get home. It suddenly dawns on me that I will have to be the one to tell my mother that her mother has passed away. My stomach drops, as I turn into the driveway. Mummy's car is there. Key in door…Feet up steps….
"Mummy…"
The fallout includes a laugh, a stretch of denial, stunned silence, a series of sudden screams, soul-bending laments to the Holy Ghost, and frantic calls to the travel agency. Doh ask meh what order all dis happen…I can't remember.
Dear reader, I think this is as good a place as any to pause and give a brief history of my formative years in the Caribbean. I was born and raised in Trinidad. My father is Trinidadian, and my mother's family is from Grenada. My childhood included regular visits between the two countries. I have an equal appreciation for Trini pelau, and ah serious Grenadian "oil down"…best of both worlds.
At 17, like many others before me, I packed up and moved to Toronto to pursue post secondary education. That was the late 90s.
I consider myself to be a true child of the islands. No matter where I go in this world, my roots will forever and nostalgically be planted in the warm soils of the Caribbean. If I'm being honest, however, the decisions that I have made about the kind of life that I now live are seemingly at odds (according to some) with my Caribbean upbringing.
The boy that left the islands at 17 is not the man who will be returning at 29. He has not yet discovered the power of authentic living. That 17-year-old boy has not done the painstaking work required to come to terms with being a gay man in this world. He has not gone through the slow, on-going metamorphosis of living his truth. He did none of it!
This 29-year-old man has done the work. I have done the work, and I can tell you that it was not easy…and that it is never truly completed. This is probably the reason why, in spite of everything that is happening around me concerning my grandmother's death, I feel as though this trip back home runs the risk of being a regression of sorts. By not addressing our sexuality upon our return trips home, are Caribbean LGBT men and women undoing all the personal development and potential contributions that can be made to our families, to our friends, and to our wider community?
Look, I know some people reading this may be thinking…
"Gosh, yuh grandmother dead, and yuh mudder hurting, and all yuh could tink bout is yuhself?! Yuh rell selfish, boy!"
I can appreciate that line of thought. I think it's legitimate. Allow me to explain where I'm coming from.
This experience made me realize that in not addressing my sexuality openly and honestly with my family back home, I had unconsciously ushered in a kind emotional castration that made it impossible for me to engage with them in any real and authentic way. Our relationships had become as superficial as girlfriends complimenting each other on their makeup, but saying nothing 'bout de webs ah yampee in de corner ah dey eye! What pink elephant yuh talking bout?!
I started putting some serious thought into what that emotional castration…that inauthenticity actually meant within the context of all the difficult lessons I had to endure to become who I am today. I did not want to risk emotional and developmental regression on this particular trip back home. I also started to think of all my LBGT brothers and sisters around the globe, who make that annual or occasional pilgrimage back to the islands. How do they do it? Do they temporarily shut off part of themselves to make the trip possible? Are they going back with partners, totally unaffected? If they are making "concessions", do they feel that these are sometimes at the expense of their personal development…like I do?
Are my fabulous brothers and sisters going to be there when I plan to visit for Carnival? Are they going to want to want to buss a lime at Smokey and Bunty with me? Do they have cute and single friends and family? Between 35 and 45 years old, perhaps? Who like fellas like me…with a lil cushin' fuh de pushin'? Maybe I'm getting a bit specific with my questions…I digress.
I also wonder about my other LBGT brothers and sisters who, for whatever reasons, have decided that it is best to not look back. I wonder about the circumstances surrounding such a major sacrifice. I think about them, because I understand that there, but for the grace of God, go I.
To my original question, what do we, as a community, lose when one of our own has completely erased themselves from our lives…usually out of fear? Is the sacrifice ever worth it for them? Lots of questions; not many answers.
My grandmother's funeral went as expected. It was bittersweet. She was a wonderful woman…well loved and respected by her community. Did I sit down to have the talk with my family? No. It simply wasn't the time. Will it happen in the future? I believe it will…especially after dem blasted macos catch wind of this article! Do I particularly care? Not at this moment. For all the work that I have done on myself thus far, I understand that there is more yet to be done.
Image credit: outtraveler.com