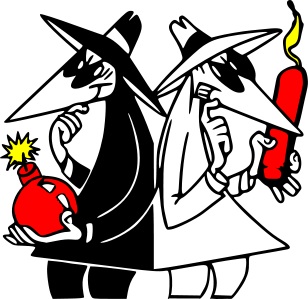 Frienemies: Why do we keep them around?
|
I ask myself often why I tolerate certain people in my life. They don't add anything substantial, but for some reason I still keep them around or vice versa.
It's not as though I'm lacking in the good friend department, because I've got some top shelf, die-hard friends who know me, and all my idiosyncrasies. Most importantly, through all my mood swings, and ups and downs in life, they're the ones who really matter. But lately, I've started wondering why I, and I'm sure others as well, can't seem to get rid of the dreaded 'frienemy'.
Most of us have a frienemy or more in our life. You know, the people who find the time to highlight your faults, and go out of their way to make some irritating comment, and generally just be a pain in the you know where!
Tell me, why do we keep these kinds of people in our lives? Are they still in your life, or have you relegated them to the acquaintances department in the friendship mall? Most of the people I've encountered like this have been good friends turned frienemy, random acquaintances, people I've met through friends, online friends and former school friends.
Personally, I wonder if I keep them around because I feel compelled to suffer through their disparaging comments because I'm unwilling to start a fight or create conflict. I also like to believe that there's a good side to people. So, an otherwise moody and bitter girl or guy can't always be like that and I figure maybe one day they'll show me that side.

No matter how you or I try to rationalise the reasons why frienemies exist, it seems that the same types always pop up. I've comprised a list, off the top of my head, of the types of frienemies I've apparently collected, and how you can spot them from a mile away, or while they're sitting in your house, soaking up your hospitality when they were just 'bad talking' you with Tom, Dick or Harry. Here goes:
Users 
These pretend to be a friend in order to get something only. Well, this type is universal and we all have at least two or ten of these kinds of frenemies. I can't count the number of times I've met people who call you up to 'say hi', then ask for a favour. Or they take advantage of your kind offers and then act resentful for some reason. I know a girl who would make sure and find me in the middle of the Amazon, hidden under an obscure rock, especially if she wanted a favour. It's the only time she ever calls, not to say hi even, but to ask if I can do her a favour. When that happens, guess what, I'm busy. *Grins*.
Fas', outta timing frienemies
These are the 'fas, outta timing' kind of people who seem hell bent on criticising every effort, every move, every new item of clothing, or every time you try a new hairstyle or a new style of breathing. I never really took stock until I decided to make this into a story, but when I think about it, I think it's because they're unhappy and dissatisfied with everything in life. Tip to those people: go get a life!
Psuedo ninjas 
There are some people I know who work extremely hard to gorge on the first sign of emotional carnage, and use a magnifying glass to find faults. They sit, perched, just waiting and watching for an opportunity to dive right in and feast on the remains of people's once balanced lives. They take an ordinary event and make it a national incident! I call these the psuedo ninja frienemies because they're kinda sneaky in the way they operate, but they aren't that smart either.
The bacchanalites/ chaos creators
This frienemy creates drama jus fuh so. Ah, yes, I call these the bacchanalites… the chaos creators. This type of frienemy just appears to be so bored with their own misfortune, they figure it might be more interesting watching others try to play catch up, after they attempt to wreck their lives. These are the ones who stir up trouble, so they can sit back and feel smug that their life isn't falling apart. They're closely related to the pseudo ninja frienemies, who also gloat about your troubles.
Big talkers/ actors
These always talk a big game, but fail when it comes to doing. The other frienemies are pretty predictable and common, but this breed is the type that annoys me to no end. They're always touting their own prowess in a particular arena, but then feign ignorance when help is required and find excuses, with guess what, more talk! They should just shut the heck up! I rather hear a polite 'no' instead of hours of nonsensical gibberish. I can't get that time back eh!
The complete hater 
This is the frienemy who's inexplicably jealous of everything. Jealousy seems to be the common thread in all frienemies, I think. They're jealous of your job, house, car, wardrobe, boyfriend or girlfriend, and yes even your pets! These are the ones who don't know you when things are going well. They're always around to pretend they're empathetic towards you, or bad talk others, but when things are going well, they're suddenly busy or uninterested in what you have to say.
Beware of the ones who are jealous of your relationships by the way. They're more than likely to attempt breaking you up if they can. I'm just saying!
Lately, I've noticed this kind of frienemy and I wonder why I keep them as friends. The answer could be that they are silent supporters, because they have been there before. Or it could be that my good fortune highlights the polar opposites in their lives. I find this most difficult to deal with since as friends, we're supposed to be happy for each other's happiness (idealistic apparently). Have you got another take (because I'm tired of introducing my head to the wall over this)?
Well, there you have it, my take on frienemies. I'm definitely interested in hearing if there are other types of frienemies you've come across, and how you deal with them. There are some people I have to tolerate out of familial obligation, but the ones who don't matter, I've already minimised contact to the bare minimum. So what's your approach? Weed them out or keep giving them a garden to flourish in?