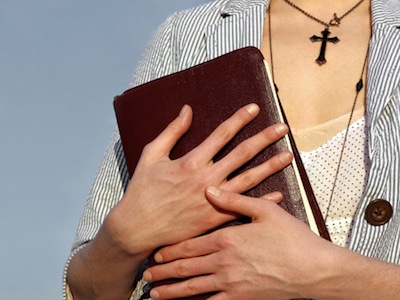 Enlightened or Backslider? I Used to be a Church Girl
|
When I read the piece "Confessions of a Church Girl" by Nikeisha Joseph in last week's Outlish, my itchy writing finger kicked in high gear. I wanted to jump in with all the comebacks that flooded my foggy Monday morning mind, but I hesitated. After all, this was a fellow Outlisher, and a new Outlisher at that.
I didn't want to make a bad, first impression, seeing that we had yet to officially meet. But her words hit places in me that were not about to be silenced, and I felt an aching need to respond. Why? Because I used to be a 'church girl' too.
I admire Nikeisha and have no real problem with her position, but for me, it's a bit like… been there done that.
I didn't grow up in an overly religious home, my mom participated in Carnival every year, and when people occasionally stopped over, they might have even been lucky enough to drink a beer.
I was taught to respect others, wait for the right one, and doh get pregnant, while yuh in school. My mother saw to it that I attended Sunday school and Sunday mornings found me in church, but after my first and only confession in which, at 11,
I had to think pretty hard to come up with the list of things that I would need absolution from, I started to look elsewhere for my religious guidance.
At around 13, my older brother 'grew a dread', and I got properly schooled in Jah Rastafari, and all things red, green and gold. But always being one to question, I still found myself searching the various religions, seeking to truly know God and moving from confusion to believer to even a short delve into atheism. My quest for a true understanding of what it was to serve God eluded me. Circumstances brought me into full-fledged 'born again' Christendom in my mid-20s, and boy was I into in. I had experienced what some would call God's miraculous healing, and I felt that I owed him nothing more than my life, and as such I was dedicated to serving him. I was never much of a limer, so giving up that was easy. No one would have to ask me to a stripper-filled bachelorette party for they knew instinctively that I would not come.
The gift of my singing voice also now belonged only to God, as I would not sing anything secular. That said, I was by no stretch of the imagination a fanatic, as I would not pound you over the head with Bible verses or "thou shalt nots", but I felt very committed to my decision, and felt more like I needed to walk the Christian walk even more than I needed to talk the talk.
My newfound spiritually bought with it not condemnation for things outside the church, but a solid disgust. The partying, liming and not going to church ways of some of my friends at times antagonized me. I wasn't one to ever be preachy, but I would show my distaste by my non-participation, and maybe a comment here or there. I'd turn down invitations because they were not church related, so there was no more going to the movies, or even a simple  house party.
I remember going to one obligatory company dinner, and sitting through the entire dance portion of the event simply because I felt to dance, would not be Christian like. I was the only person sitting among the empty chairs, and I must have looked pathetic, but, to me, I was being a good Christian.
After being a good church girl for over a decade, I woke up one morning and found myself faced with the task of making one of the most difficult and life-changing decisions that I would ever encounter. I had been in this place before, and I had used my church girl values to forgive and give second chances to someone who proved undeserving, and here I was, asking God whether I should use that same measure of forgiveness, again. Forty times forty Katyan, commitments and vows!
But as I prayed and I cried and took a good long look at everything I believed, I realized that I had this church girl thing all wrong, and I, in that moment, decided that I would not let the goodly call to forgive be my death sentence. That choice caused me to seriously reassess everything I believed and some might say I stopped being a church girl that day.
The demand put on church girls doesn't just come from our so-called worldly friends. There is internal pressure too. Someone told me of a friend who had to step down from her position in church because she got pregnant. I have no real issue with that; we can't on one had stand before the congregation condemning fornication and espousing the virtues celibacy and virginity and then turn up pregnant. So I expect that she'd step down. However, to hear that she had said that abortion was not an option "this time", spoke volumes of the pressure that some feel to continue the charade of being the perfect church girl.
I have a great pastor, no infidelity or stealing of church funds. He's a great counsellor, who reached out to me in my difficult time; but for me my church girl days are over.
I still go to church, but I've learnt what to internalize and what to reject. I've opened my eyes to the understanding that everyone has to walk their individual journeys towards finding their peace with God. I've learnt balance. I now believe that God can, and will speak through many people in many different ways. I no longer believe that if a person does not give their lives to Jesus explicitly in the way that I've been taught, that they're bound for hell.
I do not believe that all homosexuals are filled with vice and need deliverance, or that all sickness is caused by the devil. I believe that we are responsible for the choices we make (free will), and that we are all our brothers' keeper, regardless of faith, sexual orientation, or religious belief.
I would be considered backslidden by some, but, in the end, I believe that God is good and he knows all and sees all and more than anyone else, he sees my heart and my intent. I also know that some church people will dismiss this as backslider rhetoric, but it's a position I'm comfortable with, for now.
So Nikeisha, anytime you find yourself in the mood for some LLB, let's vibe, because I'm sure we can still have fun, even though we may agree to disagree about some of our beliefs.
Look out for a new issue of Outlish.com every Monday!