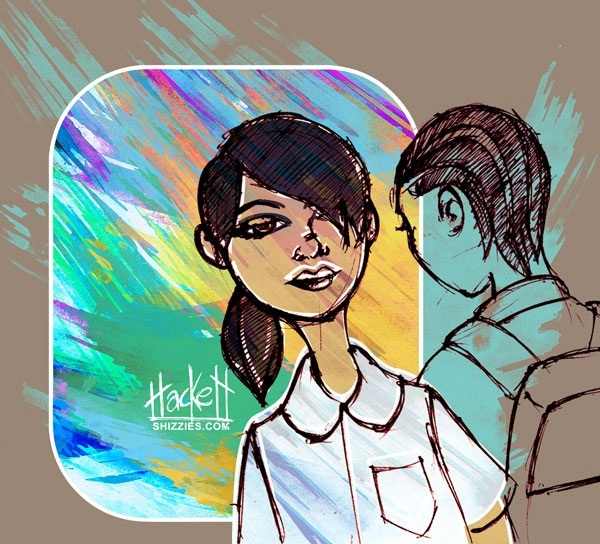 Convent Girls: Crashing the Stereotype
|
"Where is your accent?" That's the first question people ask me when I confess that I attended St. Joseph's Convent, Port of Spain.
This is usually followed by, "You are so not a convent girl eh!", which more often than not brings me great satisfaction. Not that I am ashamed of having attended SJC. I passed my Common Entrance exam with flying colours, and passed confidently through the front door of my first choice. No shame in that game.
It's what I found when I got there that makes any association with the Convent Girl stereotype problematic.
What is the Convent Girl stereotype? The Convent Girl is a cute, well groomed, Roman Catholic girl who is both snobby and wealthy (or maintains the appearance of someone who is wealthy), has what is known in some circles as a 'Westmoorings accent', and, most of all, keeps herself separate and apart from 'the masses'.
'Frighteningly, the Convent Girl does not speak unless she is spoken to'
…
'Unlike those aggressive Bishops girls, she knows her place'
Frighteningly, the Convent Girl does not speak unless she is spoken to, has the best etiquette and manners, and simply could not hurt a fly. While she will more than likely become a housewife, the Convent Girl has also been known to enter the traditional professions where she won't make much of a name for herself because unlike those aggressive Bishops girls, she knows her place.
This stereotype is not unfounded.
In my seven years at SJC, there were many students and teachers who fit this stereotype to a T. They were quite comfortably the Convent Girl poster children who were pampered and applauded by the school's administration, as if they were the cat's finest pyjamas.
These girls would add an "ah" to every single word they spoke, and go up an octave at the end of each sentence.
They would do exactly as they were told without question and would usually be rewarded with a Prefect's badge at the end of their mindless tenure.
After all, for the school's administration, forcing everyone to conform to one particular stereotype was the simplest way to exercise control, and when faced with an easier way, and a more challenging one, who wouldn't choose the easier way?
Furthermore, the SJC has its foundation in the Roman Catholic faith, which, if we are honest, is one of the most conservative religions in Trinidad and Tobago. To stay true to its roots, the administration had to ensure that it was unacceptable to behave, dress, speak or adorn yourself in a certain manner.
'The end product would inevitably be elitist lady conservatives destined to spend their lives following the straight and brainless narrow'
Creative outlets that encouraged critical thinking, such as sport, drama, dance and journalism, were not given much priority. We were taught that academic performance was most important since that was what we were there for. No matter how hard you may have tried to put this aside, very few persons have the conviction not to be persuaded by this conservative way of thinking. The end product would inevitably be elitist lady conservatives destined to spend their lives following the straight and brainless narrow.
Some would even say that persons of a certain social grouping were favoured at SJC.
They would say that these persons came in on the 20% at Common Entrance or through a 'bligh' transfer at Form Two; teachers were mortified to tell them what to do and they were allowed to circumvent school policy. I cannot say whether 'they' would be right, but I remember, in particular, that when I graduated the principal didn't want me to accept my award in a thin-strapped LONG dress, but allowed a student's mother from that same social grouping to accept her daughter's award in a mini white dress with her ENTIRE panty printing through the back.
I do not doubt that pandering to particular classmates helped secure some much needed funding for the amenities, which we enjoyed equally, such as a fully stocked science lab, an air conditioned audio visual room, a Form Six study room, and a well stocked library.
In the end, that is surely a lesson in life, because the real world is not much different.
'Sometimes the rich just get away with stuff'
Sometimes the rich just get away with stuff.
Did witnessing such behaviour influence some of us to adopt the mannerisms of this certain class so that one day we too could get away with stuff? Well it's possible.
Once you understand the background to the stereotype, you should also understand that many of us, including myself, are nothing like this. For the most part my friends and I are down to earth, natural, intelligent women who have taken the world by the horns. We have carried our bottomless 'inquisitivity' to the next level becoming professionals who live our lives in accordance with our own values.
When I asked my classmates to weigh in on this topic they were very excited to talk about our alma mater and the famous stereotype.
Some felt that the administration was not to blame for the stereotype, and believed that many students were already sheltered and elitist when they entered the school. Therefore, although SJC did nothing to alter their behaviour, it was not the root cause.
One classmate noted that her sister went to Convent and sported blonde dreads for most of her school life without being subject to any pressure. Others were happy to be called Convent girls because for them it was a positive association with over-achievers who maintain their femininity. These young women have redefined the stereotype, accepting some aspects and rejecting others, thereby making it their own.
In the end, no secondary school is perfect. In our young Republic, they remain works in progress.
Personally, the negative experiences at SJC encouraged my interest in areas of law, which focus on socialism and fairness. While at Convent I found my creative voice writing for the Vox, and it is this past time, which continues to ease my frustration in what is sometimes an unjust world.
Most of all, my family and friends continue to lend me incredible support through a journey made more colourful by my SJC past, but not determined by it.
Check out Part 2 to this article – The Great Convent Girl Hoax. See if Nicole Greene agrees with Gabrielle.
Author bio: Gabrielle Gellineau is an Attorney-at-Law and Trade Consultant who loves to communicate via words, written and spoken. She can be contacted at caribbeanfutures@gmail.com. You can also check out her blogs www.carifuture.blogspot.com and www.geevoice.wordpress.com.
Illustration by James Hackett. Check out his website www.shizzies.com.