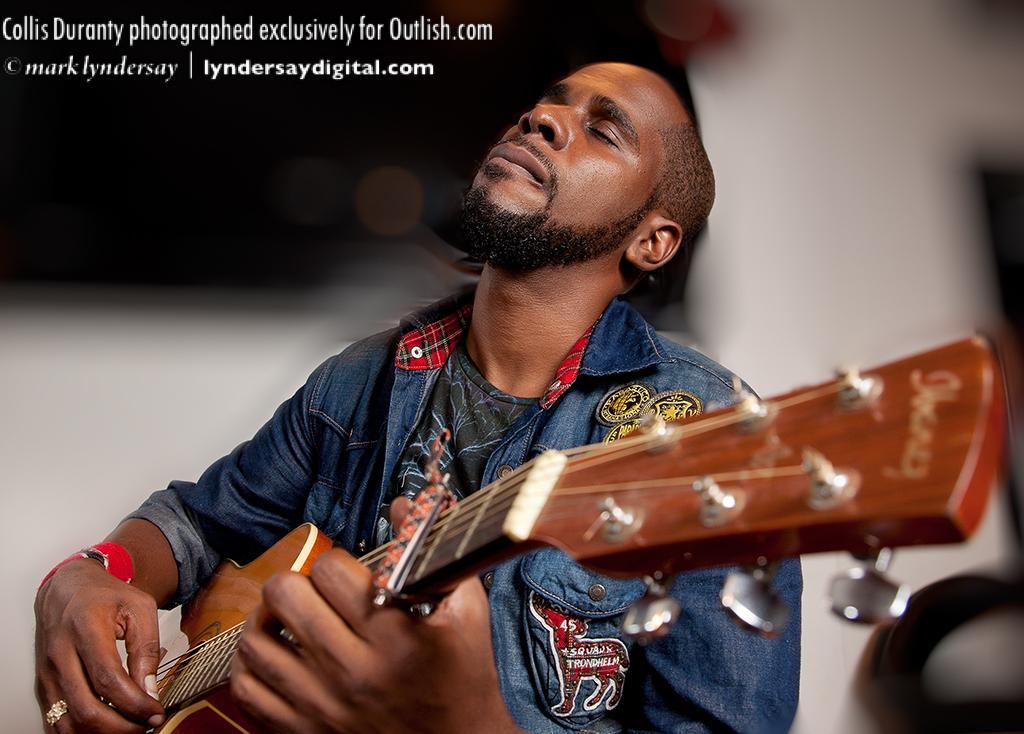 Collis Duranty: He's Got Unlimited Soul
|
Singers who really touch us with their music do so because we sense their passion, and that this is more than a show. We realise that it is an offering of who they are, at their most personal layer.
Collis Duranty has shared many layers, and, as clichéd as it may sound, he's still got more to share.
"I try to represent what some people don't know how to express," he says. "That feeling in your heart and soul when you feel pain or joy, when the mind is weary and you need to find the right words to help you think in the right direction. I represent the red, white and black. The heart of our people. The conscience side and not so much the conscious. Really, I am a conscience lyrical artiste."
Ask anyone who's witnessed his recent performances at Woodford Café, Spalkers, and Casa de Ibiza, and they'll support that claim. For those of you who haven't seen him on stage, or have never heard his name, you're probably still wondering who's this guy? To his fan base, he's a gifted musician, whose music raises your pores. His music transcends the simple genre of Soul, and can more aptly be described as soulful. Still, his sound is something each listener must define for himself or herself. Ask him to describe his sound, and this is his response:
"I am a singer and songwriter of World Beat music, with influences of Jazz, Folk, Alternative Pop, Reggae, R&B, and Calypso. I am the Unlimited Soul Project. And most of all, I represent our Creator, made in his image and likeness with the gift to also create and re-create in my music and in my inspirations… to aim at deeply penetrating the psyche."
Well-received songs like "Red, White & Black", "Consequences to Why", and "Brighter Day" define Duranty's keen observation of the human spirit. Not all of it is public reflection though; it's impossible to be sensitive to others and not let your own emotions leak in. It took a handful of years performing in the underground to perfect this 'Collis Duranty sound'. He's been doing this for over twenty years, singing since the age of eight and working his way up the local music circuit, starting with our local rite of passage for any entertainer, Best Village. For this 'South boy', growing up was a shuffle between Siparia to Point Fortin, and, in his adult life, La Romaine.
More than a singer from south Trinidad, he's also a perfect example of someone who's naturally gifted. He sings, yes, but he also writes his own songs – the lyrics and the music, plays it on his guitar (sometimes cowbell), and arranges the rest of the instruments in the masterpiece he has constructed in his head. While you're processing all of this, add that he can't read music… Yup, he plays it by ear.
Duranty has left behind the wandering path of an artiste trying to 'make it' in the narrow back alley of the T&T music industry, and as the snowball becomes an avalanche, it is evident that his sound is ready to go mainstream. Earlier this year, he was booked on the Digicel Outta Control Tour, which culminated with a whole-day concert, comprising an all-star cast, including the likes of Kes the Band, at the Hyatt Waterfront. Recently, he performed alongside fellow, local talent Rizon for the TT Entertainment Online 'Unplugged' Series, and, so far, he is booked for regular, encore performances throughout the year.
Note that he's accomplished this despite no radio airplay. Perhaps one can base his achievements to date on the loyalty of his fans, or at least just over 1,200 of those who populate his Facebook page. I also can't help but think that if 601 Liquid Lounge (San Fernando) – another stage he's graced – was located in Brooklyn, undoubtedly talk of his talent would have reached some talent scout by now; but in Trinidad it's difficult to promote music that doesn't exactly fit a recognizable genre.
As a fan for well over a year, my personal grouse is the 'sometimish' reluctance of the audience to lose themselves to this foot-stomping, hands-high-swaying music, but to him, every show is a highlight. Clearly, it would be easier to label him a Soca or Dancehall artiste, but is it possible that Trinbagonians have 'soul' too?
Music is not just business for Duranty. I dare say it isn't even just his passion. It's a part of his existence. Asked what he would be doing if he didn't do music, he replies, "Not be existing".
Creating music is part of his daily schedule, and although he rises with the dawn, the technical part of creating a song – gathering the day's experience and transcribing them into music – happens when the sun goes down. He often travels to Port of Spain to "talk business" with his manager, or spend time in the studio, so he is always on the go – always observing, collecting raw material. He is also hardly ever without his guitar, with its beautiful, natural-wood facing, and an accessory of a molded red ribbon on the bottom right edge. For this soul man, putting experiences into music is never a problem.
While he acknowledges that his musical ability is "just gift and talent", he advises upcoming artistes to not only be passionate, but to also study their music and the business. Understanding the opportunities the online world presents, he also uses Facebook and YouTube, and is focused on learning how to use social media to build his presence. Attaining knowledge "will enhance who you are, and what you want to do", he says, adding, "Embrace everything that comes your way".
As the music industry grows in Trinidad and Tobago, Duranty also advises young performers to do their own thing and not look for 'hand-outs'.
"Don't try to look for no 'bligh' in the sense that you living in a trace with two studio or you know a man who sing, who into the arts or what not," he says. "You looking for yuh bligh, but you not looking to be 'up and under'. Look for your space! Let people see you for who you are.  Don't try to rub off on nobody."
So when asked what is his big dream? What is it he still has to achieve?
"Just some stability right now for me. Stability in the sense of my personal life so I could have a little more focus and concentration on the music… I wouldn't lie about that. I've been shifted by things in my personal life and you know… you want a little stability."
That goal may not have been so out of reach had he been allowed to perform at the much anticipated end-of-year show "Evolution of Sound" on December 4, 2010, which featured international superstars Damian Jr. Gong Marley and Nas, and reggae artiste Jah Cure, for which he was originally carded as the closing act to the local performers. That invitation was withdrawn.
His expected performance created a ripple amongst his Facebook fan base, but his withdrawal created a frenzy in the underground, with the promoters for the show on the receiving end of their criticisms. Many of his fans posted comments and videos, on the concert's event page, asking promoters to undo their decision. While all of these comments have been deleted by administrators, as they say in PR, "all publicity is good publicity", and this incident has definitely been more positive than negative to Duranty's career, endearing him even more to his fans, and making his name a bit more known.
He acknowledges that it was a great opportunity, and, perhaps, it could have been a 'diving board' to mainstream popularity. However, he says he is unruffled because he believes that his time is coming.
He's still performing, and has been booking shows consistently. On stage, banging his cowbell amid the instrumentals and the chorus of the crowd clapping, there is no indication that this is work, or that here, in his element – wearing his signature newsboy cap, and grinning an ear-to-ear Duranty smile – the pressure of success, at least in financial form, is weighing on his mind. He is living his dream – writing, singing and performing his music full-time, and being paid for it.
For him, life right now is unlimited. A conceptual CD is in the works, and while highly demanded by his fans, he understands the 'waiting game'. If there was any dream yet to be attained he says, "Hmm… maybe a show in the Queen's Park Savannah… Collis Duranty in concert with Tracey Chapman and Relator".
To keep with up Collis Duranty, visit his Facebook page, or check him out on Reverb Nation.
Photography by Mark Lyndersay of http://lyndersaydigital.com. Mark is a professional photographer and writer working in Trinidad and Tobago since 1976. His column on personal technology, BitDepth, has been continuously published since 1995. He is currently pursuing a photo essay series about how Trinidad and Tobago pursues its culture and festivals called Local Lives. Both series are archived on his website at http://lyndersaydigital.com.
Check out the rest of this week's issue (6/12/10; Issue 35):
Look out for a new issue of Outlish.com every Monday!