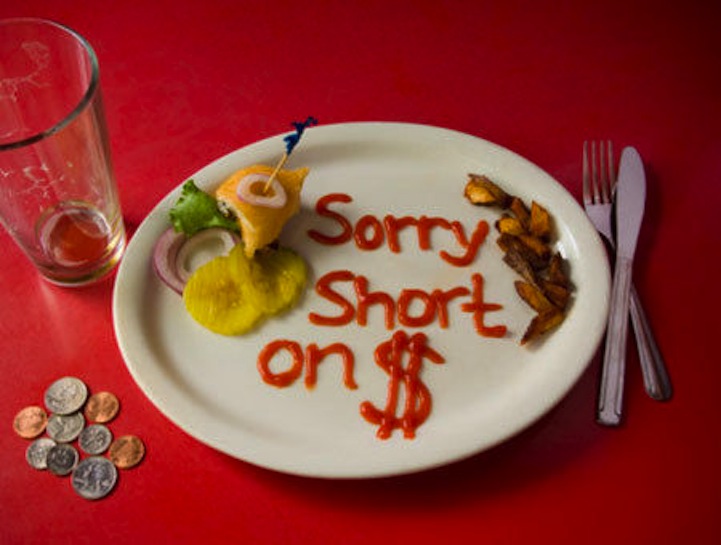 Cha with that: I Not Tipping
|
So imagine I'm on my honeymoon in Jamaica, in a white van, strongly resembling a white maxi, travelling a distance processed as walking distance to my Trini brain. But like the Jamaican driver confuse my Trini accent with a Miami one, because on top of charging me $10US return – per person – he looking for a tip. You could believe that one?
Is best he started looking for world peace, or an honest politician one time, because all he received in return was a poker face, and a thank you. Not even the peer pressure of all the 'proper' tourists in the bus forking over 50% and 100% of the fare's value in tips could melt my resolve. I guess the job situation in the US wasn't as bad as advertised.
It got me thinking though. When did we reach here? How did we get to the place where tipping was expected as a right from those in the service industry? The bus didn't even have AC self.
How did we get to the place where tipping was expected as a right from those in the service industry?
It seems that these days a tip is expected, regardless of service quality. Researching the matter, I read that "failing to give an adequate tip when one is expected is a serious faux pas, and may be considered very miserly, a violation of etiquette". Personally I say 'cha' with that. If I give a tip at all, it's because the person soldiered beyond the call of duty to provide my happiness. Not to satisfy anyone's misplaced idea of etiquette.
In my lifetime, I've probably tipped fewer times than days in the week, and each occasion remains securely tucked in memory. A woman who recommended food to me that tasted good, and who changed my drink, when she realized I didn't enjoy it. A Ruby Tuesday's waitress with an upbeat personality, who ensured we got a proper seat, and didn't disappear like Mumford every time we were ready to order. A lady in Tobago who made us feel at home, even though we were Trini…though technically we were at home. And the list goes on, albeit not very long.
If those things don't seem particularly memorable, well you should and would shudder at the average level of service. Still, service staff expect extra for performing what, essentially, is their job description. One even flat out asked me for the extra contribution, even though the food was terrible, and she took years to bring me my char siu pork, something that you can get in less than five minutes by any two by four Chinese outlet. Immune to social expectations as I can sometimes be, I told her no.
Is either the person doesn't want to be there, so they 'face swell', and they're nowhere to be found…
Amazingly, I don't consider my quality quotient to be particularly high. At this point, if I go to a restaurant, and can get my food in less than ten minutes – with no attitude from the attendant (I personally don't even need a smile) – then tip passing like ball from Iniesta. Good luck finding that in Trinidad though. Is either the person doesn't want to be there, so they 'face swell', and they're nowhere to be found, or they're in your face incessantly, trolling for tips, so the smile is plastic, and they're badgering you to buy things you don't want…and suggesting expensive 'ting' they know doesn't taste well.
Thankfully, in Trinidad, most attendants seem to realize that the service 'cheesy', so they don't demand tips, a relationship I've grown accustomed to maintaining. They don't perform well. I don't complain. They don't look for tips, and I eh giving.
Abroad is a different story, and when I say 'abroad', like most Trinis, I'm referring to America, more commonly known as 'The States'. The service is generally what I consider average, albeit wayyy better than 'average' in Trinidad. They do what you would expect from a restaurant of that price range, but they stop just short of demanding a tip. If I have to pay so much for average service, I say give me a tray and let me organize my own stuff.
I mean, am I not already paying service charge? Oh you say you're underpaid? How is that my fault? I was underpaid at my first job, yet none of the people who enjoyed the websites I built tipped me. I would really like to meet and congratulate the marketing genius who transferred the onus of ensuring that workers in the service industry are properly paid from their employers to the patrons.
Again…how is that my fault? 'Cha' with that. I not tipping.
When I look at my bill in any restaurant, I see the food/drinks cost and the service cost (and VAT in Trinidad), so a tip, in my mind, is not for basic, expected service. To get a tip from me, you have to provide some intangible je ne sais quois. And since that is increasingly rare these days, I guess I'll be saving my money – not giving it away to suit someone else's idea of etiquette or reward for poor service.
Image credit: au.pfinance.yahoo.com