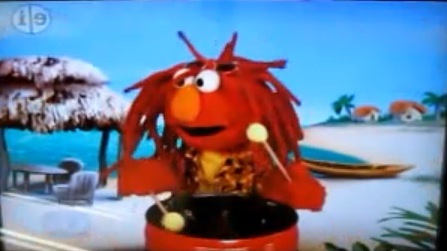 Caribbean Amphibian: Stereotypes of 'Island' People
|
There are stereotypes everywhere about any and everyone, some foolish, some hurtful, some based in truth, and some that are just plain ignorant.
I have to confess that over the years I have been guilty of stereotyping people too. I have also been the object of direct and severe stereotyping myself, most recently as of April 6, 2011 at 7.30 a.m., when I was asked what part of Jamaica I was from.
You would think that in a state like Florida, with the level number of immigrants from the Caribbean, people might pick up a difference in speech. So while writing this article, I couldn't help but laugh at this, and some of the things that have been said to me in the name of stereotyping, like… "What part of Africa are you from?" "How long was the boat ride across?" "Where did you learn to speak English so well?" "Did you live in huts back home?" Then there's… "How come you don't sound like the other Jamaicans?"
I understand that there are places Caribbean people have not invaded yet, or, if they have, that they are in freshwater disguise, but this was said to me in 1998 on a university campus in the US, a place of higher learning (good and semi-apropos movie by the way) by other students. You'd think that by now these kinds of questions would have been put into the archives, but they're still very present.
We Caribbean people can't cry victim all the time, though, since we do not only stereotype people from the US and Europe, but we also 'bad-talk' fellow islanders. So I guess it's only fair that the favour is returned by everyone else. Some stereotypical sayings are the usual suspects (like all Caribbean people sound Jamaican), and then there are those that are not spoken so loudly, but have been around since 19 o'long. Let's go through them, shall we?
All Caribbean people live near the beach 
Even though we live on islands, this does not mean that the place is so small that we are within spitting distance of salt water. I was asked many times if I go to the beach every day, and how come I can't swim when I lived on an island. It's like boss lady Karel mentioned, and Serena said in her article "The Trinbagonian Dream", people have other things to do like work for a living, so going to the beach is usually a planned activity, and not an everyday norm, unless you actually live near the sea, which means you are most likely involved in industries like fishing, which is work. Albeit in a nice environment, but is still work.
All people that sound Caribbean are from Jamaica 
I blame this on Bob Marley. He was the world's major introduction to this region's sun-drenched shores, people assumed we must all sound like him, and it stuck. Plus Jamaica is heavy in promoting itself as a tourist destination, despite whatever else is happening in the country. Now, we all know that if you line up people from various islands, they will not sound the same, and it shouldn't be hard to imagine that the entire region doesn't have one accent. Yet still, you'll forever get asked about jerk chicken.
Oh… another part of the Jamaica stereotype is that because Bob and company had dreads, everyone has them, right? Alyuh need to watch this, by the way (thanks Hassan).
Which brings me to my next point…
All Rastas smoke weed 
Before I personally knew any rastas, I was taught this by my father and older people who were also ignorant in their generalization. I would be foolish to say that the opposite isn't true, in some cases, but because your hair is twisted or matted, this does not mean you are searching for higher heights via natural means. Ask any friend who wears a dread (pretty or bongo), and they'll tell you they've been approached at least once by someone looking for weed. On a side note, why when Americans smoke weed they have to put on some Bob, as though that was in the smoking manual?
Jamaican people are aggressive 
Taking all the dancehall wars, the recent Dudas thing, and past protests out of the picture, I (and I'm sure a large percentage of readers) know many Jamaican people who do not fit that mould. If I remember correctly, the Maroons of Jamaica were slaves who had escaped, resided in the mountains, and raided plantations while fighting for freedom, and any unruly captured Africans who refused to conform to conditions during the Atlantic crossing were dropped off on the island. So there is a history of rebellion and aggression, but it was for an absolutely right cause.
This means that Jamaicans are a proud people and will not back down, same as practically every other group on the planet (except Trinis who might back down if they have a lime?). This attitude is just sometimes misunderstood by those who are not accustomed to it.
Bajans like money 
Doh get vex with me my flying fish friends, but most of you whom I've met have this trait to some degree. I have Bajans in my family. #thatisall.
Stay away from Haitians. They're strange and might work voodoo on you
An island with a more tragic than normal history, I think people greatly misunderstand Haiti and its people, and the psychological effect these events may have had on residents. Everyone has habits that are strange to someone else. The voodoo thing ah leavin alone…
Caribbean men (and women) are abusive 
This is a huge generalization because abuse unfortunately occurs in all groups of people. A man may get loud in order to be finally heard, and a woman might chook up the man head unnecessarily because she knows any retaliation will result in his arrest.
But seriously, I think this stereotype that Caribbean people are abusive is simply a result of differing cultural aspects and interpersonal relationships not being explained and understood. Caribbean people are emo. We talk loudly, and we gesticulate. This doesn't mean we're all abusing each other behind closed doors.
The Caribbean is uncivilized 
There are people who still view the region through the eyes of Christopher Columbus. We may be developing countries, but we have everything that is out there whether or not it is appropriate or suited for us. We wear the latest brands, drive expensive imports, have a semi-functional judicial system, and we even get movies in cinema before England! So I'm often amazed when people are surprised that we're with the times.
All Caribbean people do is party 
We like to enjoy life. That's no secret. It's not our fault that we can throw a party, have some drinks, wine down the place, and still show up for work the next day normel or maintain a very high GPA while you just get one piece of heavy T or ripe plantain and mess up for a week… (sorry; was having undergrad flashbacks).
It's a matter of priority setting, knowing your limit and what is at stake in your situation. Enjoyment of life is not the same as living with reckless abandon. Don't blame us, because we have it down pat.
So now that we've covered some of the stereotypes, who do we blame for their perpetuation? The person who chooses to only associate with others who look, sound and think the same, and believes any talk about other people without finding out the truth. Change the channel from BET, MTV and ESPN to Discovery and the Travel Channel once in a while. I also think Caribbean governments should make it a major priority to forge a separate identity for each country (while supporting each other of course) because I am tired of hearing pan music as the standard, tropical sound, even for Hawaii strangely enough.
My throat gets sore from defending and differentiating my Caribbean people. I need help. Everyone is an ambassador whether or not they choose to be. So let's bust those stereotypes every time someone asks us some ridiculous question, because otherwise they'll never change, and we'll all be just be another frog in a coconut tree (ribbit ribbit).