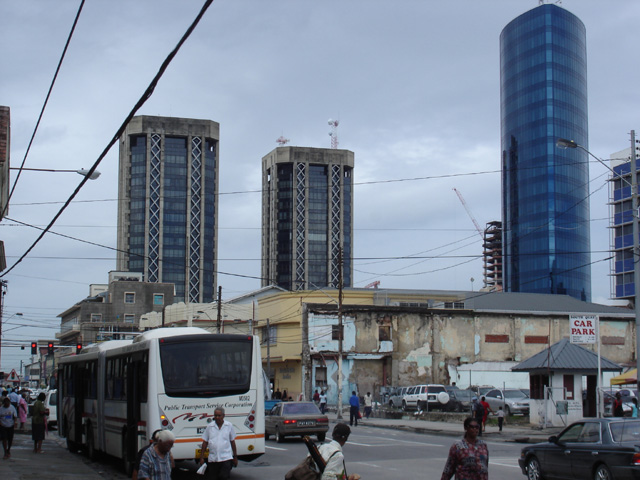 Born in Foreign: Can You be Trini if you've Never Been Here?
|
Everybody wants to be a Trini. At least everybody who can claim its heritage by birth or ancestry. But what really defines a true Trinbagonian?
Is it someone who loves pelau, roti, crab and dumpling, pastelles, Soca, Parang, and bake and shark? Or is it someone who has walked a mile and a half in the average citizen's shoes, and can not only recite a list of all things Trini, but also know the highs and the lows of life in T&T? How do we separate the wannabes from the true, born and bred Trinbagonian?
I'm sure that there are strong opinions on either side of this argument, and in my head I'm envisioning level cuss words getting pelted across the metaphorical fence. I'm also guessing that I'm about to draw the ire of many Trini offspring with what I'm about to say.
My first assessment is to say no. If you were born abroad and have never spent a day on T&T's soil, you're not a Trini. How can anybody be so arrogant as to claim to be a true Trinbagonian, if they have never touched down on our beautiful shores? How can they claim to be truly a part of what makes Trinidad and Tobago so great without having ever experienced it first-hand?
"How can they claim to be truly a part of what makes Trinidad and Tobago so great without having ever experienced it first-hand?"
Full disclosure… I was born in England when my parents were there studying, and moved to Trinidad when I was four years old. I've been living here since. I've sat SEA, O' Levels and A' Levels here, and I've experienced many of the things that tick us off about life in T&T.
I don't think that someone who's never gotten a bad drive on the Eastern Main Road can really say they've experienced Trinidad.
If you haven't stood in long lines at the bank during your lunch break, you haven't experienced Trinidad.
If you haven't had to fight to get into a maxi at the end of the day, you haven't really experienced Trinidad. If you haven't had to cuss about the delays on the ferry or the plane, especially if you were heading from Tobago to Trinidad for an important exam or interview, you won't fully understand our (Trinidadians and Tobagonians) frustration with the service.
I know that these hardly sound like the highlights of 'island life', but we all know that these are vital parts of Trinbagonian life.
I'm not saying that a second or third-generation Trinidadian living abroad doesn't know enough about Trinidad and Tobago. But hearing stories about the massive flooding in Port of Spain every time it rains, or fearing destruction in Delaford or Speyside, when a hurricane is on its way, and being there to wade through the water are two, very different things.
So much of Trinbagonian life is about experience. It's about the collective consciousness of thousands of people understanding the never-ending frustration of choosing between the better of two evils for a government. It's about standing in a long line, and voicing your approval when someone else starts to cuss about the wait. It's about understanding that depending on who you talk to, it's politically incorrect to refer to a Tobagonian as a Trini, or that as much as "side by side we stand", we're not exactly the perfect picture of unity. These are things that you can't just know. You have to live them, and if you haven't, then you can't really, truly claim Trinidad and Tobago.
"We have a mindset that can only be learned through continued exposure."
It sounds clichéd, but being Trinidadian/ Tobagonian/ Trinbagonian is a state of mind, and it's not something you can pick up from listening to 'tales of the olden days'. We have a mindset that can only be learned through continued exposure.
Many second and third-generation Trinis complain about feeling 'put down' by born and bred Trinis abroad. It's common at universities where Diaspora come together to lime, and when someone starts claiming Trini heritage (in a non-Trini accent), they're automatically demoted It's hurtful for them to be told, "You're not a real Trini". However, if you call yourself a Trini and spell 'mas' as 'mass', honestly believing it's the correct spelling, then you've unwittingly opened yourself to criticism. Even if you've visited T&T a few times that doesn't automatically pull you out of the water.
By now, some may probably accuse me of being divisive, but I'm not. I'm simply calling it like I see it.
Case in point, Nicki Minaj. Even though she was born in Trinidad, as Onika Maraj, and lived here until she was around five years old, the interviews she gave about her recent trip home revealed that she was clearly expecting bush country when she stepped off the plane, and was amazed that we had highways just like in the US, and that it "didn't feel like an island at all".
While Nicki's choice to leave was not her own, and I applaud the fact that she acknowledges her heritage, it is clear that she hadn't made any effort to keep abreast of the goings on in Trinidad. Even though one can hardly expect a six-year-old to care about things like that, it would not be presumptuous to assume that as she got older she might have taken more of an interest in where she came from – especially since such a large part of her family still lives here (as we saw in her MTV documentary.) And it doesn't mean that this won't change. For all I know Nicki's already planned her next trip home, and we'll see her in the streets in Tribe for Carnival, but for right now, Nicki is as Trinidadian as Nia Long or Foxy Brown.
Even though I think that second-generation Trinidadians, who've never been to Trinidad can definitely acknowledge the Trini experience, as can second-generation Tobagonians who have never been to Tobago, when it comes down to it, they're Trinbagonians in name only. Other than a few relatives of Trinbagonian descent, or in some cases a birth certificate, there's nothing tying them to Trinidad and Tobago. There's no emotional connection to this sweet, island nation.
So if you ascribe to my notion that unless you've truly experienced life in T&T, you can't call yourself a Trini or Trinbagonian, then your answer, like mine, is no. If you're not born and bred, you can't claim to be Trini to the bone.