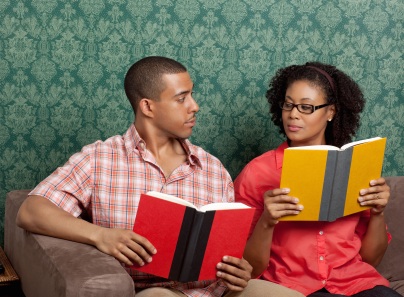 Are relationships a distraction from achieving your dreams?
|
The other day one of my guy friends used the "I'm too busy going after my goals in life to be in a relationship, and so are you" excuse on a girl. To him, starting a serious relationship, and having to put in the work that may come with it, could throw him off-track from his goals, and he just couldn't afford that.
Now, to me, that was just his nice way of saying, "I like you, but not enough to want to be with you, so I'm giving you a rationale that won't hurt your feelings".
Still, it got me thinking. Surely he doesn't believe that focusing on whatever track he's on, whether it's school, a business, or a new career, can't be done effectively while in a relationship?
Do you wait until you've achieved your goals to pursue a relationship? Did he really think that relationships are a distraction from achieving your dreams? Can't two, driven individuals thrive in each other's space, and achieve together? I think the answers are obvious.
I'm one of those women who look at power couples like the Obamas and Will Smith and Jada Pinkett Smith, and hope that I can emulate that sort of unity. My goals may not include fame and fortune (ok, yes to fortune), but I'd like to think that whoever ends up being my significant other would support and encourage me to go after the things that are important to me. In a relationship, I want a partner. Not just a lover.
I'll share Will's and Jada's strategy for being a dynamic duo. In an interview earlier this year, Will said they had developed a marriage business plan for the purpose and vision of their relationship. They also meet with their children to ensure that each person has a clear definition of themselves and what they want to achieve. "If you don't have a goal, if you don't have a purpose for your relationship, you can get lost in the murk of the journey," he said.
"Many people fall into long-term relationships with no clear idea as to why they're together."
Many people fall into long-term relationships with no clear idea as to why they're together. Yes, you may have been attracted to the person, and they're fun. However, if you're a powerful person – and I'm not talking about money here, I'm talking about being driven, talented, and having a serious focus on what you want to achieve – then you want to be equally yoked in that respect.
A relationship, a serious relationship, is much more than romantic love. There's friendship, genuine affection, loyalty, and respect. It's not just a question of good looks, or can he or she cook. It's about a dedication to not just the relationship, but also the betterment of each person. It takes focus and dedication from both parties to achieve their life goals, and they feel good having someone else cheering them on, making sure they get to class on time, or giving them the time they need to focus on their work. This, of course, depends on the level of maturity.
I always remember first-year UWI. I was in KFC cramming for a Maths exam for "summer school", with some other students, so yuh done know we had failed the exam the previous semester and were seeking redemption. With only a few hours to go until the exam, the girlfriend of one of the guys came trying to snuggle with him, and cracking jokes. He was visibly irritated, but too nice to tell her to haul her arse. Seriously? Was that the time or place for her to come seeking attention? This is a clear case where a relationship can be a distraction. Blame it on selfishness or the folly of youth.
Most of us don't have what the Obamas and the Smiths have, but that doesn't mean we can't achieve that same level of vision in our own lives and relationships. In May earlier this year, I interviewed Danielle Campbell-Smith, Managing Director of Advertising Impact Limited, and I left her office inspired.
Married with two infants, she often has her children with her. Her husband is also an entrepreneur and runs another company. Coincidentally, these Trini Smiths are my local version of Will and Jada. Not only do they help each other to cope with their hectic schedules and hands-on approach with their children, they also have a yearly retreat where they outline their vision and goals for themselves as individuals, as a couple, and as a family, so they know what track they're heading on, and regularly refer to their plan to make sure they're on track.
"You've got to be able to grow together."
This is a whole other level of achieving together. More than anything else, you've got to be able to grow together, as you move through different life stages. The trick, though, is to find the right partner. Not just someone who sees the physical you, and the fun you, but someone who gets who you are, what you stand for, and who you understand yourself to be. Someone who recognises the power that is inside of you, and has no problems forming a partnership with you where you both realise your latent potential. You're not just a couple; you're a team.
With all the other dynamics that factor into relationships, this sort of dedication to self and one's partner isn't as simple as one, two, three. That's why it's important to choose the right partner, who understands your drive, whose way of thinking complements yours, and who isn't threatened by you. Assuming you have someone you can pull this off with, a relationship can actually be a solid rock of support.
At the same time, you can't be so supportive that you forget to push yourself. Sometimes in a relationship you become consumed by the next person. You forget who you are, and what you want because your world starts to revolve around someone else. Remember Angela Bassett in "Waiting to Exhale", and how she felt when her marriage ended, and she had nothing because she had invested in him, without investing in herself at all, having put her dreams on the backburner? If you do that, you might want to burn some clothes too.
I can never understand it when I see a couple, and know that both of them are capable of so much more, but still it's as if they both allow each other to be stagnant. In couplehood, both people have to have the ability to be self-actualized and supportive, so each person takes the blame if they haven't achieved for themselves.
Power couple vision demands a high level of dedication, and discipline. It's not just a commitment to not cheat or to love and cherish. It's a commitment to the team, and staying true to yourself and your dreams, while rooting for your significant other. When you've found the right riding partner, a relationship can actually add that extra boost for you to succeed.
Image credit: iStockphoto. ©Hundreddays.