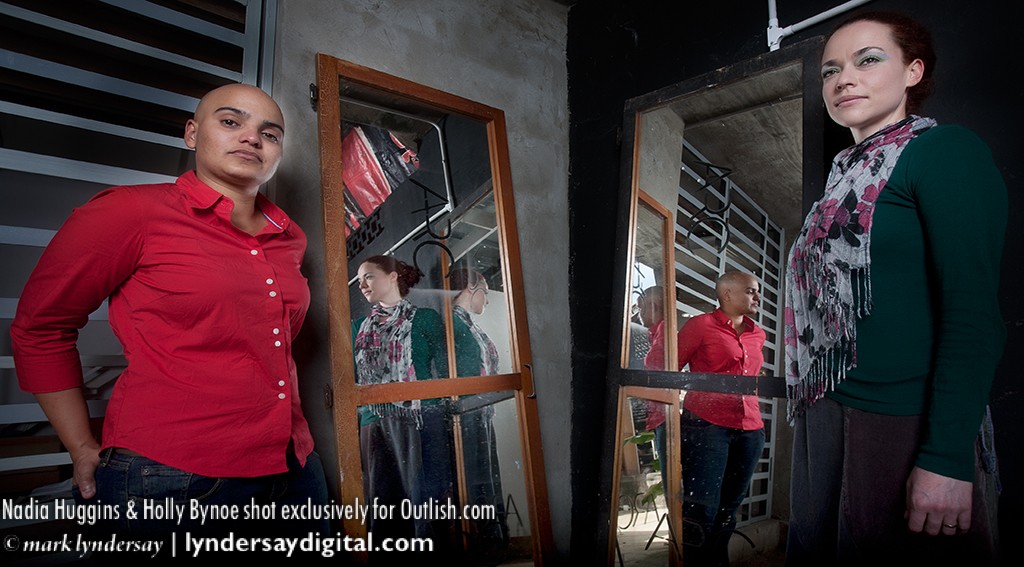 ARC: Business sense or Allegiance to Art?
|
Running a magazine is no easy task, especially when you don't have a long list of staff on your masthead, and everything – from design, marketing, distribution, content development, editing and writing – is your responsibility. Add money worries, and the stoic choice to not 'sell out' to advertisers, in order to maintain a beautiful aesthetic and artistic integrity, and you're faced with the conundrum of balancing business and art.
For Holly Bynoe, 30, and Nadia Huggins, 27, of St. Vincent and the Grenadines, founders of ARC Magazine – a quarterly, limited edition, Caribbean art and culture magazine, which was launched in January 2011 – this is exactly the predicament. How do they balance the expensive production of a high-quality print magazine, without using the traditional model of selling advertising space? Add the fact that they've taken out a personal loan to fund ARC, with no revenue currently coming in, and the pressure they're under is obvious. Yes the magazine isn't free, but sales alone won't cover costs, especially since ARC is produced in limited numbers.
"Certain brands have a space in certain publications," says Huggins, who is also ARC's Creative Director, and does the magazine's funky layout and design. "You don't want to be flipping through beautiful works of art and then bam… there's an ad for cell phones. So you have to be very mindful of that as well. At the end of the day, it's a visual magazine and every single page you turn to has to stimulate you somehow. And artists are speaking out against established business."
Some people may say they're brave or unwise to reject a solid, advertising model, and even Huggins says, "Maybe we're setting ourselves up for failure by sort of rejecting that". It depends on your outlook.
"The main feedback that we have been getting is despite how hard it becomes, know that it is needed, don't question it, and just do it," says Bynoe, who takes on the role of Editor-in-Chief. "This model is not going to be supported for next year. So we need to get sponsorship and funding."
Limited funds also means that even while ARC is a niche publication, with small distribution numbers, their target market is even smaller, as they must budget print runs, so that current funding can cover several issues. The first run of ARC was 1,000 issues, and the second issue – 500, as Bynoe and Huggins focus on better managing the logistics of the business. They're also acutely aware of how their distribution numbers may affect potential sponsors' outlook.
From Bynoe's and Huggins' point of view, this commitment to holding advertising at bay is something they have to do, in the name of art – although they've decided that "we will have to open space for advertising, but definitely not a lot"; and when you consider that they're both artists as well, you understand their philosophy.
Huggins is a self-taught digital photographer, who experiments with various media, and has been featured in several online and print publications. She has also worked in advertising for the last nine years. Bynoe has exhibited internationally and regionally in solo and group shows. She's also a graduate of the International Center of Photography, Bard College (New York) – where she earned an MFA in Advanced Photographic Studies, and where ARC's first, launch event was held (others were held in St. Lucia, St. Vincent, and Trinidad), and she holds a BA in Communications from Adelphi University (New York). She's also three credits away from holding a bachelor's degree in biology, which she abandoned several years ago to pursue her degree in communications, and eventually find her path in visual art.
ARC's start was quite incidental, as Bynoe and Huggins, long-time partners, were accustomed to collaborating with each other.
"Honestly the conversation just came up one night (in September 2010) and we started working on it the next day," explains Bynoe, who believes that the Caribbean and its Diaspora are malnourished for a publication like ARC. "So in a lot of ways we went into it naively, and thankfully so because if we had given it any thought, we probably wouldn't be doing it. When it's being formed, you don't think about economics. You don't think about customs. You don't think about writers. You just think… you know what… this would be a great thing for us to do. So it was the bigger issue of giving the artist a space."
Standing for art, recognition, and culture, ARC is a vehicle for exposure and inspiration for artists – emerging and established, offering insight into current practices across the burgeoning creative industries, and seeking to make the average person more appreciative of art. So far, stores, libraries, and online orders are the main distribution channels, with ARC being physically available in the Bahamas, Barbados, Dominica, Grenada, Jamaica, St Lucia, St Vincent & the Grenadines, St. Croix, Suriname, Trinidad, Antigua, Texas, and New York.
Already young artists from Trinidad and Tobago have benefitted from this new space. ARC covers all types of art and design. It's not just all paintings and sculptures. Graphic design, animation, video, and new media are included, definitely opening the scope for younger and emerging artists to have their work showcased, even if they don't have a wide collection of work. Brianna Mc Carthy, Rodell Warner, Tanya Marie Williams, Gerrel Saunders, and Jade Achoy are just some of the young artists who have been featured, alongside more acclaimed artists, like Peter Minshall and Mariamma Kambon, also from Trinidad, and fellow emerging artists like Keisha Scarville of Guyana and Sheena Rose of Barbados.
ARC features Caribbean artists, who are based all over the world, so it really is a portal for them to network across borders. Artists can also easily submit their work via ARC's website.
So how do Bynoe and Huggins produce ARC with limited resources? Their largest cost is printing, and, thankfully, with Huggins' expertise, design is one less cost. Contributors also write for free.
"I'm not afraid of approaching people for content," says Bynoe, who regularly seeks new talent. "The people who are interesting in contributing to ARC will have to do it out of the good of their heart. There's a massive brain drain happening in the Caribbean. People who are a part of the Diaspora need to start paying back in a real way. They have the time. They have the education, they have the vocabulary, and it's the least they can do. You know… ah sorry. Coming back to jump up for Carnival is not enough. Not when you have a PhD next to your name, and you can really dissect what's happening with art in the contemporary Caribbean.
"If we expand and go into printing thousands of copies, sure we'll pay you. But if it remains this sort of independent thing where it's out of the labour of a lot of people who care about one thing, and would come together to make it happen, that's how it will stay alive.
"If people don't buy ARC, we can't exist. We can't go it alone. I'm not saying you need to support us. Just support the publication. Nadia and I are ok with the work we do on the side. If you don't pick up a copy, this can't exist in 2012."
The side work Bynoe refers to also demands loads of creativity from these artists. Huggins, who left her job at an ad agency in April to free herself to fully take on ARC, also balances running her graphic design and photography business – Spark – which she started in 2007. Bynoe, who left her job at a New York art gallery in December 2010, holds teaching assistant jobs at institutions such as International Center of Photography, from time to time, but she recently made the decision to put that on the backburner for now.
They know they have to create a business model that supports their ethics for art and consistent cashflows. They know the odds are against them, but they're willing to fight. In the meantime, they're doing their best to manage their workload.
Huggins is responsible for ARC's branding and web presence, and the full design of the printed magazine and e-mag, among other areas, while Bynoe is primarily responsible for editorial content, liaising with writers and artists, and representing ARC at events. Together, they handle research, marketing, shipping, hiring, sales, and distribution.
"We have this tremendous idea, but no one is supporting it," Bynoe laments. "The publication is progressive. The publication is not censored. So how are we dealing with nudity, obscene language, being homosexuals, being artists, being women… nobody will touch us. How do we get support? We can't go to the church. We can't go to the tourist board. We can't go to the Government."
Financial considerations aside, they also have the tough challenge of trading in various countries, but they're committed to having a real presence in the Caribbean.
"If it was one land mass, it would be real successful because I could pound real pavement," says Bynoe. "But because we're dealing with all these different land masses, and spaces, the politics with customs and people not understanding what consignment is or even what our product is, it becomes a little challenging."
Now on their second issue, which was published in May, and already working on their third, Bynoe and Huggins are seriously considering their next steps, and are preoccupied with developing a sustainable model that will allow them to keep ARC going.
They're zoning in on sales and marketing, engaging their small community, and getting ready to approach potential sponsors; and while they are willing to be flexible on their approach to advertising, and solicit a few advertisements, they're very specific in who they'll be targeting.
"All Caribbean publications that currently exist, exist in a space where they present something and they sell something," says Bynoe. "Ok it's a functional model. It works, but honestly for ARC we can't use that approach because it takes away so much of the dignity from the work, because we were also looking at it as a space that celebrates that kind of labour, and we can't have a come enjoy the luxuries of (insert brand) and all of that bullshit advertising.
"We're approaching cultural and educational institutions to get that full-page ad. And we have to be cognizant of the branding that they have. It has to be powerful. It has to be aligned with the intention we have. And we have a couple of people in mind. But it's just to start that dialogue with them."
They're also considering other options, like applying for grants, switching to not-for-profit status, or even throwing their hat in the ring to get funding from Kickstarter, an online community that supports the funding of creative projects.
"Now we have this thing, and it has nothing to do with art at the end of the day," Bynoe adds. It's about networking, trying to figure out how we can find funding, and how we can do business in other islands. So it has completely shifted my role, and I am not too sure if I can tame the beast of it because it has sort of exploded on us."
"We still try to have fun with it though," says Huggins. "Because it is something we are very passionate about."
So what does the future hold for ARC?
"If we didn't have the limitations, I foresee a quarterly publication where every volume has five chapters, with translations in various languages," says Bynoe. "Oh, to dream. The magazine is the first physical incarnation of what ARC is meant to be. We're thinking of shows and other initiatives. We plan to support artists throughout their career.
"At the end of the day, we're really, really concerned with ethics, morality and the aesthetic of the magazine. You know what… it's going to be a really hard sell getting it going, and we're going to have to fight tooth and nail."
It's obvious that ARC's founders have a huge challenge before them. Still, if they can find a way to tap into innovative revenue streams, drum up even more community support, and find a way to balance business and art, maybe ARC can come full circle.
Visit ARC at arcthemagazine.com, find them on Facebook at facebook.com/arcmagazine, or follow them on Twitter @arcthemagazine. To get your work featured in ARC, visit arcthemagazine.com/arc/submit.
Photography by Mark Lyndersay of http://lyndersaydigital.com.
Check out the rest of this week's issue (16/05/11; Issue 57):
Look out for a new issue of Outlish.com every Monday!