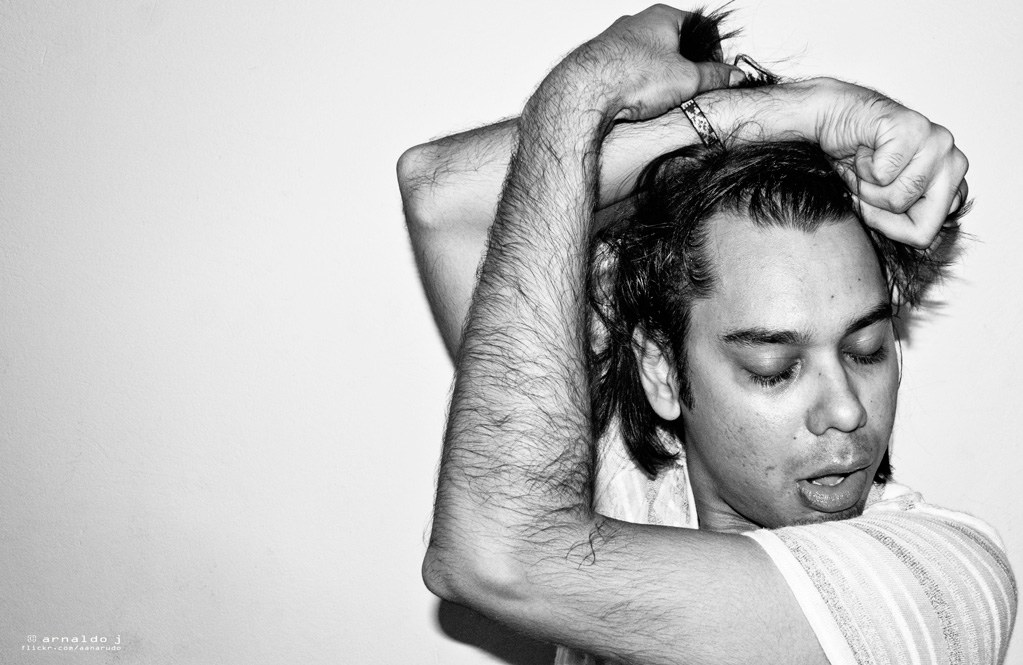 a_phake: Expressive, Eclectic, Electric
|
After being introduced to the local, EDM (Electronic Dance Music) scene a little over two years ago, I've had the pleasure of meeting an entirely new set of individuals I thought never existed in this neck of the woods – from DJs spinning the latest tunes from Europe, to producers pioneering the genre on local soil, to the person you may never assume enjoys being surrounded by flashing lights and reverberating bass lines.
In the midst of all of this is a_phake aka Ravi Maharaj – not a DJ, and certainly not a spectator. His instrument of choice in the EDM arena is his voice, placed on funky House and Electronic beats, some of which he has personally produced or co-produced. In fact, he may be the only one in Trinidad and Tobago who is doing this right now. Whenever he performs live, it is a sight to behold – the stage presence of a rock star, sometimes accented with some raunchy moves, a tassa drum, and some brief bump 'n grind session with an unsuspecting member of his audience.
As the saying goes, looks are definitely deceiving. At first glance, this 20-something-year-old dispensing optician by day may seem quite soft-spoken; even I was fooled into believing it until we began speaking to each other. The average man in the street may regard him as downright crazy, but, as he pointed out, "The Italians thought da Vinci was a madman". His somewhat eccentric nature is also illustrated on his Facebook wall, where he leaves random status updates, such as "Groove Salad!" or "Industrial Ear Candy", and his tendency to make some random statements.
I caught up with a_phake during a photo shoot for his upcoming full-length album (which involved a church, musical instruments and candy), and got an insight into his origins, his perspectives on the local music industry, and his plans for the future.
O: So, you only burst onto the scene recently. But I take it you were into music for a while. How long have you been doing it, and how did you get your feet wet?
a_phake: Well, one day I decided to perform in an at-the-moment show (like an open mic session) in St James. There were a lot of people hanging around, waiting to see a big band and I just happened to be there with my guitar. Things just got kind of crazy and everything took off from there. I played the whole at-the-moment circuit that year with my best friend's song.
But yeah, music has been close to my soul since I was a youngster. After school I used to hole up in my brother's room and just immerse myself in loud music. I mean we used to blast music for the entire neighbourhood and sing to the top of our lungs! The idea of performing started when I was 14. In Fifth Form, I went to a rock concert and there was this guy who had just graduated from school on stage. His peers considered him a joke, a dropout, but the sound of the band was so awesome – the music and lyrics went together so well.
It was the energetic spark of the scene back then that inspired me. Here was this new thing that's happening and my generation was a part of it. I've been watching from the sidelines since 2003, just observing, absorbing the soul of it all. It's the classic tale of the voyeur growing up to become the striptease.
O: I remember the first time I saw a_phake, I was stumbling all over the pronunciation – a-fak-ee, ay-fake, ay-fak (silent "e"). How did you come up with such a unique moniker?
a_phake: a_phake is based on a character – Adolphus Fake – who was a teenaged 'shroom-snorting indie punk rock producer that wore dark glasses 24/7. He finds out his parents are devil worshippers who combined Adolf and Jesus to come up with his name, and mysteriously disappears from the scene. Rumour has it Adolphus sold his soul to Gary Hector… But a_phake as it pertains to me represents the shell a man has to create in order to protect his truest substance – his dreams -from outside negativity. It also represents the shell a man has to cast off in order to build real and trustworthy relationships in his life. It's a duality I live with.
O: Considering the EDM game in Triniland is ruled by the DJs, you are definitely unique. How do you think you fare in comparison to the wolf pack?
a_phake: The wolf pack? It's really not about competition, but about partnership. The DJs are an integral part of the industry and are necessary musically because the producers need to trust their instincts. They know what moves the crowd; they are the ones who break the tracks on the club scene. Trinidad has got some really talented DJs out there. And yes they are more important than the mainstream radio selectors, since they prowl every nook and cranny of the international scene and are more abreast of what's going on in the world of music.
O: How would you describe your sound, and what about it says, "MADE BY a-phake"?
a_phake: My sound is like sensual motion – it's sexy, mysterious and sophisticated. It's like having your genitals dipped in honey. The stories are personal and the perspective is mine. It's not some generic "I wanna dance" sh*t that you cook up in half hour. I try to be as crafty as possible with the production process without losing the simplicity of communication.
O: As we know, Electronica is seen as predominantly a European thing. Are there any Trini or Caribbean influences in your sound?
a_phake: Oh, most definitely. You see Trinis mostly write rubbish and they may never stop. There is nothing subtle about the music we produce and call mainstream. There is nothing original. It's like some idiot's singing something, but all that's coming back at yo uis the same old sh*t that's being repackaged and resold to us. Everything else is made with weed. Trinidad and the Caribbean generally tell me what not to do. Having gotten that off my chest, I would cite Gyazette and their rhythmic excellence as an influence on me. And I'm still rediscovering all the old-school dub productions, and being massively educated.
O: I take it you also write your own material. Where do you draw reference from?
a_phake: Unlike others who employ their nine-year-olds to write for them during summer vacation, I write my own material. To be honest I'm so f*cked up I draw a lot from my own screwy tendencies. Recently, when I was in Depeche Mode, I wrote a song where the hook line went something like, "Selfish Mother F*cker". The song isn't specifically about me, but I tried to project things about myself into a fictional character, and then throw in someone else and see how they interact. I also like to write about mental illness because I sometimes consider myself mentally ill. In addition, I try to infuse my lyrics with positive life philosophy.
O: But other than your voice, and doing live performances (hot stuff, by the way), how do you think your music connects with the individual listener, be it someone who's taking it in for the first time or an avid fan?
a_phake: The voice is only the conduit. You can have a voice like Raymond Edwards or Bernadette Scott, but still have absolutely no vibe. You could have looks like Kes Diffenthaller, but have absolutely no substance. You can have great technical prowess like Shyam Singh (local guitarist and songwriter), but still have absolutely no soul.
O: You're on the Internet, have a few EPs under your belt, and do gigs every so often. Any chance we'll be seeing a_phake as a brand in the mainstream (albums, videos, radio, etc)?
a_phake: Yes there is. Positioning oneself as a brand for the mainstream is as organic as it is strategic. There is a lot of work to be done on the indie side of things before a mainstream market can be realized. Successfully placing your brand hinges not on having a product that fits the mould, but on something unique, yet great. Right now, branding is most important.
O: Are you doing any collaborative efforts, and if so, how have they been treating you, given you're in such a unique genre in this neck of the woods?
a_phake: Once there's vibe I'm collaborating! I'm not trying to be versatile though… I'm just trying to be the best songwriter I can be amidst the professionals. Not the schoolboy mentality that still persists among artists, which is the "well, ah doh really like where yuh goin, wid dat so goodbye" thing. It's about what's best for the song, not about letting one's ego or insecurities get in the way. I mean real songwriters and producers work together to create a song. And they keep their perspective broad. Not just, "Aye ah have ah track, sing something nah".
In this past year alone I've had several tremendous opportunities to improve my songwriting skills through collaborations. I've also been collaborating on productions as well. And it's a two-way street. I get firsthand insight into someone's brain and vice versa. I've learnt a lot about arranging, mixing and production essentials without even having to go to an institution.
O: The EDM scene has started off, and is gaining some ground so far, mainly in the Trance, Drum 'n Bass, Hardcore and Dubstep departments, to name a few. Do you see your side, the more down-tempo, ethereal side taking off as well?
a_phake: To me, it seems the EDM scene is just about ready to die. Even with all the drugs people just aren't getting high anymore. I really hope someone comes out and does something interesting. And I hope Jesus helps all those kids doing dance music whose products are more generic than the chopped cheese you buy in the grocery. Seriously, if he can lend some warmth to all the folks who think Zen is the be-all and end-all of Electronica in Trinidad, man that would be great. Are there any real emotions left? Are there any new avenues of expression left in electronic music? Even now I'm not at all happy with my own live presentations. Sure, I played at a rave but that doesn't make me an EDM performer. What am I again?
O: Point taken. What are your immediate future plans though?
a_phake: Well after being abducted and forced to listen to the local radio stations by aliens for a year, I have no choice to carry out my programming. My mission is to become a prophet like Bob Marley and to release my music to the public. I've got a start with this new song. It's called Sensual Motion.
To keep up with a_phake, follow him on Facebook.com or MySpace. You can also visit his ReverbNation page to listen to his work.
Images courtesy a_phake: Photography by Arnaldo James.
Check out the rest of this week's issue (1/11/10, Issue 30):
Look out for a new issue of Outlish.com every Monday!