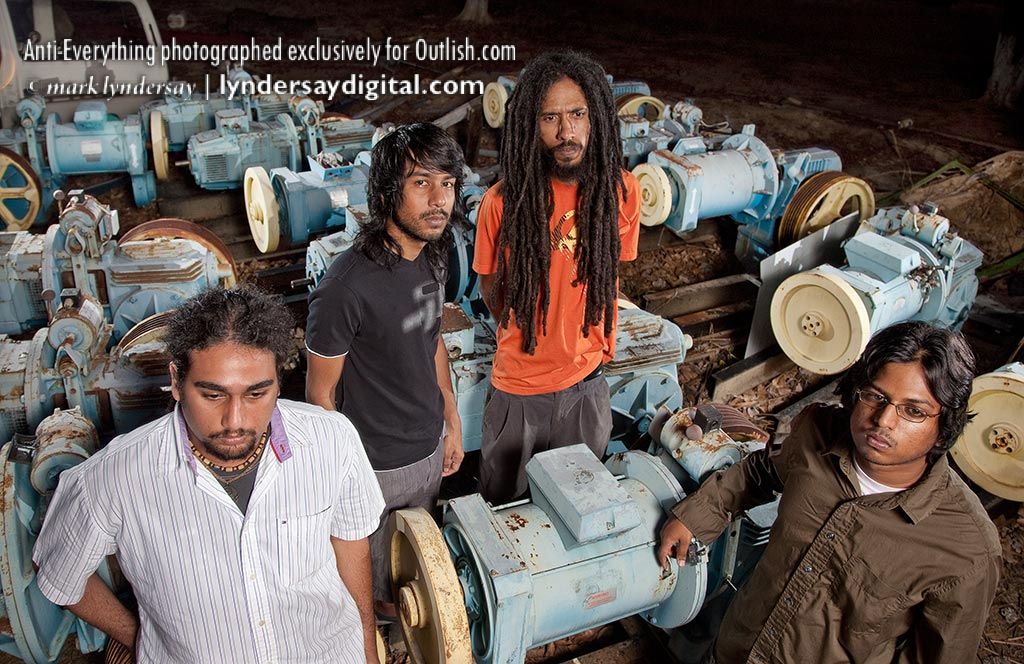 Anti-Everything – Anarchy in TnT
|
Just saying the word 'punk' sends out a raw, gritty sound. The music is usually as gritty with raunchy, anti-establishment, and political issues melded into the lyrics.
Anti-Everything is no stranger to this, using its musical medium in a totally refreshing way. While the Trini rock scene is known for many bands, Anti-Everything happens to be the only punk band.

Bringing together the musical talents of Blinky (vocals and guitar), Randy (vocals and guitar), Jhazo (vocals and bass), Syam (guitar) and Aves (drums), Anti-Everything is an amazing band, hands down. Their lyrics are filled with truth, which may come through in a satirical sense, but it really does hit hard. Their newest single, "I'z d Man", released especially for the 2010, local General Elections, is political commentary that rocks. "I'z d Man" goes for the jugular with lines like:
"I'z d man tell yuh wave yuh rag, while I spend two million dollars on a flag…
I'z d man yuh watch hard, build a smelter plant right in yuh back yard…
I'z d man who does lime with Calder Hart – get the inside contract from UDeCoTT – I'z d man, I'z d man yes it's true, and don't you know I had a piece in the Piarco airport too.
I'z d man, I'z d man don't you know, is me who teif all the money from CLICO … and I'z d man just in case yuh ask, make you pay for the bailout with a property tax."
Throw in lines like "Vision 2020 have cokey-eye", and hard-hitting lyrics like these not only expose the thoughts of the average citizen, but act as serious commentary on the Government's plans for the country achieving developed world status – plans, which citizens have little faith in. This sort of musical integrity is what makes Anti-Everything such a strong force on the rock scene, and ensures its place among musicians giving voice to humanity.
I came across this amazing punk band about four years ago via MySpace, and since then I've been keeping pretty close tabs on them. You really can't help but fall in love with their raw talent – even if you're not a punk rock fan – and their new album (also their first), "The International Conspiracy to Push You Down", which was released in late 2009, is a clear reflection of what Anti-Everything stands for. Blending catchy melodies, hardcore vocals and aggressive guitar tones, the album features 13, original compositions from the band, with lyrical matter touching on various socio-political issues and the human experience of being faced with such challenges. It's an amalgamation of various sub-genres, drawing on both the abrasiveness of old-school punk, and the accessibility of new-school punk.
The album was recorded right in Trinidad by Maarten Manmohan of Random Design Studios, and mixed and designed by Dan Coutant (New York).
"The album launch was really an organic progress, and represents the natural outcome of our work in the studio over the last few years," Blinky explains. "It's a special personal accomplishment for us, as the production schedule was very long. The launch hence felt like an opportunity to close that chapter of our story, and move on. We are always looking to the future, and immediately after the album was launched, it was just a matter of refocusing creative energies on the next steps going forward.
"We accomplished nothing much by releasing the album as we see it as something we had to do. Making music is the lifestyle we have chosen, and the art we produce is as critical to us as eating and sleeping. One would not say that breathing air is much of an achievement; it is just what is natural for you to do in order to survive."
Together ten years now, the guys have gone through a few rough patches, the toughest of which was the passing of band mate Adam Arneaud (former bassist). The release of "The International Conspiracy to Push You Down" on November 16th, 2009 was thus that much more meaningful, as it marked six years since his death.
"Adam's spirit lives in all of us, and everything we do is carried out in his memory," says Blinky. "The passion and energy he embodied as a person is hence still reflected in the music, and it is as if he is still here as an active member of our team. We are in a perpetual cycle of writing material, and hope to begin production on our next album very soon. 'The International Conspiracy To Push You Down' (TICTPYD) was just the first large bomb to be dropped on the public, and there will be many more bombs dropped and shots fired in the near future."
Tracks like "System-Structure", "Everyday Citizen", "New Generation", "The Social Circus", and "Punk Rock Sucks" clearly indicate the band's strong take on what's happening around them.
"To be Anti-Everything is obviously not something literal, as it is an infinite cycle"
"Anti-Everything reflects the anarchist ideology of punk rock culture – breaking down all barriers and preconceived perceptions," Jhazo (bassist) explains. "To be Anti-Everything is obviously not something literal, as it is an infinite cycle. If I am Anti-Everything, then I am Anti-Outlish Magazine. Then I am Anti-Anti-Outlish Magazine, which means I am Pro-Outlish Magazine, and the cycle goes on and on. To me, Anti-Everything has a dual meaning. It has an immediate impact of being very harsh and direct, while on a conceptual level it reflects the organic nature of the universe, relativity and the balance between order and chaos. As a play on this theme, we sometimes publish some of our B-Side material (and acoustic material) as 'Pro-Everything'. This is seen on the track 'Jimmy' by 'Pro-Everything' as appears on the Boatshrimp Records Sampler Volume 2 (2007)."
Back in the day, punk bands primarily wrote songs based on how screwed up society was. In doing so, many individuals related and the scene grew larger. Most rock kids refer to it as DIY (Do it yourself), which is still huge in the punk scene today. While listening to Anti-Everything's songs, all I could think about is how much they remind me of hardcore punk from the late 70s and early 80s – bands like Dead Kennedys, Misfits, Minor Threat, Bad Brains and Black Flag with their infamous song "Rise Above" (to name a few). I thought it was amazing how in this small island there are bands such as Anti-Everything that are doing just the same.
People often see the injustices in their countries, but don't feel that anything they do can make a positive change. In the 70s and 80s when punk bands across countries set out their DIY mentality, they didn't think that they could change anything – but they did! Politicians, especially in the States and throughout Europe, tried to combat the lyrics of punk bands – but they couldn't.
Coming from the Caribbean region, which has never been associated with alternative music, Anti-Everything offers a new perspective to the international punk rock community. As Blinky says, "the reality is that we live in a truly globalized world, where cultural differences are dissolved, and geographical boundaries are no longer a limitation to the reach of music, art and ideology".
Hearing punk rock guys talk about ideologies and isms and schisms, you might be thinking, "these fellas take themselves way too seriously". Yet even as they spew intellectual thoughts on serious issues, Anti-Everything keeps themselves in check. Take their song "Punk Rock Sucks", on "The International Conspiracy to Push You Down", for example.
"That song is really poking fun at punk rock as a culture and an art form," says Blinky. "We think that although it is amazing to use art and music as a medium for social dialogue, at the same time you can't take yourself too seriously all the time. So that song is sort of an ironic commentary on punk rock music itself."
Incidentally, "Punk Rock Sucks" provided the basis for "Trinidad Sucks" – a track they released for the T&T 2007 elections – with the same concept, arrangement, theme and instrumental mix.
"Trinidad Sucks" will be re-released on the band's new, four-track, politically focused EP "Decision 2010", which drops on May 10th. Coming off the recent buzz from the lead single "I'z d Man", it's an album destined to have people talking.
"When this bomb falls, be sure to watch out for the shrapnel!" says Randy (guitarist). "The EP will be distributed online at www.antieverything.net and physical copies will be available at the inflation buster price of TTD$0.00. We also plan to have a two-week party that will last until the polls close on May 24th."
The record is self-published and completely self-financed, and the band is proud that the project has not been facilitated by any form of corporate sponsorship.
"Regardless of zero people hearing our music or 10 million, the ability to create something that never existed in time is humbling in itself"
"With the band, first and foremost, we would simply like to be able to always play and write music," says Randy. "Regardless of zero people hearing our music or 10 million, the ability to create something that never existed in time is humbling in itself. However, we would like to see a unity of the punk rock bands of the Caribbean and expose the world to what the Caribbean has to offer, and that we are not just 'Third World'. We do not think the music will change Trinidad, because of the domination of the inborn cultural music that exists within the country. One thing that we draw on from our calypso heroes was their courage for addressing points in controversial issues that everyone agreed on, but were too afraid to come out and say it. In this aspect, we hope that we are able to appeal to the thoughts of people and serve as a voice for them from a different genre of music.
One of the most important things within the band itself is its family-like structure. Everyone who is in the band, both past and present have grown up together within in the same circle and share the same ideology and perspective on life. It is this coherence that allows us to move forward and grow as a unit."
Standing for something seems to be the strong premise from which Anti-Everything operates. Mashing up the punk rock scene in Trinidad with their conspiracy theories, and social and political commentaries, they definitely have what it takes to remain relevant decades from now.
To check out Anti-Everything and find out where you can cop their album, visit www.antieverything.net or www.myspace.com/antieverything. You can also find them on Facebook or Twitter.
Download "I'z d Man" here. Click this link.
Photography by Mark Lyndersay. Missing in the photo is Aves.