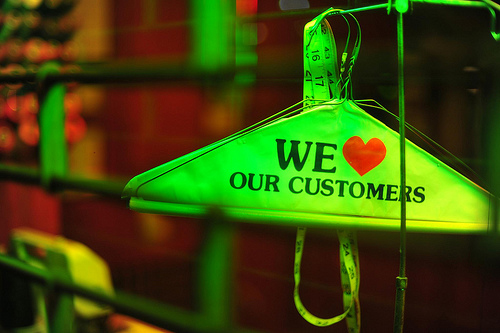 A Trini, a Frenchman, an American and Customer Service
|
I recently had an interesting encounter in a police station in Trinidad. What should have been a straightforward exercise turned out to be a good, 'allyuh cyah believe what jus happen' story.  What is peculiar is that each time I tell the story, I say it with such glee that I can't help but exaggerate a little.
What occurred was pure over-familiarity on the part of a female police officer; but let's be honest here fellas, a woman in uniform? Nuff said! Still, I wouldn't have imagined this scenario.
There I was, getting my fingerprints taken, as I needed a "Certificate of Good Character". I've never had my fingerprints taken, and I wasn't aware of the positioning I needed for the prints to come out successfully. I ended up standing directly behind the policewoman with both arms around her, as she held my hands and took my prints. It was a standing 'spoons' position, but what made it 'better' was her comment, "Yuh 'fraid to touch a police or what? Come closer nah!" Naturally I laughed and excused myself for my slack positioning, to which she replied, "What happen? Is a long time a woman eh hold your hand or what?"
Well what could I say to that? Other than, "No Mrs Officer, it's been a while since a woman with white disposable rubber gloves has held my hand and asked to come closer and relax, so forgive me if I'm a little tense".
"Was my story funny or acceptable because this is Trinidad…?"
Was my story funny or acceptable because this is Trinidad and we should expect some kind of drama any time we try to do anything official?  The answer should be no! We have become so accustomed to sub-standard customer service that this modus operandi is simply 'normel,' like the way you expect your doubles hot and your Stag cold. Tell me this though; would you ever accept a cold doubles or a hot Stag?  So why should we expect or accept below par customer service?
In Trinidad and Tobago, we accept, we deal with and we can even be apathetic. It's in our history; don't forget a large majority of us are descendants of slaves. I am not suggesting that we all still have a slave mentality but it is going to take some time before we join the band of the big complainers, for example, the French and the Americans.  These countries have had testing times, revolutions, civil wars and issues with race and gender and it would be churlish to think that they have the solution.  We cannot ignore these facts whilst analysing the respective mentalities.
The French are a nationalistic vocal bunch.  If there was ever any doubt, walk down to the Bastille around the 14th of July and tell me what you think, or just swing past the Stade de France on a night of a rugby match and tell me if the 15 big men shouting "The Marseillaise" does not move you. The French are hard workers and strive for excellence and despite all the talk of them liking to strike and enjoying a coffee break before 'their' coffee break I can tell you that they are diligent workers and they take pride in what they do.  They do also have some interesting views on customer service.
I have watched Parisian waiters shout and fight with American customers and I have seen paying customers beaten with a baguette.  However, the 'funniest' of them all was when I witnessed a taxi driver chase after a fella who pulled a bad drive on him only to realise that whilst he was flying after him, he wasn't alone and that I was paying for the detour.  Note this, even though people complain about their service and laugh because they ride around with garlic round their neck and bread under their armpits, (awful stereotype by the way) they still remain the number one most visited country in the world according to the CIA World Factbook 2011. Wouldn't it be great if that were Trinidad and Tobago one day?
"So how do The Americans differ from the French and Trinbagonians?"
So how do The Americans differ from the French and Trinbagonians? They always seem to have smiles on their faces. I don't care how exaggerated or fake it is, I'd take a smile over a steups any day of the week. They seem to be churning out smiley, helpful and not 'too familiar' workers who have pride in what they do. The Americans work long hours, have few public holidays and have "The American Dream." This clearly plays a part in it, but please, before I am hung, drawn and quartered I am not proposing fewer public holidays, just something different.
Why not 'The Trinbagonian Dream,' where we drop the apathy and indifference and replace it with intelligence, pride and public spiritedness!  Back in 1962 a guy named Dr Eric Williams wanted this; we should challenge each other and see if it is possible.
No one is perfect, no nation has it sussed out yet, but I feel that what the Americans and French do have is a collective sense of national pride. In my opinion this only occurs in Trinidad around carnival time, national festivals and it occurred for about 20 days during the summer of 2006 (Yes World Cup 2006). So what can we learn?
I believe we as Trinbagonians need to love, embrace and support each other more. We have the idea that if it is from foreign it is better. Is that why some of our foreign-based locals or 'flocals' (as I call them) put on their best British or American accents, when they come home to get better customer service? Hmm, I might try a Bajan accent and see what happens.
"Is that why some of our foreign-based locals… put on their best British or American accents…?"
Secondly, business owners and managers it is important to lead by example. Explain and tell your staff what is expected and acceptable. Leadership is not about pointing and shouting; it involves guidance, support and getting results through people.
The third aspect is trickier, how to instil work ethic, belief and pride. Well you can forget work ethic, you either have it or you don't. Talk done! It is difficult to get your workers to be passionate about your dreams and objectives especially if they can't see the end result. By end result I mean money, money, money. Believe me, I managed a wholesale distribution outlet and no matter how much I described toilets as fine porcelain china it was impossible to get people to be passionate about that. Maybe we are hiring the wrong people or there really isn't anyone out there. I do not believe that is true for one minute.
It is possible to have pride in what you do; I recently went along with my sister to a wine store in West Mall, and was greeted, advised, charmed and coaxed into parting with $250 of my money, or was it hers? I had no problem doing this either way. This was because we were treated with respect, importance and there was passion oozing from the employees. What the sales staff didn't know was that I wanted to stay longer as this experience was so rare. I guess they felt a sense of pride and passion for what they did.
So, Trinbagonians here's the master plan. Let's love ourselves first. The French have as many public holidays as we do, not to mention the standard five or six weeks' paid holidays and find time to strike yet they remain productive. One thing they certainly do is love themselves. Maybe we should start greeting each other with two kisses and see where we go from there. Let us embrace and respect each other, take ownership of what we do and not accept sub-standard service, attitude and behaviours.
If you really cared you would say something, the same way your mother or father would take pleasure in reminding you that the reason that they are cutting your @ss is because they love you. Remember, when next you get a bad piece of customer service, let them know that you not happy and tell them you complaining. If they ask you why? Tell them straight, "It's because we love us".