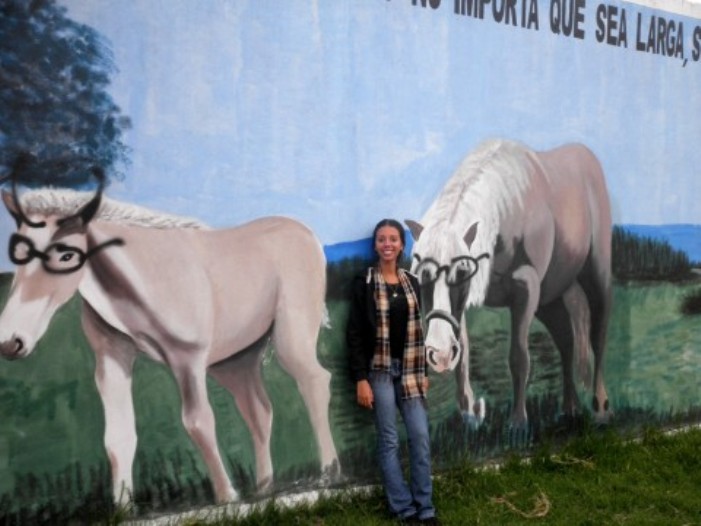 6 Trini Travel Blogs to Read
|
We all have our passions and addictions. Some addictions are easier to feed than others. I like looking at travel blogs, since I love travelling in any way, sort, and form. The funny thing is that while there are many Trinis who travel to exotic places, there aren't many of them who write about their adventures.
In fact, if you google something "Trini+Travel+Blog", you won't get many Trinis. Instead, you'll get the adventures of other people who've travelled to Trinidad.
When I find a new, Trini, travel blog, it's like I've found a new friend – I send an e-mail, ask them how dey nennen is, and all sorts of other questions. I'm always fascinated by a Trinidadian story of travel.
In my travels, people typically ask me which part of the Philippines or Samoa I'm from. Try telling a Filipino, Japanese or Nicaraguan person that you're from Trinidad…the reactions will range from confusion, to shock and relief that you escaped that "Cuban Prison". (I actually got that response from an American…but that's a different blog.)
Some of you might be regular travellers. Maybe some of you are forever saying you want to travel, but never do. Here are six, Trini, travel blogs that should inspire your wanderlust, and maybe your next big adventure.
1. Jasmine Stephenson – jasminewanders.com
She is a curious, honest, and spiritual vegetarian. The fact that she's uprooted herself for the last five years, and is living a nomadic lifestyle is pure wanderlust fancy. It's not easy being a young, single, Trini gyul, roaming through Latin America and Asia, fending off nuff man trying to marry her or kidnap her.
Even though she grew up in the US, she is definitely Trini to the bone. Jasmine writes with a style of her own, and definitely has the opinions of an old soul on the road.
2. Emily Mae – thetravellingtrini.com
On the road, I've not met many Trinis outside of the typical haunts, but it's always great to find another Trini who knows the difference between 'ping pong', 'Patpong', and 'a ping pong show'.
Emily is a simple girl from Maraval, travelling and living in multiple countries, carrying her Trini flag around and looking to see if the KFC is as good as it is in Trinidad (It's not!).
She's an excellent resource on teaching aboard, and, having lived in Japan, she is also an expert in Trini culture shock over there, and gives refreshing, honest advice to those would-be travellers…like "Marry ah Foreigner". You can also catch Emily's column – The Travelling Trini, every other Sunday in the Women's Weekly section of Newsday.
3. A Trini Traveller – trinitraveller.wordpress.com
Jenson lives in Japan, and writes about his adventures, while travelling through Asia. He blogs about any and everything under the sun, but with a Trini slant. I couldn't really imagine living in Japan for an extended time, but, having visited the country, I can definitely appreciate all the beauty and culture that would be there – plus I would be on the lookout for the Silverfox and Ninja Terminators everywhere I went.
You can check out his adventures in Cambodia, or get advice about 10 things to do in Toyama, Japan, among other things.
4. Lilandra and Chennette make Hajj – thehajj.wordpress.com
Chennette is a Trini, currently living and working in Guyana, bouncing around the Caribbean and taking great pictures for her photo blog on Flickr. Although she writes more about food than anything else (not surprising since she also blogs about food at chennette.net), there is a travel slant to the blog. I thoroughly enjoyed the Hajj blog, because I totally want to visit Mecca as a non-Muslim and report back on the adventure.
She hasn't blogged that often recently, but you'll find some great posts in her archives.
5. Mariel Brown – sancoche.blogspot.com
Mariel is busy in every sense of the word. She is a filmmaker, and artist, and still finds the time to blog about food and travel. Her blog is always good for an anecdote or two, and – like sancoche – it's chockfull of meat with a healthy dose of travel for spice.
6. Rishi Sankar – rishiray.com
Yes…that's me. Eighty-plus countries. Five-hundred-plus cities. Anything I write about my blog will feel like absolutely shameless self promotion  – but you get the idea. I'm currently chasing the goal of visiting 192 countries, and, already, I've visited 74. Basically, I blog about all of my travels, and my friends sometimes share stories about my hectic, hellish travel schedules.
So there you have it. Six blogs worth clicking through to. If you have a great travel blog, please feel free to drop us a line in the comments section, and I'll make sure that I send some travel karma your way. And if you know of other great, Trini, travel blogs, add your two cents too.