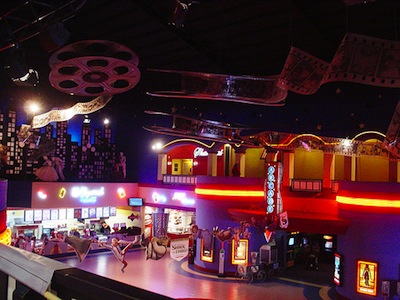 5 Reasons Cinema in the 90s beats MovieTowne and Cinemas 8
|
It wasn't the jumbo popcorn. It wasn't the huge soft drink. It wasn't the surround sound, or the oversized seats with the cupholders (convenient though they are). It wasn't the fact that I could watch movies in 3-D. It wasn't even the fact that if I was fed up with the movie, I could walk outside to a mall, and find something else to do instead of going straight home – bored.
Even with all of the things that I have gotten accustomed to in the past few years of checking out movies at Cinemas 8 or MovieTowne, something to make the memorable movie going experiences that I had in my teens was missing dammit!
Like plenty people, I was seduced into believing bigger was better when the two cineplexes rolled into my movie-going world, but now – after attending these 21st-century venues for the umpteenth time – I just had to finally admit it… I had a whole lot more fun going to Globe and Astor back in the 90s. Here's why:
1. The cost factor 
I mean MovieTowne's and Cinemas 8's facilities, when they first came out, were much better than nasty Globe, right? Clean, spacious, holders for the food… what more could a cinemagoer ask for? Well, except for the fact that you have to pay an arm and a leg for it. I mean, back in the day, you could fork out ah purple bill and go to the cinema, if you were a financially challenged teen like myself. It would at least get you in to see the movie, and buy popcorn and a soft drink – minimum, movie-going requirements.
Now, I can't see myself walking without a blue bill (especially if is MovieTowne you going to), and feel comfortable to get in the movie and have enough for eats and transport back home. The teenyboppers these days must be robbing their parents blind to go to the movies!
2. House, box, and balcony
No matter who you were, I guarantee you had a favourite part of the cinema. House was where all the real action was. The fights… the laughs… If you wanted to be in the thick of things, house was the place to be. Balcony and box was where you went, if you wanted to feel real stoosh and have money. It was also the place for lovers (so I hear; I am really ah house woman, so ah going by anecdotes). Sigh, MovieTowne and Cinemas 8 is just one big room. Just go in, siddung, and be quiet.
3. Picong and kicks 
In the 90s, watching a movie was not simply sitting down and being quiet! Nah, man, half the fun of being in the cinema was hearing the running commentary from the audience, especially if the "flim" was an action or comedy. If the film was boss, you would hear laughs and cheers from outside in the lobby. If the film was bad, you would hear the boos, hisses and cussing from outside the building! Either way, you know you would get additional entertainment for free in Presidente and Palladium. Somehow the atmosphere in MovieTowne or Cinemas 8 just does not lend itself to that kinda fun.
4. You could sneak food into the movies
Somehow it seems that in the 90s you could still try ah ting, and sneak into the 14-plus and 18-plus movies, if you weren't of age. All you had to do was know the right people or look just a lil biggish and they would let you go in. Now is produce de I.D. papa, or no entry. You could also sneak in food from outside the cinema back then. I remember sneaking Royal Castle in my backpack into Globe – sweetest thing I ever ate. Now they are searching your bag for outside food, so if you are hungry, suck it up and eat what is there in the cinema cafeteria.
5. The two movie vs. one movie thing
The appeal of cinemas back then was the sole pleasure of simply going to cinema, and knowing you would get two movies worth of entertainment. You would come out feeling like a macajuel after a Sunday lunch… bloated, but happy and satisfied. You know that you spent an afternoon or evening just going to the movies. After seeing a picture at Cinemas 8 and MovieTowne, I always get that 'is-that-all?' letdown (though I've heard some people say they can't watch two movies back to back anymore).
You feel like you need to go and lime somewhere else to have a complete afternoon or evening of entertainment. Of course, the cineplexes cater for that feeling and so unless you want to go straight home, you spend another hour at the malls worshipping at the altar of the gods of consumerism and helping their bottom line.
I guess what I am trying to say is that even though Cinemas 8 and MovieTowne pride themselves on the customer experience, you still can't beat Globe, Palladium, Windsor, Hobosco, and the rest of "The Magnificent Seven" for the ultimate, overall, movie experience – the joy of sitting with others for a few hours, and having sheer fun, sharing the movie, without breaking the bank.
Image credit: r_guiseppi