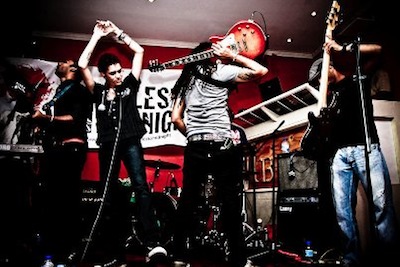 5 Little Known Artistes who deserve Radio Airplay
|
We all know that local music in T&T is revered mostly at Carnival time when Soca and country's patriotism takes over us Trinis, who proclaim to have the best Carnival in the world. However that pride quickly dies, once the last lap is taken on Carnival Tuesday night, and the remnants of the last costumed headpiece is carelessly tossed.
All will agree that we are a nation with many talented artistes and there are so many artistes in the 'underground' circuit, yet the pleas of that community to have their songs played on radio seems like a battle in itself. Many local music artistes have complained about airplay, and if a popular radio station DJ eh know yuh, yuh hadda suck salt…literally. Yuh might as well pack back all yuh nicely packaged demos in yuh box ah press. Plain talk.

As sad as this reality, there is quite a stirring in the local underground music, where talent abounds. Though I am familiar with many of the groups and artistes in various genres, there are many who deserve to be getting heavy rotation on the country's best FMs. Here is a list, in no particular order, of local artistes who should get regular radio airplay, in my opinion.
1. Collis Duranty 
His performance is riveting. Ask his faithful fans, and anyone who has heard him perform only once. Collis' earthy, soulful voice and powerful lyrical content make you think. One of his original songs, "Red, White & Black", an almost-patriotic one, tells of the nation's crime, painting scenes with his words and revealing an all too familiar scenario which we now face in our sweet country. Some of his other original pieces include "Brighter Days", and a groovy, love song, "For". He is currently working on his album, and there is no doubt that his work is going to be great, as much is expected of this talented Trini.
Keep up with Collis on:
2. Belle Republic
A fresh-faced trio girl band of awesome, captivating voices, consisting of sisters Jeanelle and Jeuelle Archer, and best friend Gerelle Forbes, Belle Rpublic is a group to watch. Their debut pop song, "Avenue", is pretty addictive and infectious. It sets the tone, if you are heading out for a night on the town or literally vybzing on De Avenue. Belle Republic is one to look out for, and hopefully their tune becomes familiar soon, hopefully on our airwaves.
Keep up with Belle Republic on:
3. 5 Miles to Midnight
This eclectic, all-guy, alternative rock/ pop band consists of guitarist – Alex Ou Young, drummer – Rhys Thompson, bassist – Robert Evelyn and vocalist – Liam King. Delivering high-energy performances, they are very much present on the local, music scene, having opened up for 94.7FM's launch last year, with one of their original songs, "Tonight". They are set to perform on the Digicel "Outta Control Tour" soon, and have released a new song entitled "Homeless".
Keep up with 5 Miles to Midnight on:
4. Skid"Nevely
Another pop/rock, local all guys band, they've been on the scene for a while. However, what makes their music even more interesting is that they incorporate the steel pan into their music. You can't get more local than having pan in your art. The band members consist of vocalist – Andrew Mc Intosh, pannist and guitarist – Anthony Abraham, and lead guitarist – Shallun Sammy. Their original songs include "M.I.A", "Fut the Shuck Up", and "Ungr8ful 1", just to name a few. Their music is energetic and quite interesting.
Keep up with Skid"Nevely on:
5. Lyndon Lai Tan
Calming, and sometimes energetically electric. These are the words that may come to mind when listening to this local singer, though he may not be totally unknown to some. His music is of the alternative/ pop /rock genre as well. Tan's songs are emotive and carry catchy melodies. Some of his original songs are "Let me go", "Breathe", "Takeaway" and "Bridges".
Ok, I know I said that I would share five artistes, but I had to add this other artiste as well, as he is also on the rise in the local music scene, not to mention he's already created a buzz in the 'underground' circuit as well.
Keep up with Lyndon on:
6. Skripturez
Rory Kristoffer Llano's music is vibrant and his lyrics are unapologetic. His music style is Dancehall/Reggae and his influences are the likes of Bob Marley, Garnet Silk and Zebulan to name a few. Skripturez' music tells a story of everyday struggles and overcoming them. Some of his original songs include "Rise Up", "Pray for Them" and "Call My Name". Check out Skripturez on:
There are so many other local artistes who are out there with all their talent to share, just hoping to get an opportunity to do so. Having our own music, by us, for us, played often on radio stations isn't only entertaining, but it gives hope to any inspired artiste that their creative talent would be appreciated, and aired locally as well, and that maybe you don't have to 'make it big' in foreign first, only then to be revered here at home. We, or at least the people I lime with, want more of 'we ting', and less of what is force fed to us. So, why not support good local talent? We can complain all we want about the 'music mafia', but listeners have power too. So are you listening to any local artistes right now? And if so, who are the artistes you think should be heard more on our local radio?
Image credit for 5 Miles to Midnight: afropunk.com