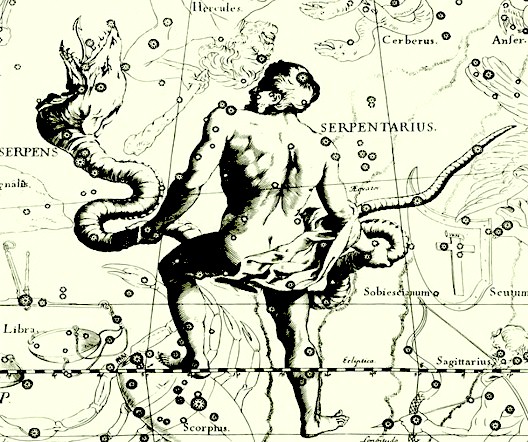 Zodiac Signs: Why Do You Believe?
|
If you want to get someone's panties (or jockey shorts) in a bunch, you can do one of three things. Make really bad jokes about their mother, punch a hole in their core beliefs… or change their zodiac sign. The last two methods kind of go hand-in-hand, so it wasn't really a big surprise that people were a bit peeved at last week's news that their zodiac sign has changed.
The resulting brouhaha about astrological calendars aside, we've since come to learn that besides the calendar switching up dates and signs, and adding the "Ophiuchus" sign (November 29 to December 17), if you believe in the tropical zodiac, which most people subscribe to, your sign is pretty much the same. Nothing's really changed. *Hope no one ran out and changed their tattoo…*
Up to yesterday I saw a few people still making the "I'm a (insert sign) and always will be" status updates, and even saw a few people get 'bite up' on Twitter and Facebook for daring to say that "astrology is a pile of sh*t" or that nowadays, it's illogical to subscribe to such superstitious things.
The whole thing got me thinking though. Why do people believe in zodiac signs? Why do they religiously read their horoscope every morning? What's the reason?
"25 percent of Americans still strongly believe in astrology… so do quite a few Trinis."
According to a 2006 study published in the Journal Personality and Individual Differences, and which used data from more than 15,000 people, there's no relationship between date of birth and personality. However, belief in astrology is still prevalent. Another survey by the Pew Research Centre found that 25 percent of Americans still strongly believe in astrology; and by all the chatter online last week, so do quite a few Trinis. I'm guessing that even a greater percentage believe in it, but just aren't hardcore believers or practitioners, and are quite satisfied with an e-mail subscription to the horoscope.
Here's the thing for me though. Horoscopes are so general. Personality traits could easily be relevant to anyone. What does your month of birth really have to do with who you are?
"Horoscopes are so general. Personality traits could easily be relevant to anyone."
I'm a Taurus, which, according to zodiac guides, means that I'm stable, loyal, reliable, persistent (which could be taken from stubbornness), methodical, ambitious, patient, romantic, warmhearted, sentimental, artistic, conservative, peace loving, steady, and like nice possessions and comfort. I wouldn't say it's far off. However, I'm sure someone born in January, June or November is just like that.
In the love department, I'm considered to be most compatible with fellow earth signs – Virgo and Capricorn – and the water signs of Cancer, Scorpio and Pisces. Hmmm… there is a certain Pisces I have my eye on…
Anyway, coincidences aside, I don't believe in astrology or horoscopes. I've ignored them all my life, and only learnt about all the sayings about Taureans because of friends who insist on reciting them to me. I don't read the horoscope, and I'm more prone to planning my day with a notebook and pen in hand, and a prayer in my front pocket.
Some people do the same, but they're sure to add the horoscope right in the centre of the mix. To each his own.
People believe in astrology for various reasons. On Twitter, one person told me, "All things interconnect. Just like the nerve endings to your organs are beneath your feet, so is the earth to the universe". The universe. When people start using this type of jargon, either one of two things happen. The other person agrees. Or they decide it's all mumbo jumbo. Some also state that you can't believe in God, and rely on the stars, as it negates your faith, and is tantamount to idol worship. The views on using horoscopes as a life map are wide ranging.
Astrology, to me, is one of those things where there's a wide chasm between the believers and non-believers, with a few, indifferent people in the middle. There's the argument that people believe in astrology for the same reasons some people believe in any form of superstition. It offers a way to feel connected to the cosmos, and that everything happens in life for a reason.
"People believe in astrology for the same reasons some people believe in any form of superstition."
Waking up to your horoscope telling you how to navigate the day helps you to deal with events. So if the horoscope tells you, "Love will look you in the eye today, but beware of acquaintances who may be plotting against you", you might decide that the bess darkie in the mall who glanced at you, but was really looking at the t-shirt in the display behind you, is your future wife or husband, and the doubles vendor, who put way too much pepper on your channa, when you clearly asked for everything slight pepper, is trying to damage your organs.
Belief in everything happens for a reason aside, astrology presents a map of sorts to deal with situations and big decisions, and for some people that's comforting. It's way more reassuring to believe that mysterious forces are working in your favour to shape your destiny than anxiously waiting to see what happens. If only it were that easy.
I understand why some people may be believers in astrology, but it just isn't my thing, as easy as it may be to latch onto coincidental readings. Hey, if I were to take my Taurean reading to heart, I'd be tempted to say I sound like an awesome person. I might even go call that Pisces who manages to charm me. However, in true Taurean style, I'll stick to my disbelief in the zodiac (and yes I'm completely aware of the irony of that).