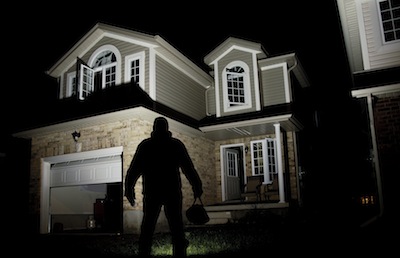 X-ray vision and Bike robbers: Safety in T&T vs. Abroad
|
A Briton in Trinidad once told me that it isn't normal for human beings to have to live with burglar proofing. I had never thought of it as strange, to the extent that burglar proofing in Trinidad is ubiquitous and indeed as normal a part of a house as the windows they are attached to or the drapes that cover them.
I've lived in and out of Trinidad for the last decade, and my experiences have brought to light how my view of "normal" has changed, and how my approach to personal safety has (or hasn't), depending on where I find myself.
Think back to 2002 when kidnapping was still an emerging industry in Trinidad. For many people who enjoyed life far from crime-ridden, gang-infested, gun-man areas, the sh*t had begun to hit the proverbial fan. Around this time, I asked my father whether he felt threatened enough to consider migrating. My father coolly replied that he would only consider migrating, if the threat posed by the upsurge in violent crime materialised and affected people closer to him – specifically his neighbours.
Sadly, by the end of 2003, five neighbours were dead. Three were killed in one go in a bathroom, another was gunned down in a car on a dark and lonely road in West Trinidad, and the fifth was an unstable youth who took a gun into the International School – supposedly because he was vexed that he wasn't admitted. He was expelled, in the most terminal of ways, by a couple officers attached to the Western Division.
I am left with the impact of that period on my psyche. Growing up in a place where it is possible to lose five people on one street, in one year, can have a profound impact on how you feel about your personal safety.
In Trinidad, I am now fiercely vigilant and careful of where, when and how I move. And while knocking on the largest piece of wood I could find at the moment, I would like to think that my vigilance could be the reason I've enjoyed not being a victim of violent crime in Trinidad.
But to my surprise, the skills that I developed in Trinidad, like being able to see around corners, X-ray vision when applied to dark tint, and the ability to pick out your attacker in a line of seemingly innocent HiLo shoppers, have repeatedly failed me, since living in relatively safer countries.
In 2006, I was a student in Costa Rica, Central America's safest country. Four American friends and I agreed to a weekend break from the Port of Spainish capital of San Jose, and went to the small beach town of Montezuma. Locals refer to it as "Montefuma" – fuma meaning smoke in Spanish, and an indication of the preferred activity of many residents and visitors.
We were staying some distance away from where the bus dropped us off and thought that it would be good to explore the nearby town and waterfall before heading off on the three-mile trek uphill to our accommodation. Travelling with four, suburban Americans, their natural inclination was to suggest that we leave our bags in the police station instead of carrying them with us on the hike to the nearby waterfall. Visions of Belmont police station (the old one) prompted me to resist this suggestion con fuerza.
I was eventually persuaded to ignore the very slim likelihood that anything could go wrong with our bags being left in the "safest place in town". Needless to say, I was robbed by the lone police officer there. With no one to report the incident to, I felt like a certified mook and vowed to return to my Caribbean creed of "doh trust Babylon".
Later that year, I began a master's degree in the States. In 2006, in New Haven, Connecticut, where I was based, there were 24 murders in a population of around 124,000 (a rate similar to Trinidad in 2003). Parts of New Haven are wealthy, but being a poor student I agreed, in a cavalier "doh study me dred I from Trinidad" attitude, to live in the 'hood'.
On my very first night in the 'hood', there was an attempted break-in. The police happened to be driving by at the very same moment our potential intruder was climbing up on a paint bucket to get into my living room through the non-burglar-proofed window.
A few weeks later, my roommate and I were chased while walking home from the nearest bus stop. Being a paranoid, black man in America, he warned that the car following may have had sinister intentions and that he wasn't about to die for being a "short man with corn rows in a blue hoodie". We dodged the car by running into a neighbour's backyard (hoping that they in turn would not react by pulling a gun on us) before sprinting to our apartment.
Later that month, I was jumped while riding my bicycle, accosted with "give me your f*cking bike nigga". As a car approached and the five young men jogged away, I asked myself if – had I been living in Trinidad – would I have chosen to live in an area that exposed me to that level of risk? I knew I would not have done so. And the three youths who were shot within the space of a couple weeks before my graduation should have really brought that message home. But it hasn't. Up to a few weeks ago, in East London, we were robbed by an intruder posing as a party guest.
Now I know by now some of you are saying, "Boy you real bad lucky". But maybe it just proves that life in Trinidad prepares you with certain self defences, but it doesn't guarantee that you'd transfer that approach wherever you go. In a way, I think I am more reckless as a result because I compare wherever I am to Trinidad. I know it is ridiculous, but if the place is statistically more dangerous, I am on my guard, and, if it is safer, the burglar proofing of my mind comes off, as I walk myself into to dangerous situations.
I have come to appreciate that the normalcy that my British friend was referring to is space and time specific. Living in a so-called safer country does not exempt a person from danger. Crime is ever present, and, for the most part, we determine our level of exposure – using burglar proofing, ignorance or something else.
Check out the rest of this week's issue (16/05/11; Issue 57):
Look out for a new issue of Outlish.com every Monday!