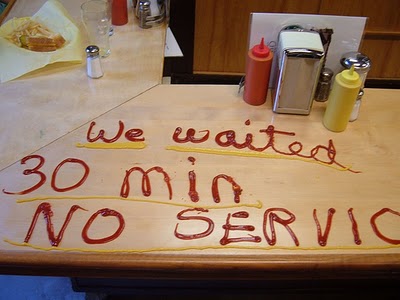 Why Trinis Still Get Bad Customer Service
|
The customer is always right. Right? So I can't be wrong when I say that we often get piss poor customer service in Trinidad and Tobago.
From the KFC girl who might give you a serving of attitude along with the Cruncher combo you waited on, to the salesgirl in a clothes store who might rub you the wrong way or give you a 'yeah wha yuh want' look, these sorts of experiences are common for almost everyone. I'm sure that no business deliberately sets out with the goal of providing bad customer service, but that is what happens day in, day out. What I'd like to know, is why do we experience it year in, year out?
If it's one thing we Trinis are known for, it's our penchant for a confrontation. The minute we feel we're getting the short end of the stick, we cuss and 'carry on', until we get what we want. Everyone in close proximity needs to know of the injustice we've experienced. So it's ironic that we tend to be quite fickle or downright complacent when it comes to customer service. We either let bad customer service slide, or spew out green verbs for five minutes, and forget the whole thing a few minutes later. Then the next day we're at it again, waiting in line for the same treatment to be dished out.
We all would agree that good customer service is defined by honesty, quality, efficiency and personal attention. Bad customer service, however, involves wasting the customer's time, dishonesty, poor quality, and a lack of accountability whenever an adverse situation arises – especially when customer service representatives take their issues out on us.
"If more of us demanded better service, would things change?"
Consumers probably have the most important role when it comes to bad customer service. So although we Trinis may complain about it, we have to ask ourselves whether our complacency about taking action is the real cause for its continued existence. Businesses that don't seek to improve their service obviously deserve blame. However, is it also our fault because we don't stand up for ourselves enough? If more of us demanded better service, would things change?
Few people actually stand up for themselves when business establishments treat them poorly. Tell me. How many of you would leave a store or restaurant when we realise early on that staff has a poor attitude. How many of you demand your one cent or five cents in change when we pay $29.99 or $29.95 for an item, or complain when KFC or Marios delivers your meal an hour late and demand that "after 30 minutes, it's free?"
"How many… complain when KFC or Marios delivers your meal an hour late and demand that "after 30 minutes, it's free?"
I have a friend who refuses to make a purchase, whenever she gets poor customer service. So every time she has a bad experience, she saves money. Not many of us would stick to our consumer activist guns like that. As a matter of fact, not many of us would call the Consumer Affairs Division or the Bureau of Standards to lodge a complaint. (Yes… I know. I know. It's a long, bureaucratic process to actually lodge a complaint, which makes you feel like not exerting the effort).
No matter what role one may consume in the exchange of goods and services, the onus is on everyone to play their part. Can we really fix the problem of poor customer service by placing full responsibility on businesses? I think not. It's definitely a two-fold solution requiring the customer knowing what she or he deserves, and the business owner understanding the importance of the 'happy customer'.
As a realist, I'd say if we, as consumers, can't depend on businesses to get it right, then we need to learn how to take action for ourselves, and, hopefully, if enough of us start doing it, businesses that dish out poor service will be forced to improve.
As the customer, it's your right to be doted on by the company you choose to give your hard-earned money to. I'm not talking about going to .the extreme of taking advantage of the saying "The customer is always right", or salespersons or customer service representatives, as servants instead of equals (and yes there are customers who do that). All I'm saying is that if you're not happy with how you've been treated, it is your responsibility to let the business know.
Here's how you do it effectively:
Stay calm. Becoming irate will hurt your chances of having your problem solved.
Be specific about your complaint when you are speaking to a customer service representative.
Ask to speak to a superior if necessary. They will usually have more options available to effectively fix your problem.
Offer suggestions. Sometimes the solution isn't immediately recognisable in the heat of a dispute.
Accept that you may have to compromise. In some cases, the solution that you are seeking may be beyond the highest authority at the time of the incident.  In this case though, you should definitely follow up with a superior.
Write a letter to the company or business owner. Make sure that you include your initial problem, the names of everyone you spoke with, your specific customer service complaints, your proposed solution and your contact information.
If all else fails, go somewhere else. Taking your business elsewhere will make a powerful statement.
As consumers, we should use our buying power responsibly. As Trinbagonians, we should learn to defend our right to great service. So tell me, do you think that we need to stand up for our consumer rights more? What has been your worst customer experience? Did you do something about it?