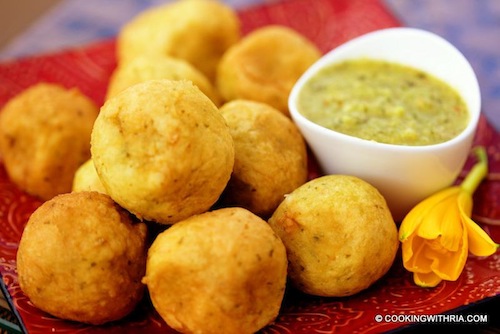 Where to Find the Best Pholourie in Trinidad
|
My belly is yellow. Not on the outside. On the inside. I love Indian food and can often be found cooking some type of curry, masala, or tandoori. But sometimes I get a random yearning for pholourie, and often at a time and place when I have no idea where to get it.
So, as I do when I get the feeling to eat something, and don't know where to find it, I posted a question on Outlish's Facebook page. Call it a perk of the job.
Outlishers gave some pretty good options. And then popular taste bud tantalizer, Maggi, and foodie blog, TriniChow, also shared our question with their Facebook community, giving me even more options.
For the non-Caribbean people reading this, or those unfamiliar with Trini dishes, who don't know what pholourie is…know this. It's an absolutely delicious fritter made with split peas flour that's eaten with chutney or other sauces. And because you eat it with your hands, as the mango chutney or tamarind sauce runs down your fingers, you get an easy excuse to lick your fingers that much quicker.
I don't believe in eating pholourie made from quick mix in the grocery. So here's a compilation of some of the places you can get the best pholourie in Trinidad – according to Trini Facebookers.
In the East
Chewy's, Tacarigua
A few people well vouched for Chewy's. It's located just before Dinsley Junction, if you're heading west, and just after, if you're heading east. Located opposite a roti shop, and obliquely opposite a Chinese restaurant, it's painted white and doesn't have a sign. The roti shop is white as well.
"Everything does lash but you have to prepare yuhself for the wait," says one Facebooker.
He opens from 7 p.m. so go early.
D and R Café, Bon Air Junction, Arouca
Just look for the blue hut by the junction.
Next to Hotel California, Malabar, Arima
Hotel California doesn't sell pholourie. It's the small shop next to Hotel California. "Boy o boy dat woman have it de best," says one culinary voter. Someone else said she is totally right.
The lady in Santa Rosa Heights, Arima
"From pholourie to saheena, aloo pie to dhalpourie, that lady knock it out the park." Based on that praise alone, I'm going to try her. She's located on the main stretch of Santa Rosa Heights, a short distance north of the police post, next to a mini mart.
Don Miguel Road, San Juan
You have to go in the evening. I don't know exactly which part of Don Miguel Road it's located. I plan to just keep driving and hope to find it. But it can't be hard to find. Word is there's a long line, and "real traffic".
Hosein's Roti Shop
One person said, "I don't know if its 'de best', but I love Hosein's pholourie on the Eastern Main Road [Tunapuna], they're my go-to." Another person also vouched for Hosein's at Independence Square, Port of Spain. Another, Hosein's in San Juan.
Seventeen years ago, when I was in Form Five and attended Biology lessons on a Saturday by Mr Smith (God rest his soul) in Tunapuna, and used to religiously head to Hosein's after lessons to get pholourie, I would have agreed with them. Not now. I stopped buying from Hosein's many years ago. The quality just isn't the same, and that's being kind. And from the following comments of other people, they seem to agree with me.
"Hosein's pholourie is d worst is good value for money, in that u get a dozen large ones, but d taste, hell no! They try too hard and d sauce does not compliment d pholourie at all."
"Can't believe people saying Hosein's!! Wow they need to eat a good pholourie for real."
"Nothing there have any taste."
So if you're going to try Hosein's, remember, everyone's taste differs. I wouldn't even include it on a best pholourie list, but in the spirit of fairness, I'm sharing everyone's suggestions.
North and West
Maracas Beach – North Coast
Some people go to Maracas Beach to bathe and get a bake and shark. Me? I don't like bake and shark, so I only eat pholourie when I go to Maracas. By the lady in a hut, just off from the car park.
If you're outdoorsy and are heading to Maracas Waterfall, someone also suggested the "woman on the way to Maracas Waterfall next to the field by a corner".
Queen's Park Savannah, Port of Spain
There's a particular lady who has made many people rub their belly at the Queen's Park Savannah. She's in the first tent on the right, as you walk in from the entrance opposite Memorial Square. There's always a long line, so prepare to wait.
Central
Twinkle Star, Chase Village, Chaguanas
The only directions the person posted was "by d place that does sell the whole wheat doubles".
Carapichaima ASJA Primary School
Right by the school. Nuff said.
South
Snax, Gulf City Mall Food Court
It's the only place you can get pholourie in Gulf City Mall.
McLeod Trace, Freeport
"I have been buying pholourie there since I've been going high school…it's de BEST," said one person.
Nic Nads, Penal
It's located in the heart of Penal, just after the traffic light.
Jasmine's House, Sobo Village, La Brea
I didn't get directions. But if you're heading to a trip to the famous Pitch Lake, ask a guide at the facility for directions and try it out.
Anna's Café, San Fernando
"Next to Mon Repos Police Station…it lash!" "Lash" is South slang for when food is tasting bess, awesome, orgasmic…however you want to put it.
Fyzabad
Down by the police station.
The Main Road on the way to Princestown
Check by the Main Road, after Palmyra on the way to Princestown. That's all I got. Any commenters can help fill in the blanks with this one?
Debe
Ask anyone where to sample Indian delicacies in Trinidad, and the village of Debe will always be mentioned. However, you'll find some opposing views about taste. Then there's the issue of having to buy other items from some vendors in order to buy pholourie. That's food blackmail if you ask me! And a stupid approach. But, according to one Facebooker, "that's the rule in Debe and on de cross in Sando [San Fernando]!"
So there you have it. A list of places to get some of the best pholourie in Trinidad. I haven't tasted pholourie from all of these places. But check out your options, and visit the one closest to you to see if you agree. It'll be a real culinary adventure, because as you've realised, you'll have to sniff the air and follow the few directions I got, in some cases.
I'm sure there are many other places that can be added to this list. If you know other great places, please share them in the comments section. My belly thanks you in advance.
If you're not as lucky as some people who live by family who make some seriously 'bess' pholourie, you might even want to experiment in the kitchen. You can check out these videos from widely read foodie blog, Caribbean Pot. Here's a brief video, with a full recipe and demo:
And here's the longer video: