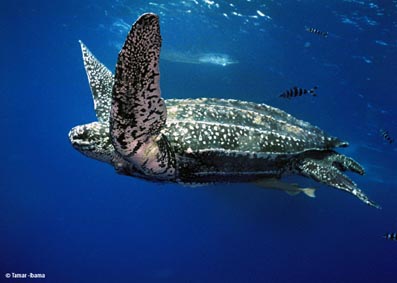 What's Hot: Being Kind to Animals
|
By now, many of you may have seen the photos that were circulating Facebook yesterday, with some folks sitting on leatherback turtles, who, more likely than not, were trying to nest and lay their eggs. As expected, this upset people, and not just the environmentalists among us. See you don't have to be an environmentalist to take care of the environment, or show respect for others in the eco system.
To me, this is the crux of the situation.
I could say that the people who thought it was cool to drive onto the beach, right up by the turtle, with their headlights on, and, most likely, be noisy, as alcohol was most present, were absolutely ridiculous to think that something like that was funny, and wouldn't deter other turtles from nesting, or worse yet, crush eggs that may have already been laid. However, I'd rather focus on why something like this would repeatedly happen, apart from the fact that human beings seem to fancy doing the most asinine of things.
Most of us know that the leatherback turtle is an endangered species. Most of us know that these turtles swim ashore to lay their eggs. Most of us know that these animals should be treated with respect. Some of us do not know that riding, flipping, or sitting on the animals can cause spinal injuries and internal bleeding for these animals. Still, one would think that in the absence of knowledge of how to interact with an endangered species, one would exercise caution. Not always.
This is why, when we see things like this, it should be a reminder of the need to educate ourselves about these issues. I'm no environmentalist, and you won't find me at every beach clean-up, or ticking off every to-do on the clearing your carbon footprint checklist. However, occurrences like this make me check myself… again.
Trinidad and Tobago isn't known for a population that pays attention to the environment. We pollute the streets, and the seas. We burn old material without thinking about air pollution. We massacre animals, in the name of wild meat being in season. Someone once told me about hunters who killed some monkeys (yes, that's wild meat too). Her boyfriend had gone along with some of his friends to hunt, and he told her that when the hunters approached the monkeys, they were literally screaming and begging for their lives, showing that they had babies with them. Plus, when killed, and being prepared to eat, she said the monkey looks like a little baby. When I heard that story, I have to say I was pained.
Thing is, we hear these sorts of stories from time to time, but what do we do? Nothing. So most likely, after the uproar has died down, about this 'turtle situation', many of us will go along with our daily lives, not thinking much about how our individual actions impact the environment or the wildlife around us. Like I said. I'm no environmentalist, but situations like this show me the need for widespread education. Name calling people won't help. Educating ourselves about wildlife, so we know how to conduct ourselves around them, and educating ourselves about environmental laws, so that we also know when and where to report unlawful behaviour help.
We can blame Government agencies and say that public education programmes aren't in your face, but we live in the age of the Internet, where we can google anything we want to find out. We can learn about laws like the T&T Fisheries Ordinance, Ch. 25, No. 9 and the T&T Conservation of Wildlife Act Ch. 67:0, which aim to protect nesting turtles and their eggs from harm and harassment. We can litter less, and pay attention to the little things we can do, so that when we become outraged about acts against the environment, we're not just pointing fingers, but are also responsible agents.
We don't need to embody the stereotypical image of an environmentalist to do our part, on some small scale. We don't need to be 'tree huggers' or eco warriors to be responsible towards nature. It basically comes down to applying common sense and personal responsibility when it comes to certain things. And if more of us would use our heads and our hearts, we'd be a lot more respectful of wildlife and the environment. And something as simple as intuition would go a long way in making us think twice about how we operate in our daily lives, even when we don't have all the facts about co-existing peaceably with nature.
To learn more about the leatherback turtle or become involved in activities, you can join groups like the Trinidad & Tobago Leatherback Turtle Project.
Check out the rest of this week's issue (11/04/11; Issue 52):
Look out for a new issue of Outlish.com every Monday!