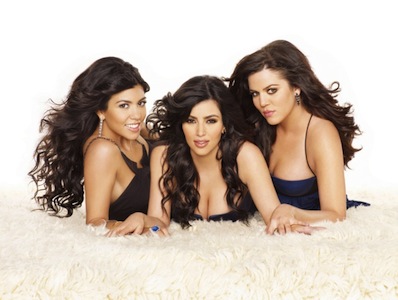 What Your Favourite Reality Show says about You
|
As if my own life isn't a scene away from being a hit reality TV show, every other day, and on every other cable channel, I'm subjected to a multitude of shows that expose the private, personal, and supposedly unscripted lives of celebrities and non celebrities alike.
I'm not a typical fan of watching television, and if I do it's probably seasoned re-runs of "The Cosby Show", "Martin" (on DVD), or some sitcom from my childhood. But I confess that I am actually addicted to a few of reality shows myself.
How did we go from wanting to see our favourite sitcom to tuning in – some of us almost every night – to these 30-minute, drama-filled episodes, whether it's "Love & Hip Hop", "Keeping up with the Kardashians" (or one of their many spinoffs), "Mob Wives", "Extreme Couponing", "Beverly Hills Fabulous", "Kendra", or "16 and Pregnant"?
I put all the blame on MTV's "Real World". Do you remember that show? It launched in 1992. Yes 1992! When MTV decided to showcase the lives of young, 20-something year olds, with cameras following their every move, I suspected it was the beginning of 'new TV'. Clearly, people are willing to put their business out there for the world to see, and where there is bacchanal, people will maco (oh yeah, Trinis doh have a monopoly on macoin'). And even though we know most of them are scripted, or edited to the producer's desire, we can't seem to stop watching.
Since "Real World" aired, some cantankerous reality shows have evolved, and some have died a miserable death. We have a plethora of shows at the tip of our remote controls. We have the option of watching the daily lives of the Kardashian sisters (which I've never watched), the lives of unimportant youths from "Jersey Shore" (again… I've never watched it), and renditions of housewives from all over the U.S (more on that later).
I've read comments all over the Internet that only simple-minded people watch "those shows", "why bother watch famous people get more famous", and some comments even seem to indicate that those of us who watch "those shows" are unintelligent and "wasting their pathetic lives". What a harsh thing to say! But to each his own. I must admit, though, at one time I too was against "wasting my time watching those shows". So what do the reality shows we watch really say about us?
You like to unwind to exaggerated reality
I am very selective with what I watch, and how I am entertained. And I refuse to be bouncing from station to station to follow the lives of children of over-wealthy tycoons, or long-ago, TV stars. But again, the maco in me has to find a home somewhere; so one night I gave it a chance. "The Housewives of Atlanta" was the sacrificial show. And I liked it. Not because I'm a dunce, or have a boring life, but because it was something out of the norm for me to watch – an exaggerated reality of sorts. So really it all boils down to how you want to spend your downtime, after a hard day's work.
You don't mind being a star
Then there are subtle, family-friendly shows like "American Idol", "America's Next Top Model", and "America's Best Dance Crew". How many of you vowed that you could sing 'so good', you could make it to AI, as it's called. And how many of you have looked at yourself in the mirror, repeatedly, and convinced yourself that you can be America's Next Top Model, even though you don't have a visa?
Believe me, there's a show for everyone's inner desire for achieving something, even if they don't believe they can. It's probably the same for those who watch "Apprentice" and "Shark Tank". Watching other people sort of gives us a push to go for it. So some of the reality shows do have a positive side.
Scandal tickles yuh fancy
I've gravitated toward "The Real Housewives of Atlanta" is now my all-time favourite, and it fulfils my scandalous pleasures. It's probably rendered me a Rachel Price status on the goings-on about the show (or so I'm told).  If you don't know, ask about 15 of my Facebook friends who tune in every Sunday for my commentaries on each episode, as they air. There are just some moments between these women that I can't pass up. And my updates come like contractions, every three minutes apart.
For me, these shows also help bring out my humorous side, and my ability to multitask, Facebooking, watching TV, and getting ready for work simultaneously. By the way, I'm anxiously waiting for the Housewives of Glencoe and Westmoorings. Now dat will be pressha!
And with "Housewives" on its seasonal hiatus, I've fallen in love with "The Braxton's Family Values", starring Toni Braxton and her melodramatic sisters. For others, their guilty pleasure might be watching Chrissy 'blow out' Somaya on "Love & Hip Hop", getting hot blooded about the drunken and psycho antics of Kourtney Kardashian's boo, Scott Disick, on earlier episodes of "Keeping up with the Kardashians" (I hear he's turned a new leaf now), or watching Khloe Kardashian 'run up somebody's chest'. I've even heard of a very macho, youth man who tuned in to "Beverly Hills Fabulous" religiously.
You're not all fun and games
Aside from my mini maco, there's a more serious adult side to me. You can't be jokey jokey all the time. The adult side of me is sinfully addicted to HGTV and their reality shows, such as "House Hunters", "My First Place", "Property Virgins" and "Yard Crashers". So when I tuck the maco to bed, I indulge in how to go about buying a home and what to expect. And like I said, some of the reality shows help push you to actually attain that dream. And trust me, watching "Jersey Shore" doesn't afford me that victory.
Every other season, there's a new show being introduced. And as much as I'd like to say that there are probably too many, we now live in an era that no longer focuses on sitcoms and staged, familial settings. People want the real deal, and an occasional fight in between camera takes. Why? Well, because it's highly entertaining, and it gives you something to talk about with friends. So truly, you're not losing any brain cells if you find yourself liking a reality TV show. You're probably simply balancing out the pressures of your stressful day, by watching someone else's muddy, daily routine. Yuh have to have a balance, and it's alright to mix some humour with some seriousness now and again.
Image credit: gawker.com