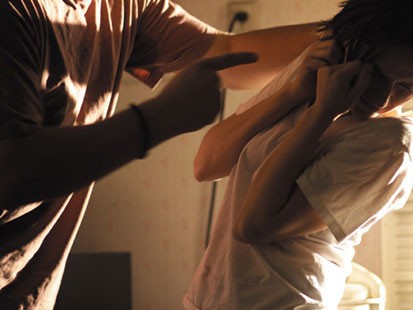 Violence in Relationships: Facing the Reality
|
As much as we may love to deny it, violence in relationships is real, and it's deadly. It happens a lot more than people think. And even though it's an uncomfortable topic, in order to end the violence in our relationships, or to assist friends, family or acquaintances, we need to talk about it.
Domestic violence isn't just a "married people" problem. Once you're in a relationship, and abuse is present, it's domestic violence. If it affects your children, and they are abused as well, they are also victims. It's also important to remember abuse is not only physical; it can be psychological, sexual, verbal or even economic.
Violence normally happens in a cycle, and most relationships stay in a literal honeymoon phase, where everything's all dandy. Then it goes into a sort of tension phase, where someone feels as if they're walking on eggshells right before the abuse erupts. When said abuse occurs, the abuser typically apologises, the parties involved will reconcile, and we're back where we started – the honeymoon phase. Then it will progress into the tension phase again, and so the cycle goes on.
The easiest thing to do is to ignore these situations, because we all think to ourselves, "I can't handle the drama of getting involved in married people business, because they're going to get back together anyway". You're probably right, most of the times. Still, there's the other side of, what if someone dies, as a result of violence you've been aware of or have witnessed? How will that affect your conscience? If you chat with any of the people who watched as 31-year-old Sabrina Lalla-Mitchell was stabbed to death at her workplace, Bavarian Motors on Todd Street, San Fernando, in front of her sons, in October of this year, I'm sure that it troubles them to this day.
In Trinidad and Tobago, deaths due to domestic violence, quadrupled over 2004 to 2008, with 36 deaths in 2008, while the number of reports made to the police regarding cases of domestic violence increased by 60 percent.
Violence in relationships affects one in four women and one in fifteen men. Women tend to experience physical and sexual violence more often than anything else. For men, it leans toward stalking and harassment. Domestic violence is the primary cause of injury for women between 15 to 44, so it's safe to say you know someone who's either a victim or has survived violence.
You may be wondering which one of your friends or acquaintances may be or may have been a victim? If your answer is, "I don't know anyone", think again. Remember people don't always share their experiences, especially when it involves domestic violence, and they're doing their utmost to hide it. Sometimes the signs are very clear. Other times we don't even realise when domestic violence is a few doors away from us because of long-held beliefs. So, let's get to some myth busting, shall we?
Domestic violence only occurs in poor communities.
Truth of the matter is that research has shown that domestic violence is an indiscriminate predator. And although the poor often have a harder time accessing resources, it affects persons of all walks of life equally – case in point, Chris Brown and Rihanna, or even Charlie Sheen and his wife Brooke Meuller. Even the rich and famous are prone to it.
Relationship violence is caused by alcoholism and substance abuse.
While substances can definitely amplify the violence, they do not cause the violence. The cause is the abuser's desire to exert power and control over their victim. And alcoholism and drug abuse are issues that must be treated separately. Rehab does not end the violence. Then there are some other things to consider – what if the abuser was a victim of abuse, and has psychological issues, as a result? This doesn't necessarily excuse their actions. However, it does affect what triggers them, how they 'act out', and, therefore, how one can approach them.
If a survivor goes back to his/her abuser, then they must want the abuse.
This is the biggest and most detrimental myth of all that shifts the blame to the victim. In reality we see so many reasons why survivors have to return to their abusers – no resources to escape, death or suicide threats, or, most prolific in out society, the disapproval of religion and culture.
Additionally, research has repeatedly shown us that the most dangerous point for the survivor is after they leave the relationship, and this is when the most homicides happen. On average the survivor will leave the relationship seven times before they have the resources to get out and stay out.
When entering a relationship, the biggest warning sign of violence is when you feel scared or threatened. The most important thing to remember is to trust your instincts. If you feel like something bad is going to happen, get out before it happens.
If you want to get out, most survivors advise you choose the path best suited to your situation; no two safety plans will be alike. Most times survivors call upon their parents, siblings, friends, and if they don't have anybody to turn to, they'll call local services, such as the National Domestic Violence Unit. Most of all, don't be scared and do it when you're ready.
If you know suspect that someone you know is in an abusive relationship, or someone confides in you that they're in a violent relationship, the most important thing to remember is that this person has been robbed of their power. And as a supporter, your job is to put them back in power. Here are some general dos and don'ts that can help you to achieve this:
Be careful to avoid blaming the survivor. Unless it was in reasonable self-defence there's absolutely no excuse for the violence they're experiencing.
Try your best not to tell the survivor what they should do. This is somebody who's lost his or her autonomy. Instead, ask them questions that will help them figure out what they need to do to regain power in their lives.
At all costs do not judge, even when you don't agree with what the survivor's doing. Often when one's in crisis they're in survival mode; they'll know a lot more about their situation and where they're at than you do.
Do make your support very clear.
Do find and offer them resources.
Do listen way more than you talk.
And no matter who you are, you can always help by spreading awareness about this huge issue.
I'll say it again. There are no reasonable grounds for 'beating down' on someone you claim to love, and no one deserves to have to go though anything related to such. So the next time you encounter someone who has survived or is a victim of violence, don't brush it off, with the "husband and wife business" cop-out. Put yourself in their shoes, consider how you'd feel if a loved one were going through the same thing, and do something. Who knows? Maybe you could save a life.