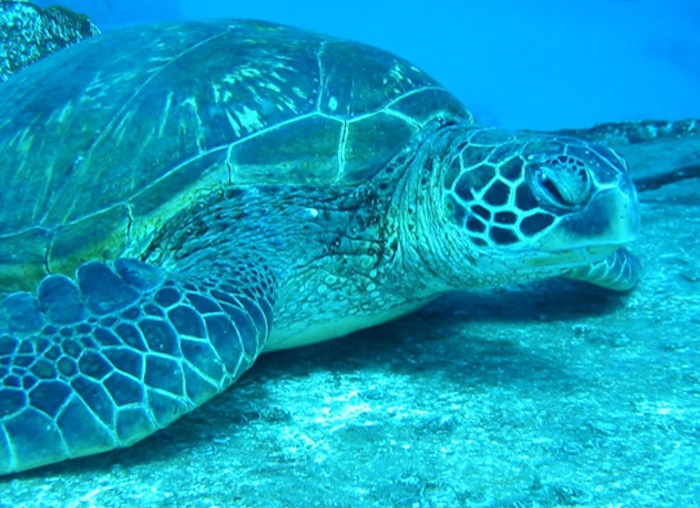 Turtles, Facebook Shaming, and the Voice of Reason
|
It's a funny thing, when people attack others for things they do, particularly when the attackers are guilty of similar offenses themselves. It's utterly astonishing that we seem to expect the world to revolve around our own knowledge and ideals, with scant regard for the circumstances or perspectives of others.
The Internet often fights tooth-and-nail over issues, which, when supported by evidence, logic and perspective, would seem like a clear case of "I was wrong, and you were right – sorry", but that is rarely ever the case.
Suddenly, Facebook went from a copyright-infringing, homophobic den, to an animal-loving vigilante group.
Recently, Trinidad and Tobago's Facebook circle circulated a photo of a woman, allegedly dressed as a banana, standing on the back of a leatherback turtle. People have been calling for the woman to be kicked in the face, thrown off of a cliff, and even have her children destroy her private regions when giving birth. When local pages, with a thing for "Like if you find this true", got a hold of various photos, their usually mature and level-headed discourse degenerated to levels that one would never have expected. Suddenly, Facebook went from a copyright-infringing, homophobic den, to an animal-loving vigilante group.
Now, I understand that the leatherback turtles are endangered, and I understand that what she did was deplorable. But to call it the "most disgusting act I've ever seen", in my humble opinion, is a reach.
Don't get me wrong, I love animals to the point where they don't annoy me, and I personally find that animal meat is delicious, but could we perhaps just consider that there may be a less-narrow worldview? Consider the possibility – and yes, ignorance is (usually) no excuse in the eyes of the law – that she simply does not know better?
It's nice to see that we can and do care about things other than…well…nothing, and the fact that people are sharing it means that, perhaps, we can actually make a positive difference for the environment – especially since we're generally such a clean, non-littering, unselfish society!
Back to the matter at hand, though. What is the issue? Is it that she stood on a turtle's back, or the fact that the turtle was endangered? Had it not been endangered, would it have been okay for her to stand on its back then? By that logic, if she can defend herself, then we should kick her in a face and throw her off a cliff? Are we as outraged when people throw their puppies off the cliffs at Maracas, or is it okay because there are just so many bloody dogs anyway? Is it worse to stand on an endangered turtle, as compared to beating a homosexual to a pulp?
Again, not to condone what she has done, but to put a bit of perspective to the matter. Should we really be so emotional that we are seemingly willing to give her a thousand horrible deaths for something that she could have simply done in ignorance, rather than as an act of arrogance that we see spewing in society almost daily?
Now, there is the possibility that she did know the dangers of standing on the back of the endangered turtle, and chose to ignore it. She could have sincerely and honestly been an idiot who wanted a really cool picture to put next to the one of her and fellow animal-enthusiast, Nalini Dial.
As I tell some of my closest friends, mistakes are less forgivable if you know you shouldn't be doing it, and if it is indeed the case that she did know better, and simply chose to do worse, we should let our voices be heard – within reason. Plus, the law does provide sanctions for her behaviour.
The thing with Facebook, and many other social platforms, is that it can certainly define what is cool and 'winning' in society, and the collective voice saying that she was wrong can definitely drive the message home about conservation. I'm sure that if the unfortunate woman happens to be a Facebooker, she's certainly not going to be standing anywhere close to turtles again, possibly not in public at all.
This is the double-edged sword. In protecting the interests of the turtles, and the conservationists, the methods employed by many of the commenters could have easily shamed and embarrassed this person to the point of complete reclusion from society, or even worse, suicide. It may seem like a stretch, but consider if this person were an emotionally vulnerable student who just wanted to enjoy some time in nature and upon returning to school is met with the sort of anger and violence that was directed at her on the Internet? Now, consider the consequences if she legitimately didn't know.
Don't get me wrong, the animal lovers, and those who do genuinely feel agitated by her conduct should speak out about it. They should say things like, "This is the kind of ignorance that exists." Even those asking how she would like it if a 500-pound turtle stood on her back have a point.
My issue is with the violence – beating someone doesn't usually make them any more intelligent. It simply makes their stupidity less public. What if she decides to be a bigger jerk, and goes back to ride the turtles, but just leaves the camera at home? Think of it like a group of children who only know about eating mangoes from your tree, but you don't want them to pick from your tree, so you beat them. It doesn't tell them about other kinds of food, or even that there are other trees. It simply says that you don't like them picking mangoes. They will then decide that they like mangoes more than they like you, and when you aren't looking, they'll pick.
In dealing with issues like these, the focus should be put on education. Firstly, educating yourself about the facts of the scenario, and whether the act was deliberate, reckless or negligent, and secondly, educating the perpetrator of the act as to the consequences. Before we rush to pass judgement and draw conclusions, we should consider the other perspectives – those outside of our ideals and perceptions – and how plausible they are as well.
If it is bothering you, by all means speak up about it! Be passionate. Be agitated! But let your call to action be led by sensibility and reason, rather than emotion. How would we like it, if we got kicked in the head every time we did something that someone else was passionately against?