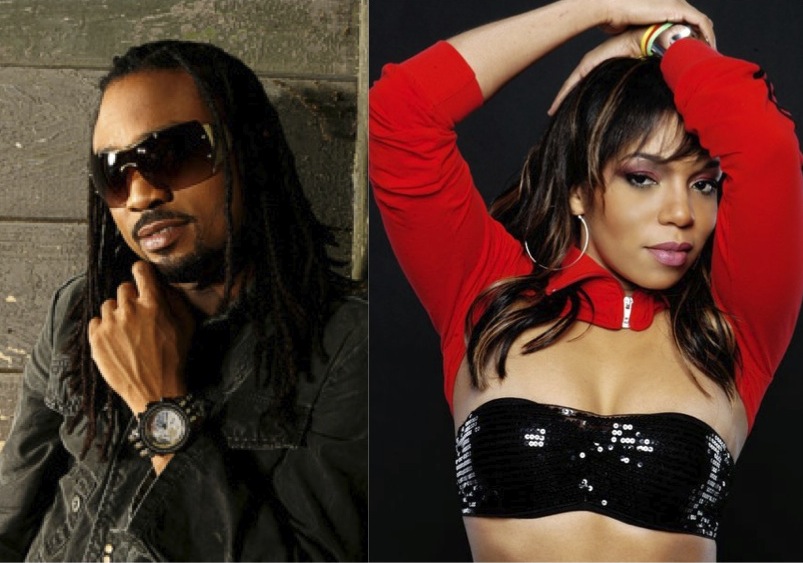 Trini Couples We'd Love if they were Real
|
Love it or hate it, Valentine's Day is exactly one week away, and it's on your mind. So, of course, I had to write something in honour of February 14th.
I'll admit it though. Coming up with angles for a Valentine's piece was tough. I definitely didn't want to go with the whole for or against argument, because frankly it's overdone. Still, despite the fact that I'm also indifferent to V Day (or at least 90% of me is), if a man was to tell me, "My penis, heart, and brain are all in unanimous agreement about you", then I'd be the first girl to be all starry-eyed, waiting on a teddy bear, a necklace, and some red roses on the 14th. So obviously, my emotional state is a bit erratic, as is my mind (haha).
However, somewhere between tearing my hair out, watching reruns of Sex & the City on E!, and pigging out on Häagen-Dazs' rum and raisin ice cream (which is to die for), it came to me. If I didn't have anything new to say about Valentine's Day, maybe I could go into a make-believe world, where Trinidad and Tobago had celebrity couples who kept us glued to local blogs, as we traced all the he say/she say talk and bacchanal.
So in honour of V Day, here are some couples I think would be a true source of entertainment, if they were real. Hey, and you never know. If years from now we see any of them together, just say Outlish call it.
Machel and Destra
Machel and Destra would be our Jay Z and Beyoncé (hard luck Bunji and Fay Ann). I mean. Machel is the king of Soca.
The big fish in a small pond entertainer who runs tings in the local music circuit. Destra is the queen of Soca. Put these two forces together, and can you imagine the Soca orgasm that would erupt if they were to rip the stage together every Carnival season, instead of every blue moon?
I'm guessing they'd also be ripping things to shred behind closed doors…
*In a five-star home hidden in the hills of Lopinot*
Machel: Destra… what's dis you cook here woman? Steups. If you cah get this cooking thing down, I'm gonna let Patsy fix my pelau eh. Heee haaa!
Destra: Do dat and is bacchanal. No single to mingle girl cookin' nuttin in here.
Machel: Destra. Do not test me. I will get mad, insane and advantageous in this place.
Destra: Do it. I dare you.
Machel: Destra. Destra! Hee haa.
Destra: Machel. You like to jumbie my scene eh. Doh get me vex yuh know. 'Cause right now I jes wotless, and I doh really care less…
Machel: Wha you jes say? Is a nex' man lyrics you usin' in my house? Buh wha de… Hee haa!
… You see how this would play out. And yes… Patsy would be the Rihanna in the mix.
Rachel Price and Anil Roberts
All de loud he loud, you could see the Honourable Minister of Sport and Youth Affairs, Anil Roberts, giving Pricey any kinda backchat? From the moment he opens his mouth to say, "Whaaaaaaaaaaaaatttttttt", Pricey done have a sound retort that will shut him right back up.
Verbal fireworks aside, I can definitely see how this relationship would be for the good of all Trinikind. You think Pricey would stand a man who would talk nonsense in Parliament, or champion a campaign to support all things local, but end up wasting taxpayers' money in throwing a concert that didn't pull nuff crowd or achieve anything of note?
Nuff said.
Patrick and Kamla
While we're on the politics tip, you could imagine if Patrick and Kamla hooked up? Now this would be real unity.
Plus now that everyone has forgotten about him, being with Kamla would definitely up his profile and make him relevant again. Maybe he'd also give her some tips on how to manage Jack Warner, because if she thinks Rowley was a Rottweiler, we all know Jack is the pit bull she'll have to muzzle at some point.
Wendy Fitzwilliam and Brigo
T&T's Queen of the Universe and de ugliest man to touch the calypso stage would be the most mind-boggling couple ever. Brigo so ugly he brought DET to de bugs back in de day. But you know the saying, "is ugly man who does chain up pretty woman de most". He probably had a trailer load ah girls back in the day too (who say Shabba!).
Brigo is no Brad Pitt, and he knows it. But lyrics? The man is an ace. He once said, "No man is ugly in face. He is ugly in attitude". The man has heights. Tall woman like Wendy love heights. Think about it. Brigo is a calypsonian. He have brains. Wendy likes brains. He actually intellectualised his looks to play on the fact that women are often willing to see beyond the physical, and give men a bligh for who they are inside. Let's take a pause for an "awwwwwwww".
(Audience: "Awwwwwww".)
This couple would be definite proof that opposites attract. Wendy girl, all I will say is that if you and Brigo ever start dating, doh let him read bedtime stories to yuh pikney. That would be guaranteed nightmares.
Brigo… just be careful that when you'll done she doh write a book about your beauty secrets. Doh say we eh warn yuh.
Santana and Whitney
Name another Trini puppet who has charmed local masses as much as much as Santana has, and you come up with nada. Whitney is a celebrity by herself too, because as much as we like his lover Janice, if Whitney walks into a room, everyone, including Santana, would be like "Janice who?"
Santana's and Whitney's chemistry is obvious, as we saw on his interview on Gayelle late last year. I, for one, would love to see where this possible romance goes, and in years to come, Gayelle can not only boast of being a pioneer of all-local programming, but also gain exclusive rights to their wedding pictures. Someone, get Whitney a guest spot on the next Santana short film, so we can make this happen please.
See! Love really is for puppets!
Anyhoo, before I descend into a Valentine's Day rant, let me get back to the real world where the ladies – single and taken – are hoping for romance next week, where cynics will take a drink for those who will be horned or dumped on Valentine's Day, and where men whose nose big like Gonzo will actually have a shot at love when some desperate woman can't stand the sight of her most disliked colleague giddy with excitement over the thousand-dollar floral arrangement a secret admirer sent.
Here's an early Valentine's Day to all of you, and guys, if yuh vex because your money will be spending, don't worry. Steak and BJ Day (March 14th) is almost here. Ladies get ready to pay for those flowers.