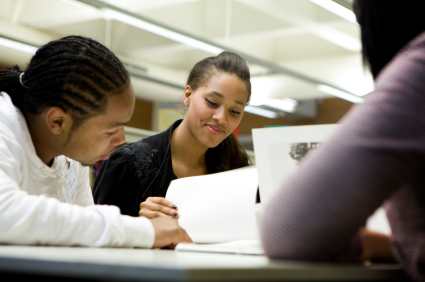 To UWI or not UWI? Education at Home vs. Abroad
|
Stay home, or head out to greener pastures? This is the question everyone asks when considering the options for tertiary level education.
Invariably, matters such as finances, programme offerings, and family situations play a key role in the final decision, and depending on your life stage, it might be easier study in Trinidad and Tobago or at a foreign institution; or, as some people do, it may be easier to pursue an associate or bachelors degree at home, and then move abroad to pursue a bachelors or masters degree.
One may argue that, regardless of the chosen option, students also get what they put in, and this too can impact the body of knowledge they gain, and the overall quality of their tertiary education experience.
'There was never a time…  when I did not think that one day I would leave my homeland to further my education'
There was never a time during my formative years when I did not think that one day I would leave my homeland to further my education. My parents had the opportunity to study abroad, and thus considered it to be a rite of passage, if not an escape route for my sister and I from Trinidad's mediocre standards.
As a child I remember my father, who was then a lecturer at the University of the West Indies (UWI) St. Augustine Campus, lamenting about the quality of the papers written by his students and the failings of the UWI administration. He insisted that if he had anything to do with it, my sister and I were not going to be educated there.
Meanwhile, my mother had more practical concerns that focused on whether or not we would have an adequate support network, and would be able to pursue larger personal and professional goals. The one thing they both agreed on was that their daughters would have the best education possible.
The lure of American universities' scholarships (partial and full) and the relatively favourable exchange rate of the US dollar effectively sealed my fate.
Additionally, given the fields of study my sister and I wanted to pursue (communications and music), none of the local educational institutions offered a viable option at the time. Thus at the not so tender age of 20 (most American undergraduates are 17 years old when they start university), I left the shores of Trinidad, destined for New Orleans, LA to pursue a degree in communications studies.
For various reasons, including cost, field of study and allegiance to their family, many of my peers elected to remain in Trinidad to complete their education.
Once on campus, I threw myself into honour classes, which were challenging, but far easier than the A' Level workload I had already successfully navigated. Unlike the British education system, which I was used to, my peers and I were tested frequently and never expected to regurgitate material that had been learned the previous year. My professors were accessible and always available to answer my questions, but they expected and demanded an equal level of commitment from their students.
'There could be no slacking off'
With no parental supervision to make sure I went to class or even opened a book, how well I did was very much a measure of my own discipline and drive. There could be no slacking off as was sometimes the case growing up, because here everything was counted, including attendance and class participation. Showing up and acing the final exam wouldn't guarantee you an A.
Outside of the classroom there were numerous student organizations to get involved with, and an extended network of West Indians in the surrounding schools that adopted me. By the end of my freshman year I had my own column in the school paper, sat on the boards of two campus organisations, and managed to tackle the sport of cross country running.
In comparison, my friends who had elected to go to UWI frequently rattled off a list of complaints in our conversations. UWI lecturers seemed to take pride in the number of students who failed their courses, they said. I knew from experience that if a critical number of students failed a course, it was the lecturer who would have to answer some tough questions, or be forced to grade on a curve.
Failing multiple students was not a sign of brilliance in the US because the role of a professor was to inspire students to pursue academic excellence. Furthermore, my peers in Trinidad insisted that academic advising was at times non-existent, even unhelpful, and many students wasted valuable time and effort taking classes they didn't need.
The Student Guild, meanwhile, reflected the corrupt politics and racial divisions of our nation's politics, while extra-curricular activities tended to the social more than the intellectual. In the US, educational institutions are often the birthplace of youth activism, social responsibility and civic engagement.
'My friends in Trinidad were drinking rum between classes, playing "all-fours" and hitting the clubs for student night every week'
My friends in Trinidad were drinking rum between classes, playing "all-fours" and hitting the clubs for student night every week. This is not to say that American youngsters do not flunk out of college because of excessive partying, but most educational institutions that depend on student tuition to survive have an imperative to keep students enrolled and engaged for all four years.
Intellectually I felt constantly challenged and physically I was fitter than I had ever been, but it didn't take me long to figure out that studying abroad isn't for everyone.
My decision to study abroad effectively halted the growth of many of the relationships I had been nurturing for years. Admittedly this is something I still struggle with, but my parents raised me to see myself as a citizen of the world, not necessarily of a particular country.
More importantly, my time abroad has given me the ability to see my country and the Caribbean region dispassionately. I would argue that part of the reason our region has struggled to develop is that too many of our leaders and decision makers have never left our shores. They have never experienced First World efficiencies, so how can they be expected to effectively model it? You cannot replicate success unless you've first understood the various determinants of it, from history to politics, and, most importantly, culture.
The reality is that there is an opportunity cost to every choice we make in our lives, and studying abroad is no different. Am I saying that studying abroad is the better decision for everyone? Not necessarily, but it was for me.
Author bio: Dzifa Job is a freelance writer and the voice behind the blog Musings of an Empress. Her writings have appeared in One Love Houston, The Good, The Bad, The Ugly In Sports, The Integrationist Quarterly, and Caribbean Axis. Dzifa is a graduate of Syracuse University, and holds a Bachelors degree in Public Relations from the Newhouse School of Communications. A Trini, living in New York, she spends her downtime writing, training for fitness challenges, and going on adventure vacations.