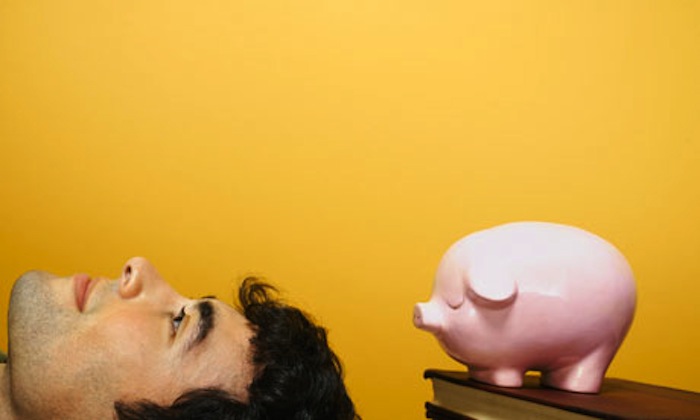 The Pros of Living with Mom and Dad…as an Adult
|
Once upon a time, it was all about how fast you could get away from your parents, set up shop in a spacious, new bachelorette quarters and live la vida loca. Midnight limes! Bar hopping! Cheesecake at 2 a.m.! Bootleggers/More Vino/Kokopelli, here I come!
But with the economic downturn, in the US, millions of college graduates are going back to Mom and Pop's place, instead of heading out on their own. And here in the Caribbean, many university grads can't afford to leave in the first place. You travel to UWI, pick up your degree certificate, return home to email CVs, and spend the rest of the time watching "Fairly Odd Parents" and "The Cosby Show" (don't judge me).
We West Indians also battle a very conservative culture where adult children do not move out of the family home, until they are properly churched and set up their own families. Sounds puritanical, I know; but when Moms lays on the guilt, wha' yuh go do?
I'm married with a toddler now, but the four years I spent at home after earning my degree are still fresh in my mind. I was one of those who wanted to move out after university, but couldn't afford to (and yes, I got the guilt trip too). But I had to find ways to make myself feel better about having a midnight curfew and getting my food stolen. So to those of you who are still stuck in the family nest, look at the bright side of this life stage, missing boxes of KFC aside:
You save loads of moolah
Let's be honest, that contribution you make toward the household expenses is nowhere near what you'd have to pay for rent/mortgage, utilities, food, entertainment, travelling…you get my drift. I tried to give my parents at least 10 per cent of my income, and I helped pay the Internet bill.
Now, even in a two-adult household, I have several bills to take care of. Groceries, day care, and cable are not cheap. I just bought a car and the insurance has crippled me for this month. And all those incidental expenses I know that my dad would take care of, like new light bulbs, a broken pipe or a leak in the roof? Those are on the hubby and I now. And those little things add up, so that even if I wanted to go cinema, I couldn't afford it. Take my silly advice; do some massive saving now. Your older self will thank you.
Communal property is a good thing
Car. TV. Computer. Fridge. Stove. Washing machine. All very hefty investments. Especially if you're married to a chef who refused to buy anything less than a five-burner, 30-inch gas monstrosity with a self-cleaning oven and convect baking capabilities.
But at home with your folks, all these things are already in house as communal property. Beats having to drive your smelly pile of laundry over to the communal laundromat, and wait there (without Wi-Fi), until your clothes are clean and dry.
…and so is having a 'keeper'
This was a huge deal for me at university. There was a point in time when I was pretty positive that no one on my dorm would notice if I lived or died. Funny enough, I made sure to go to a different country to study for the opposite reason: I felt smothered by my protective parents. Once I got back and we established some new boundaries – "Yes, Mom, I'm going out tonight and I'm not sure when I'll be back. I'll call you." – that protectiveness was much appreciated.
My folks knew where I was and who I was with. In case of any emergencies, I knew that they'd be there for me with a tow, or a ride to the hospital. In fact, I had to call them once to rescue me from a hellish church camp – a nearly two-hour drive both ways, and they did the deed, without complaint, and listened to my hysterical rantings on the way back home – "Hide me! We've got to make a break for it! Now just step on the gas and knock down those random people in our way!"
Free food and other things you don't have to pay for
Mom may not want to wash your clothes for you, but if she's anything like my mom, she won't charge you for using her (very expensive) detergent and fabric softener. Detergent takes such a big chunk of my monthly grocery bill now that I've actually researched making my own for much less.
And please, like anybody noticed that you ate most of the Weetabix this week! The best thing about living in a five-adult household was the fact that I could get away with eating as much as I wanted, knowing that I would never be the biggest draw on the communal pot. That honour was reserved for my baby brother, who, at 6 foot 2 and over 200 pounds, does not eat like a baby anymore.
I made juice, cooked pancakes, fed friends and blithely believed that the eggs would just magically reappear in the fridge the next week. And they did. Now I know better. There's no such thing as the egg fairy.
Giving back
For many of us, our parents are the stable forces in our lives. They fed us, clothed us, counselled us, picked us up after we fell down and just generally were there. But as an adult, you begin to understand that Mom and Dad are frail mortals too. It's a sobering thought, but it's one that has been dogging me since the father of a childhood friend died from cancer this year.
That superhuman sprint Dad did to save six-year-old you from falling out of the mango tree onto your head? He probably can't pull that off now. You'll find your folks taking medication for hypertension and diabetes, going for a battery of expensive medical tests. Some of their contemporaries may be in the hospital or dead. Maybe your parents are seriously ill; I feel it for you. In all these cases, you begin to feel the need to cut back on the liming and stick around more, in case they need you, or (worst case scenario) in case you have to say goodbye. So being right there in the house is a plus, not a minus.
Live-in babysitter
Single parents, raise your hands here! I am not a single parent, but with both hubby and I at full-time jobs during the last six months, somebody had to pick the toddler up from day care, feed her, bathe her and read her a bedtime story. And if Granny happens to be in the same house, it makes everything much easier on you the parent. You don't have the hassle of picking up the child, and then having to resettle him or her at home. And it is better on the child as well. Children thrive on stability and routine, so staying in the same place with a familiar face is always good.
We not here to enable the frequent limers who push their children in the direction of granny or grandpa and go out five times a week for drinks (Drinks. Remember drinks, parents?) But it's nice to know that someone is rocking Junior to sleep while you have to work, or attend an event, write a course assignment…or want to go out for the occasional lime. Plus, grannies know how to bathe small, slippery newborns best. I'm just saying.
You get to really know your parents
As a child, parents were larger than life, and always right. But now that we're adults, the line blurs. Hopefully, your parents realise that you're grown and begin to respect you, and you can forge a grownup friendship with them.
Living at home means more spontaneous conversations in the kitchen, and more opportunities for you to ask their opinions on a troubling matter, or for them to ask your opinion. Mom and Dad will always annoy you (and you annoy them), but those moments when you get along and you get them and understand their histories and motivations are priceless.
So enjoy the time you still have at home by your parents. It shields you from some of the pains of adult life – namely bills and being responsible for everything. Everything! And while some of you might knock a 'big, hard-back man or woman' for living with mom and dad, know this. The only silly thing about this living arrangement is not taking advantage of the opportunity they've given you to save more, and be in a better financial position than they were. You may realise that they do understand where you are, because they have been there. And they realise that they raised an adult who can help them figure out how to work that Google thing.